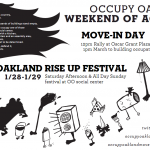 Occupy Oakland will be holding a weekend long festival starting this Saturday, January 28 with the takeover of an empty building where it will host workshops, panels, a film festival, live music, assemblies and more.
The Oakland Rise Up Festival runs through Sunday night and features over 50 speakers and performers including former Black Panther Party leader Elaine Brown, anarchist anthropologist and member of Occupy Wall Street David Graeber, feminist, revolutionary & historian Roxanne Dunbar-Ortiz and many more.
Saturday has been designated the Move-In day and activities will focus around settling into the building and celebrating Occupy Oakland.
Sunday is organized as the Conference Day and a wide range of panels, presentations and workshops are scheduled. Music and cultural events in the occupied building are planned throughout the weekend. Below is a detailed schedule of the Festival's planned events. The Festival also encourages self-organized discussions, workshops and events and will help to publicize additions to this schedule to the best of our abilities.
Look for the festival table during the weekend & occupyoaklandmoveinday.org for the latest updates!
SATURDAY JAN 28: Move-in Day
• 12-1pm : Rally at Oscar Grant Plaza
– featuring Roxanne Dunbar Ortiz, Gerald Sanders & special guests
– lunch will be served at the plaza by the OO kitchen committee
• 1pm: March to the space led by OO sound truck

– featuring Brass Liberation Orchestra
• 2-5 pm: Move in time
- help set up & settle into OO's new occupied social center!
– Featuring music & poetry inside and outside from the OO sound truck including Hip hop by Eddie Falcon, folk music by Marie Sioux, a performance by Rocker T, spoken word from DeWayne Dickerson & special guests
+ arts and crafts time & workshops including a know your rights training, an open discussions on gender dynamics within Occupy, a foreclosure defense action workshop and bike repair!


• 5-6 pm: Dinner provided by the OO kitchen committee
– bring food to donate and share!
• 6-9 pm: Building orientation & assembly
– 6-7 pm Presentation from Building Committee on safety, security, and respecting each other in the space
– 7-8 pm Committee Reports & how to get involved
– 8-9 pm Open Forum on what we all want out of the space and community guidelines


• 9-11pm: OO Film Festival
– featuring documentary shorts covering uprising across the world over the past year with filmmaker Brandon Jourdan and 'Better This World' documentary with filmmaker Kattie Galloway
• 11pm-sleepy time: music and entertainment
– Hosted by OO's MCs Shake & Teardrop
– featuring guest djs & bands
• Ongoing: Outside Bus Show
– featuring local bands in the OO Bus
SUNDAY JAN 29: Conference Day


• 8-11am: Breakfast, Coffee & Morning Workshops
– Yoga & meditation
– Body Workers will also be on site
– Arts & Crafts time
– including workshops on the Paris Commune with Gerald Sanders, De-escalation training with Melissa and Mike from Sugetsukan, Trauma & Self Care with OO Safer Spaces, Divide and Conquer: Mapping Exploitation with Ryan Smith, Basic pepper spray and CS gas training with the OO medics, What California can learn from Latin America with Laura Wells and Andres Soto & much more!
• 11-1pm: First round of panels & discussions on
– Current Crisis of Capitalism featuring Laura Fantone, Jim Davis, Eddie Yuen & Francesca Manning
– Connecting the struggles from Oakland to Syria, Egypt and Palestine featuring Miriam Zouzounis, Noura Khouri and Shimaa' Helmy
– Anti-authoritarian critiques of Occupy featuring Lawrence Jarach, Red Hughes & Greg
 • 1-2 pm: BBQ & Voices of Liberation Rally
– Featuring Corrina Gould, speakers from Occupy the Hood, Gerald Sanders and an open forum with comrades from other movements across the region.
– BBQ provided by the OO kitchen committee and donations
– bring food to donate and share!
• 2-4 pm: Second round of panels & discussions on
– Police Repression & Prisons featuring Elaine Brown, Jack Bryson, Bo Brown, & a member of the OO anti-repression committee
– Indigenous and Anti-Colonial Struggles featuring Corrina Gould, Michelle, V, Luta Candelaria and Chris Oakes
– Crisis of Oakland public schools featuring Nick Pomquist, Jack Gerson, Javier & Emily Macy
+ Guerrilla Storytelling with kids by Amy from the Oakland Public Library
• 4-6 pm: Third round of panels & discussions on
– Oakland Radical history featuring Elaine Brown, Gifford Hartman, Larry Shoupe, Robert Ovetz & Ricardo
– State of the labor movement and radical organizing featuring Kim Rojas, John Reiman & Chris Carlson
– The Relationship Between Gender, Sexuality and Political Violence featuring Oki, Lobna Darwish, Devin, & Barucha
• 6-7pm: Dinner provided by the OO kitchen committee
– featuring a conversation between David Graeber & Andrej Grubacic
– bring food to donate and share!


• 7-9pm: Occupy Oakland Sunday General Assembly
– organized by OO Facilitation Committee


• 9-12pm: Concert, Poetry & Films
– Hosted by OO's MC Shake & Teardrop
– featuring DJ G Star & special guests
+ Poetry by Jasper Bernes, J.Clo & more
• Ongoing: Outside Bus Show
– featuring Acid Fast, Alabaster Chode, Bad Blood, Neon Piss, Mugwart, Que Se Mueran

16667