On Friday, January 20, 2012 Occupy SF is calling for a shutdown of the city's financial district. It will be a day of mass occupations of the Wall St. banks & corporations that attack our communities.
As part of this action, Oc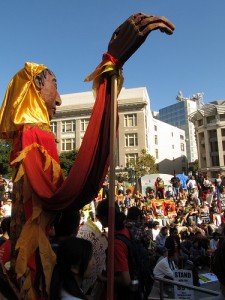 cupy Oakland is calling to RECLAIM THE STREETS and organize Carnival of Resistance in the city's financial district. We will have puppets, signs, banners, music on the bus, food, DJ's and lots of COFFEE. We are starting at 7am across from the Federal Reserve; the second call is for 12 noon at the same spot.
There is space on the bus for about 70 people coming from Oakland. Let us know if you are interested in joinining the early caravan (come by the plaza and talk to the puppet /banner crew).
If you wanna get involved in organizing the action, making puppets, performing on the day of the action, or participating in any other way, come to our workdays:
WEDNESDAYS and SATURDAYS at Oscar Grant Plaza: 12 noon until sundown.
15342