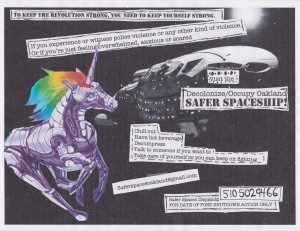 Hey all!
This is a communique from Safer Spaces Oakland
To keep the revolution strong you need to keep YOURSELVES strong!
If you experience or witness police violence or any other kind of violence, or if you are just feeling overwhelmed, anxious or scared
FIND the
Safer SpaceSHIP!
Chill out, have a hot bev, decompress, talk to someone if you wanna.
Take care of yourself so you can keep on fighting!
Safer Spaces Dispatch/Infoline for D12 Port Shutdown Action ONLY:
510-502-9466
10626