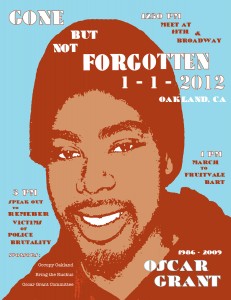 Memorial March and Rally on the 3rd Anniversary of the Murder of Oscar Grant
Three years ago on January 1, 2009, Oscar Grant, an unarmed black worker, was executed by white BART police officer Johannes Mehserle. In the wake of that killing, a major political movement was launched in Oakland and across the country.
On January 1st at 1:00 pm, the movement continues. We will gather at Oscar Grant Plaza (14th & Broadway) and march to the Fruitvale BART station for a rally.
While the case is over and Johannes Mehserle is back on the streets, the Oakland community has not forgotten the unarmed father who was murdered three years ago. The memorial march is in honor of Oscar as well as other victims of police brutality and murder.
"The murder of Oscar Grant awakened Bay Area residents already reeling from Police Brutality and State Repression in their communities," said Anita Wills of the Oscar Grant Committee. " Oscar and all the young people that were attacked and terrorized by the BART police that night, in addition to the many victims of police brutality in the greater Bay Area, have become ingrained in our collective memory."
The lives of these mostly black and brown men are the unspeakable price we pay to live in a society based on racial injustice.
Contact:
14138