A little over a week ago, neighbors in the area spotted the attached notice posted on poles. There is intent to develop a 6-story mixed-use building on the lot Park Garden currently occupies.
Now, this is the beginning of a longer process, so we will continue as usual and plan to plant through winter into early next spring, which is the soonest that ground would be broken, more than likely. If there is any better reason to participate and enjoy Park Garden this season, I can't find it. There was an attempt to develop this lot in 2005, and it was rejected.
http://www2.oaklandnet.com/Government/o/PBN/OurOrganization/PlanningZoning/o/Commissions/OAK047055
There is a Design Review hearing at City Hall this coming Wednesday, May 28th, at 4:30pm. We need as many friends, neighbors, and allies to show up and speak out on such issues as:
– The already dangerous traffic situation along the entire length of Park.
– Parking, which is already an issue.
– Pedestrian access, or lack of. We have a birth center across the street.
– Impact of construction on local area.
– Protection of open space and wildlife.
Tell your neighbors, bring a friend, take your two minutes to help us protect this community space. There are info boards with this info posted both inside and outside the garden. If any locals would like to go door-to-door with me this coming Monday & Tuesday, as well as hand out flyers at the bus stop, that would be great way to help out.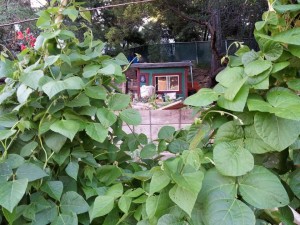 This Design Review hearing will be a great chance for gardeners, neighbors, and allies to make their voices heard. In addition to protecting our hard-earned community space, there are other issues this development will have a negative effect upon, including traffic, pedestrians, parking, and more.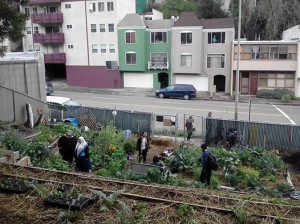 55848