EDIT: On December 22nd GA will be held in El Cerrito, combined with a hike and holiday meal. Bring something to share and comfortable shoes!
http://occupyoakland.org/2013/12/ga-mikes-house-sunday-hike-feed/
The few stalwarts who attended General Assembly last week at OGP decided they were tired of losing extremities to frost bite and voted to re-locate GA to the SUDOROOM through the end of January, at the normal time, 2 PM Sunday afternoon.  The sudoroom is a wonderful community hacker-space dedicated to positive social change, open source and making communication accessible without corporate control. It is at 2141 Broadway, Oakland, but the entrance is on 22nd Street, ring the bell and come upstairs or use the elevator to the second floor.  Read yet more explicit directions here.
Anywho, on the third Sunday of the month the sudoroom has a Cryptoparty: It is a sort of teach-in that will show you how to communicate without the state and corporations looking over your shoulder (quite so much). Bring your laptops and smart phones and learn how to browse the internet without the government getting all up in your business, how to send emails that the NSA can't so easily read, & how to use encryption to make your instant messaging, SMS and phoning more confidential, etc.  Also, the cryptoparty is a good time to learn how to post things to our web site, OccupyOakland.org, as well as the calendar. And we OO types can exchange "encryption keys" to ensure our communications are secure (don't worry if that sounds like gibberish right now, it is pretty straight-forward and easy). Also, the Ediot plans to bring a little stale bread and some beans and leftover pizzas tomorrow, so think of it as a free meal for the indiscriminate.  Let's party like it's 1984!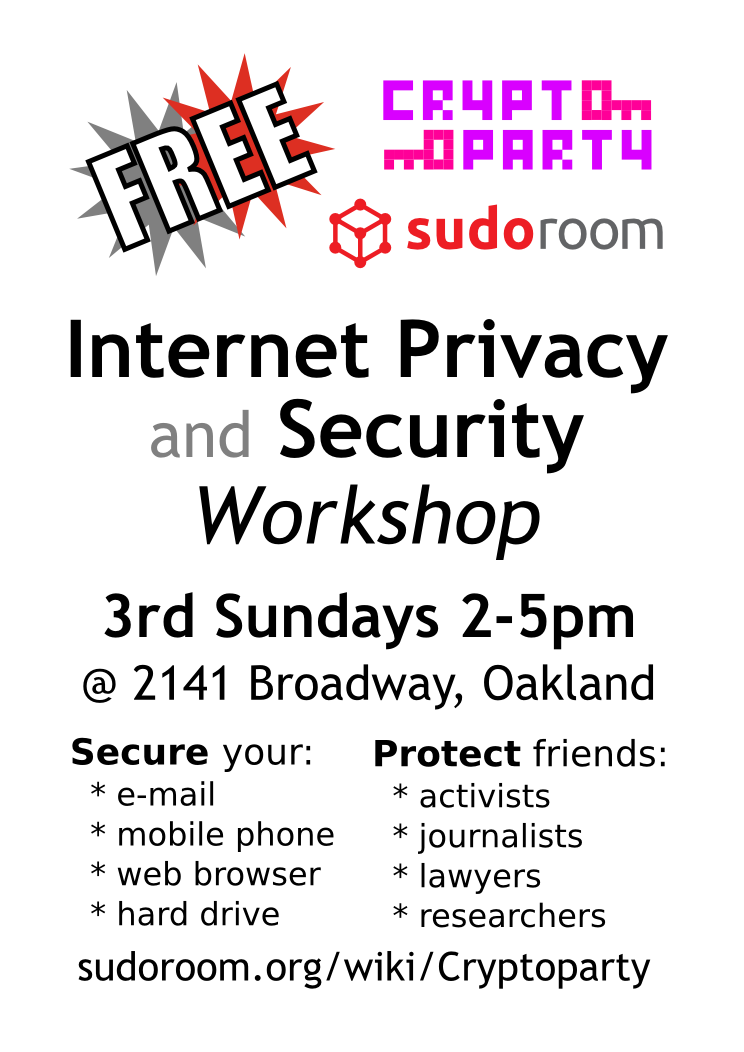 Cryptoparty: A Digital Security & Privacy Workshop
When:
December 15, 2013 @ 2:00 pm – 5:00 pm
Repeats:
Monthly on 3rd Sunday, forever
Sudo Room
2141 Broadway
Oakland,CA 94607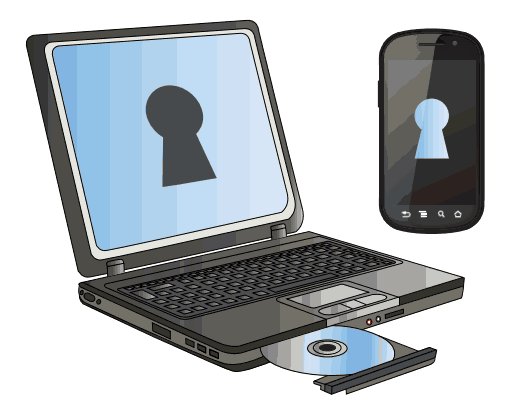 • Learn security techniques & software.
• Understand why responsible security is important.
• Meet with other proactive residents!
Bring your laptop! Bring your phone!
All skill levels welcome, from novice to expert!
54361