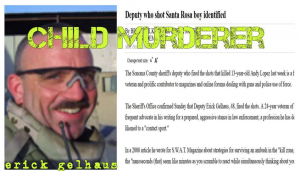 Tuesday, November 5th at 1PM
March from the Old Court House Square 300-304 Mendocino Ave, Santa Rosa Ca, 95401 to The District Attorney's Office, 600 Administration Drive, Room 212 J Santa Rosa, CA 95403
WE HAVE ONE DEMAND, for now. We demand Erick Gelhaus be immediately fired, arrested, and Indicted for the Murder of Andy Lopez. We will march to the District Attorney's OFFICE on this coming Tuesday, the 5th, planning to leave downtown around 1:30. We need everyone that can be there, there. Justice cannot wait!
TENEMOS UNA DEMANDA, por ahora. Exigimos que Erick Gelhaus será inmediatamente despedido, detenido y acusado por el asesinato de Andy Lopez. Vamos a marchar a la oficina del Fiscal de Distrito el próximo martes, día 5, pensando en dejar el Old Courthouse Square a las 1:30. Necesitamos todo el mundo que pueden estar ahí, que esten ahí. La justicia no puede esperar!
To all students: Do not let people attempt to quite your voice. It is your voice that is fueling this fight for Andy. It is your voice that has the power to lead to change. It is your voice that needs to be heard!!!
Para todos los estudiantes: No deje que la gente trata de callarte la voz. Es su voz que está alimentando esta lucha por Andy. Es la voz que tiene el poder de traer cambio. Es la voz que debe ser escuchada!
The District Attorney is the one that will decide if Gelhaus is to be arrested. For that reason, we must unite, and stand on the shoulders of "outside agitators" and take our message to the doorstep of the D.A., Jill Ravitch, "Jailhouse for Gelhaus !!!!"
El fiscal es el que va a decidir si Gelhaus sera arrestado. Por esa razón, tenemos que unirnos, y de pie sobre los hombros de "agitadores externos" y llevar nuestro mensaje a las puertas de la DA, Jill Ravitch, "Jailhouse (Carcel) para Gelhaus!!"
53594