Sat. August 31 – 12:00 Noon – Music


·                   Anne Feeney, labor troubadour
·                   Michael O'Brien, Canadian hip hop artist
·                   Boomer and friends will get you dancing
·                   Redd Welsh, songs of struggle
2000 Allston Way (1 block from Downtown Berkeley BART, corner Milvia St.)
To Celebrate the month-long people's encampment in tents on the steps of the Berkeley Post Office, which brought wide attention to the Post Office struggle.
To Demand:
1. Stop selling off our public Post Office for private profit!
2. Stop the dismantling and privatization of the Postal Service!
3. Preserve door-to-door and Saturday delivery, living wage jobs, and our public commons!

Anne Feeney and Michael O'Brien are part of the 13-state Summer of Solidarity Tour of the U.S. to build support for the labor struggles breaking out all over this country. On Saturday, the Summer of Solidarity comes to the Berkeley P.O.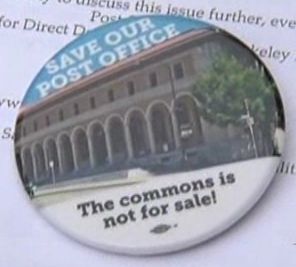 11:30 a.m. Press Conference – about the Aug. 28th police raid on our month-long Berkeley Post Office Encampment, and the continuing struggle to save the people's Post Office.Find out the truth of what happened Wednesday evening, not the lies reported by the Berkeley Police and regurgitated by the press.
After the music – Teach-in on the Great 1970 Postal Strike, the biggest strike in U.S. history, which shut down mail service throughout the country for one week.
Sponsored by Berkeley Post Office Defense               www.bpod.us
52429