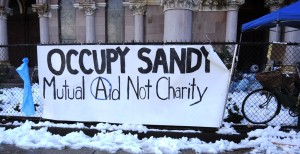 Occupy Oakland Seeking Quorum Sunday for Occupy Sandy Solidarity Efforts
Occupy Sandy is a volunteer effort of people from Occupy Wall Street, Interoccupy.net, 350.org, recovers.org, and others who have organized substantial help for victims of the big storm in New York and New Jersey, including providing supplies and helping with cleanup. Thousands of Occupiers have served perhaps 1.5 million meals, even feeding the FEMA workers, filling a void left by government and private charities like the Red Cross. Instead of thanking these volunteers Mayor Bloomberg is threatening to shut down some of these relief efforts. We want them to know we appreciate their hard work.
If we have quorum at the GA we can pass an official resolution of support from Occupy Oakland. If not, we will send an unofficial statement of support.
Here is a proposed resolution which we can modify to suit.
The General Assembly of Occupy Oakland extends our appreciation to the volunteers of Occupy Sandy–Occupy Wall Street and Interocupy.net,350.org, recovers.org and individual volunteers.
(or Participants in Occupy Oakland extend our appreciation to the volunteers of Occupy Sandy–Occupy Wall Street and Interocupy.net, 350.org,recovers.org and individual volunteers.)
You have provided countless hours of support including the essential tasks of feeding and cleaning communities affected by the giant storm. You have demonstrated the power of people caring for both neighbors and strangers. You have shown what organization and compassion can accomplish together. You have given us a vision of a cooperative society.
We have been watching your efforts from the west coast and extend our congratulations and appreciation for all your work. The environmental devastation caused by capitalism's ruthless pursuit of profit will continue to intensify extreme weather events. The responses of government and nonprofit agencies will continue to be inadequate to relieve the suffering caused by climate change. Occupy Sandy is a model of how the Occupy movement can step in to support the 99%. Thank you for your inspiring example.
At the GA we plan to make a video "love gram" to post on Youtube and email to Occupy Sandy. Here is a very sweet example that Occupy London Stock Exchange sent to Occupy Oakland:
Think about coming with to GA with poems, art, music, signs, anything we can package in a little video that our own beloved Danilo will film.
We will also discuss how to send supplies and/or financial donations. So far Occupy Sandy has raised over $1.3 million in money and donated items.
45408