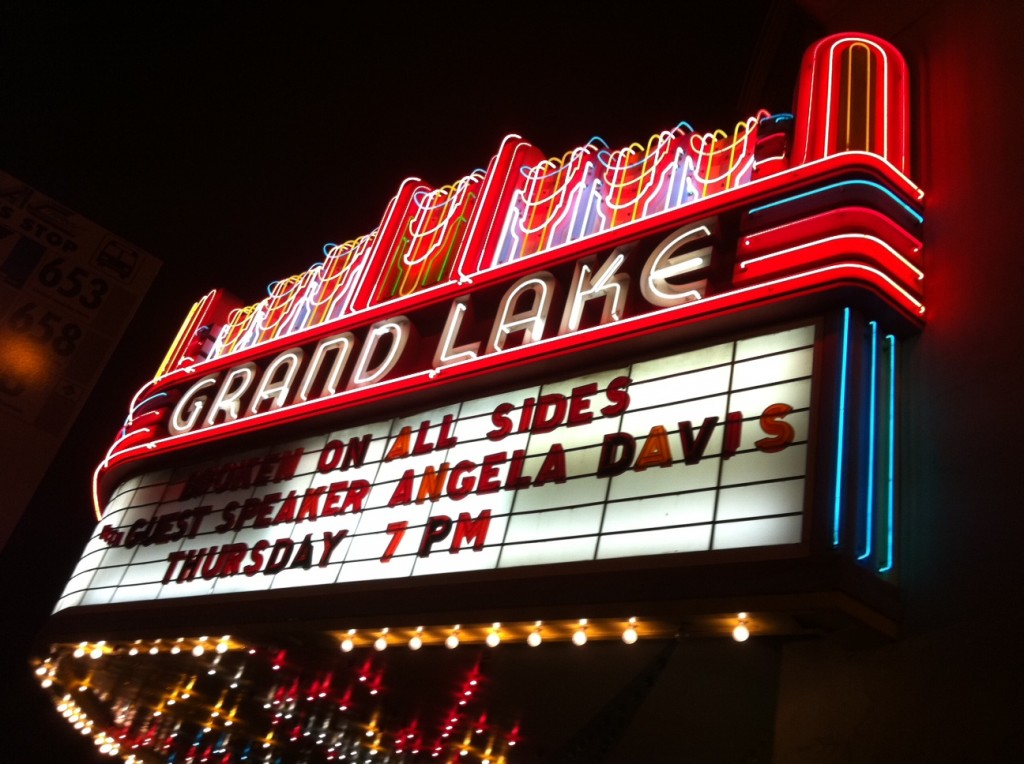 What a night!  A benefit fundraiser for Occupy4Prisoners on March 1st brought in a crowd of between 300-350 people. In addition to the screening of the newly released documentary, Broken On All Sides, the program consisted of music, an introduction by the Truth Mob, and a line up of eloquent speakers, including Barbara Becnel, Elaine Brown, and Angela Davis.   Statements from incarcerated individuals, giving voice to those behind walls,  included a call-in from Kevin Cooper on San Quentin's death row. It was an triumphant night that exceeded  expectations, and left one breathless with hope and amazement.
Heartfelt gratitude is extended to Allen Michaan.   His longstanding generosity and support of the movement is legendary.  He made this event possible.
A huge thank you to everyone who attended last night's event and/or supported it in any way.  Special thanks to Crystal Bybee and Barbara Becnel for their efforts to help create the program, and to Denise Mewbourne for bringing the Message Wall and organizing the Truth Mob.  And thanks to each of the musicians,  speakers, readers, assistants, and other individuals who contributed to the program, publicity,  and/or logistics.
For those who could not be there, the program portion of the event is available on Ustream at this link:  http://www.ustream.tv/recorded/20818490.
The film itself was a serous eye opener about the Prison Industrial Complex, and it got rave reviews.  Here's one,  posted on twitter,  by OakFoSho:
"What an EPIC documentary. Tears in my eyes. Everyone see Broken on all Sides. Wow. #Occupy4Prisoners #OO #OWS"
One of the highlights of the evening was  an stunning vocal performance by Elaine Brown after the screening. Tributes to the Jackson brothers, one each to George and Jonathan,  were moving and powerful.  Elaine ended the program with "We Shall Overcome."
The glow of this night will will linger for some time. Seeing this film in a theater with over 300 clapping, cheering activists  was a peak experience!  Scenes such as an Occupy Philadelphia march with a speaker calling "We need a movement! " or "Let us believe that if Harriet Tubman could organize slaves without an iPad, email, cell phones… that surely we can organize people across the United States of America now!"  were moments not to be forgotten.
We do have a movement,  and we are organizing. That is clear.
22654