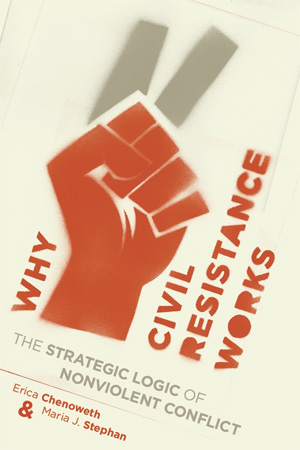 Thursday, March 29th, 7:30 PM
Berkeley Fellowship Hall • 1924 Cedar Street (at Bonita Avenue), Berkeley
What are the strategic costs and consequences of civil resistance methods?
What have other campaigns found effective in past struggles?
Are nonviolent resistance methods or violent resistance methods more effective in achieving strategic goals?
Under what conditions do certain tactics work and why?
How have the tactical evolutions of nonviolent and violent insurgencies affected their strategic outcomes?
How do non-state actors best combat police violence?
Dr. Erica Chenoweth will discuss her recent research on the dynamics of civil resistance. Based on her global data set of armed and unarmed resistance campaigns from 1900 to 2006, and drawing upon both statistical findings as well as case studies from conflicts around the world, Dr. Chenoweth will explore the reasons resistance campaigns succeed and fail.
Erica Chenoweth, PhD, is the Assistant Professor of Government and the Director of the Program on Terrorism and Insurgency Research at Wesleyan University. She has been a fellow at Harvard University's Kennedy School of Government, a visiting fellow at the University of California at Berkeley's Institute of International Studies, and a visiting scholar at the Center for International Security and Cooperation at Stanford University. Dr. Chenoweth is an internationally recognized authority on terrorism, counterterrorism, and nonviolent resistance. Her three books include: Why Civil Resistance Works: The Logic of Nonviolent Resistance; Why Democracy Encourages Terrorism; and Rethinking Violence: States and Non-State Actors in Conflict. She is the author of dozens of scholarly and popular articles, and hosts the blog Rational Insurgent.
For more information: zannevents@gmail.com • www.facebook.com/events/406228072728045.
25458