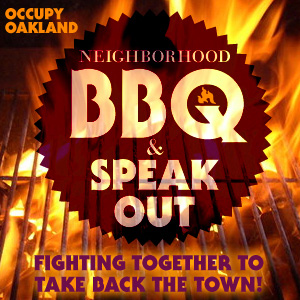 Please join Occupy Oakland and friends as we host our second neighborhood BBQ and speak out this Saturday, March 24, 2012 at 1:00 PM in Rainbow Park (Seminary and International in East Oakland). This BBQ will follow the weekly free food program in Rainbow Park and will last until 5:00 PM.
Events during the BBQ include: emergency first aid training, a foreclosure defense workshop, an open forum on gang injunctions and repression in Oakland, the Children's Village, Occupy Patriarchy's Danger Zone, and a general speak out. Stay tuned to oobbq.org for updates.
Swing by the BBQ and please consider helping this important movement building project in one of the following ways:
Help with the cooking:
– Every Friday before a BBQ, there will be a mass coordinated cooking operation. We need as much help as we can get! We are expecting hundreds of people at each BBQ. Contact kitchen@occupyoakland.org or 510-205-4550 for more information. Also, have a house near one of the BBQ locations with a good kitchen we can cook in? Let us know!
Bring a dish to share:
– Feel free to bring something yummy to share at any of our BBQs. Sides, salads, drinks & desserts are best!
Make a donation:
– Hosting four big BBQs that will each serve hundreds of free meals takes a lot of resources (more than $2500!). Make a secure donation online here: https://www.wepay.com/donations/166567.
Donate supplies:
– grills (charcoal or gas)
– burners/sterno
– cutlery/utensils, dishes
– big food bins to transport food
– hand sanitizer
– tables
– folding chairs
– blank t-shirts for silk screening
Contact supply@occupyoakland.org or come by our BBQ assembly (see below) to donate supplies.
Join the outreach:
– Teams meet at 19th & Telegraph at noon on Tuesday and Friday before heading out to the various neighborhoods,
– Or download the PDF flyers from oobbq.org, print them out, and do your own outreach.
Connect OO with your contacts in the neighborhood:
– Know a group or some people that we should touch base with in our outreach to a specific neighborhood? Come by our assemblies on Wed. & Sun. and give our outreach team their contact info.
Join the OO BBQ & Speak Out Planning Assembly:
– We meet at 19th & Telegraph every Wednesday at 4:30 and Sunday at 12:30.
For more information please check out oobbq.org.
24724