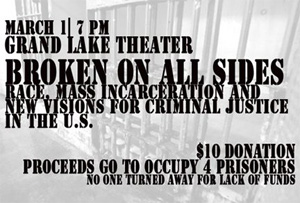 On March 1st, 2012, the Grand Lake Theater is showing  the newly released documentary Broken on All Sides: Race, Mass Incarceration, and New Visions for Criminal Justice in the U.S.
This revealing film takes us inside the broken prison system and features Michelle Alexander, author of The New Jim Crow: Mass Incarceration in the Age of Colorblindness.
"Broken On All Sides is a compelling documentary addressing racial inequities within our criminal justice system and its devastating collateral consequences." – James E. Williams, Jr.
When: Thursday, March 1, 2012, 7:00 PM
Where: Grand Lake Theater, 3200 Grand Ave., Oakland, CA 94610
Cost: $10 donation. No one turned away for lack of funds.
Proceeds go to Occupy4Prisoners: http://occupy4prisoners.org.
21308