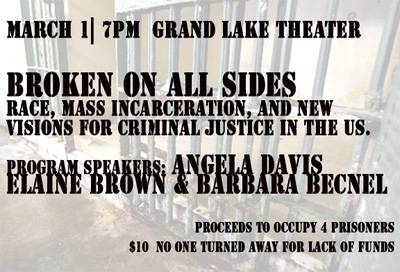 Angela Davis, Elaine Brown, and Barbara Becnel will speak about the prison industrial complex during the program accompanying the showing of the evening's film. Statements of incarcerated people will also be be featured, and will be read aloud by others.
Broken on All Sides: Race, Mass Incarceration, and New Visions for Criminal Justice in the U.S. is a recently released documentary that takes us inside the prison system, exposing the racism and brutality at its core.  The film features Michelle Alexander, author of The New Jim Crow: Mass Incarceration in the Age of Colorblindness.
When: Thursday, March 1, 2012, 7:00 PM
Where: Grand Lake Theater, 3200 Grand Ave., Oakland, CA 94610
Cost: $10 donation. No one turned away for lack of funds.
All proceeds benefit Occupy4Prisoners.
21711