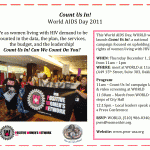 DeColonize Womyn and Gurrls Statement
In honor and remembrance of those who have lost their lives to HIV/AIDS, we are holding a candlelight vigil on Thursday Dec 1, 2011 at Oscar Grant Plaza. In honor of those still living with HIV/AIDS we hold a candlelight vigil and open (people's) mic and ask that the governments and people of this world recognize the need for Universal Healthcare as one of our basic rights. We encourage people to come share their experience of how this virus has affected you or the people you are close to. We encourage a safe space, a comfortable space, and a compassionate space for people to talk amongst each other and possibly through the human mic if you so choose. Please reach out to your neighbors, support systems, and organizations that may be interested in participating.
WORLD – a women-serving HIV organization in downtown Oakland, is launching a national campaign called Count Us In! The campaign is focused on upholding the rights of women living with HIV by securing women-centered services. Over 80% of women living with HIV in the use are low-income women of color – sitting at the intersections of racism, transphobia, homophobia, gender-based violence, lack of housing, highly policed communities and the list goes on. In our current economic and transitional health care environment, women living with HIV face being erased from the minds and priorities of our communities and our political leaders. This is why we as women living with HIV are demanding to be counted! Oakland has long been a shadow of the city of San Francisco in HIV – we want to lift up those voices!
There will be education and HIV Testing beginning on WORLD, press conference at 12:15pm at OG Plaza and a candlelight vigil and open people's mic at 7.30pm at OG Plaza.
More info on: www.pwn-usa.org/count-us-in
8146