When:
June 29, 2013 @ 3:00 pm – 5:30 pm
Where:
ARC, downtown Oakland
900 Alice Street
Oakland,CA 94607
USA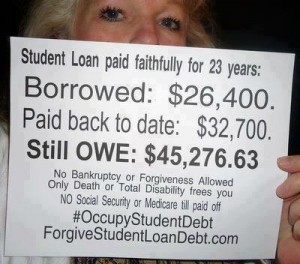 The press has been overflowing with reports on exploding student debt, and the payday lending industry is under increasing public scrutiny. Let's take this momentum and radicalize it!
Join Strike Debt Bay Area on Saturday June 29th for our next Ideas Into Action meeting.
Bring your ideas and/or plug into ongoing projects:
– reading groups on debt & capitalism
– the seeds of some exciting debtors union tactics, both locally and nationally
– a series of solidarity actions with the US Postal Service and Save the Berkeley Post Office Coalition. (See more info here). Hopefully to eventuate in public/postal banking!!!!
– beginning to think about campus organizing for the fall (UC Berkeley, Laney, CCSF, SF State, CCA, etc)
Come join these efforts and bring your own ideas…
solidarity, you are not a loan
Strike Debt Bay Area
51520