When:
November 13, 2013 @ 1:30 am – 5:00 am
2013-11-13T01:30:00+00:00
2013-11-13T05:00:00+00:00
Where:
Oakland City Hall
Broadway & 14th Street
Oakland, CA 94612
USA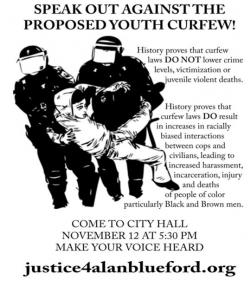 A curfew for those less than 18 years of age will
Give carte blanche to the Oakland Police to stop and harass anyone to check their ID for age, but especially younger people who are in fact eighteen or older.
Give the Oakland Police carte blanche to stop young women and "search" them.
Make those who are legally allowed to be out after curfew – both those under 18 and over – have to prove their innocence to the Oakland Police.
Devote police resources to harassing people, instead of responding to real crime.
Violate the civil liberties of Oakland's residents.
Increase the animosity felt among young people of color towards the Oakland Police, rather than reduce it.
Increase the likelihood of another horrible police murder, such as happened to Alan Blueford, 18 at the time he was stopped on the sidewalk for no reason by the Oakland Police.
53701