When:
2019-01-21T00:00:00-08:00
2019-01-22T00:00:00-08:00
THE PEOPLES MARCH – the Fifth Annual March to Reclaim King's Radical Legacy….A mass mobilization.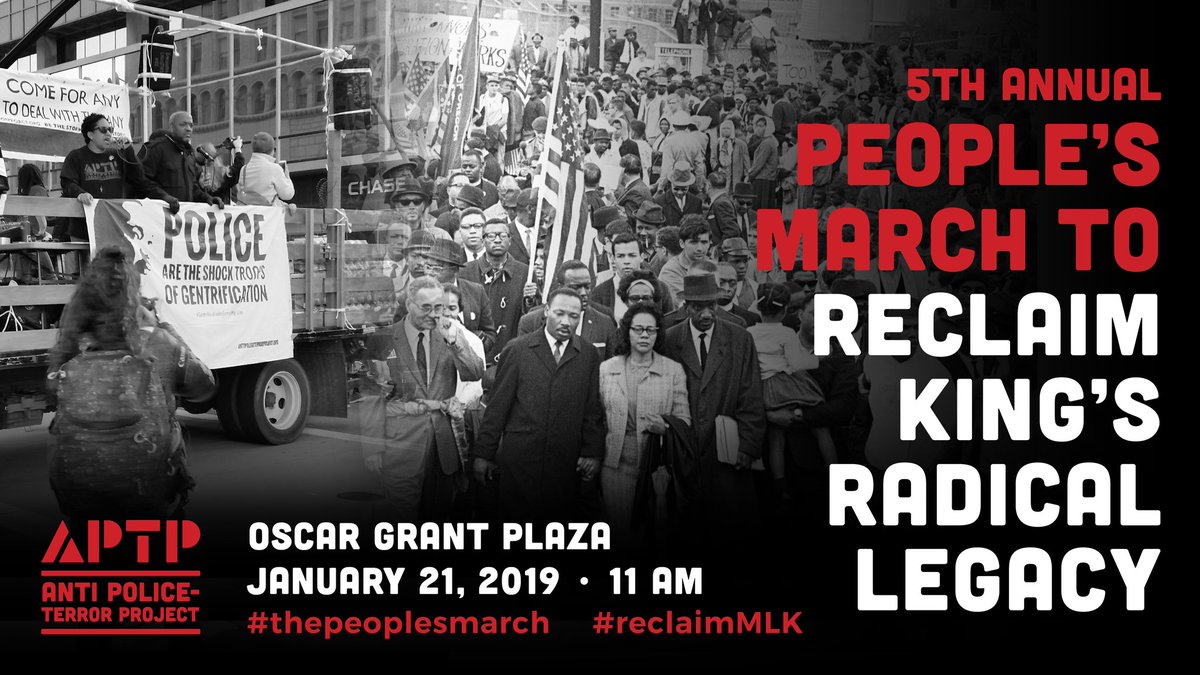 The Peoples March – Reclaim King's Radical Legacy
We will hold Oscar Grant Plaza from sunrise to sunset. The schedule is still evolving, and includes an entire day of events, remembrance, building, and organizing.  There will be hourly rituals, including the sounding of a gong and lighting or torches to call our attention to the ways our community is harmed by violence. The tentative schedule is below:
7:20 am – 7:45 am – Sunrise Ceremony and Launch of Tiny Home Building Project
8:00 am – 9:00 am  – Morning meditation and Sound Healing. Families with children are invited to participate. Free breakfast will be served until the March steps off.
9:00 am – 10:30 am – Kids teach-in and Family March around the plaza
10:30 am – 11:00 am – Storytelling, Sound Healing and Rituals for kids and families
11:00 am – 1:30 pm – Program & March!
1:30 pm – 2:30 pm – March ends with Celebration
2:30 pm – 4:30 pm – People's Assemblies & Lunch:
Housing/Homelessness
Development/Displacement
Inner Communal Violence
Public Safety/Use of Force Campaign
Oakland Schools/Teachers Strike
Sanctuary
Mini First Responder Training
4:30pm-5pm – As the last torch is lit, we will chant Oscar Grant's name as well as the names of all of the other victims of police brutality over the last ten years. When you hear the gong, we will move into the Sunset Ceremony
5:00 pm – 8:00 pm – Sunset and Lead to Life Ceremony
You can keep up to date in real time on APTP's Facebook event page,
For the 5th year running, the Anti Police-Terror Project calls the Bay Area into the streets for the People's March to Reclaim MLK's Radical Legacy.
January 2019 marks the 10th anniversary of the murder of Oscar Grant. This year, we honor the mothers of those lost to police violence, and
Our Facebook event page will have the full schedule, as it's developed. Please join, share and follow it: https://www.facebook.com/events/306880009918687/
It's also been another 10 years of gentrification. Another 10 years of displacement. Another 10 years of a worsening houselessness crisis. Another 10 years of the Bay Area's elected leaders putting profits over people. Another 10 years of government for and by developers, tech companies, and banks — instead of for and by the People.
The People have had enough. On Jan. 21, we march for justice for all victims of police terror and their families. We march for housing as a human right. We march for a just economy that meets everyone's human needs. We march for real community safety, which means defunding the police to invest in our communities. We march for quality education for all our kids. We march for real sanctuary in the Bay. We march for a sustainable climate and healthy environment for all families.
We demand a Bay Area for All of Us. We demand a Bay Area for the People.
Demands:
– Justice for ALL victims of police terror and their families
Housing as a human right
– A just economy that works for everyone, putting people over profits; living wage jobs with dignity for all and community benefits
– Community-based public safety: Defund the police
– Quality education for all: No cuts, no closures
– Real sanctuary for all: Abolish ICE
– Environmental justice and healthy communities
– Indigenous sovereignty and respect for sacred sites
#ThePeoplesMarch
#10hours4OscarGrant
#ReclaimMLKintheBay
#HousingisaHumanRight
65429