When:
February 2, 2014 @ 11:30 pm – February 3, 2014 @ 1:30 am
2014-02-02T23:30:00+00:00
2014-02-03T01:30:00+00:00
Where:
Albany Bulb
1 Buchanan Street Extension
Albany, CA 94710
USA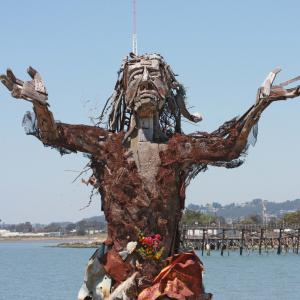 3:30PM Petition Drive to Restore Parking 50 parking places at the Bulb
430 PM Sunset Hike
     3:30 PM:   Drop by a table at the Albany Bulb parking lot to encourage people to demand that the city of Albany restore Parking at the BULB so the working class and their dogs and children can enjoy our park.

Recently the City has put up NO PARKING signs along the north side of Buchanan Street, eliminating about 50 parking spaces frequently used by visitors to the Bulb. There is no good environmental or health & safety reason that this action has been taken, that road is very lightly trafficked, so there is no case for making it two lanes (going west only). The City is trying to reduce usage of the Bulb and isolate the residents from the community. At this point all the parking spots for the Bulb in the small lot near the porta-potty are filled all weekend long, causing recreational would-be users to drive around in circles, wasting gasoline waiting for a spot to become free, and blocking disappointed users from giving up and driving away to find another place to walk.  The only parking alternative is to drive across the bridge over the freeway and fill up spots in the surrounding residential neighborhoods and walk back about a half mile crossing the railroad tracks through a hole in the fence to return to the Bulb. The City and the Sierra Club and other bourgeois groups have been arguing that the residents need to be evicted from the Bulb and the art must be destroyed in order make the area accessible to all community members, but this action dramatically restricting the heavy citizen use of the Bulb gives lie to that rationale. In fact, last Sunday there was an Albany police cruiser patrolling the parking for long periods, as well a a Albany fire truck traversing the dirt roads, apparently aimed at discouraging people from using the Bulb. What seems to scare the City and Sierra Club is exactly the popularity of the Bulb with visitors AS IT IS, uniquely unencumbered by numbing bureaucratic restrictions on artistic expression, camping or recreation, such as walking your dog OFF LEASH. There is to my knowledge no other place on the Bay where you can throw a stick for your dog into the water or create art from washed up debris.

  We stopped the City Of Oakland from extending parking meter hours a few years back. Recently this December 500 signatures and hundreds of Active Water Gate Residents forced the Emeryville Go Round bus Company to restore the Watergate  Bus Stop. We can make the authorities respond to our demands here, as well.

 500,OOO DOLLARS has been SPENT TO DESTROY the BULB. THEY ARE NOT GOING TO STOP THIS TIME UNLESS WE HAVE A MASS MOVEMENT. Call or email Orion to volunteer to collect signatures at other times at:
ohohorion99@gmail.com   (510) 541-3835
For more info on the Bulb see sharethebulb.org
At 4:30 or so after collecting signatures there wil be an Art Walk around the Bulb. This walk was inspired by a burning man funeral that took place at the Albany Bulb January 11th, over 100 people honered their comrade with a Norse-style boat burning and fire works ceremony. It was very moving.
IT COULD HAVE NEVER HAPPENED IF WE HAD LET THEM DESTROY OUR SPACE OCT. 1st 2012 EVICTION. WE HAVE WON SO FAR.
But many of you haven't see the BULB I have seen. Please visit by yourself…or join my sunset walk on Sunday, Feb. 2. Heavy rain cancels.

DETAILS
Meet at the parking lot at 1 Buchanan Street Extension, Albany 4:30 pm   Bring water. snacks, drinks, & flashlights.
Visit the wonderful chair/throne  built years ago and still there and inscribed "from me to you" and watch sunset from beach then take a 15 min walk to Osha Neuman's "Crying Women Sculpture."  There we will share stories of the Bulb, future, present and past, & maybe music. Then go to Mad Mike's Castle & look through the port hole and see the Golden Gate Bridge framed perfectly in the window. And come back on the Water Trail which has 100s of flag stones and finish at the MOSAIC HEART. The trip should be about 2 hrs. We plan to have minimum disturbance to  our friends the residents.
Call me or email me or just show up. To get a preview of art go to:
Google 'image search' albany bulb
Orion (510) 541-3835
Check out some of Orion's songs here:
Interview with Orion on KPFA News about new parking restrictions
GG speaking before Albany Shitty Council on homelessness and the Bulb


54599