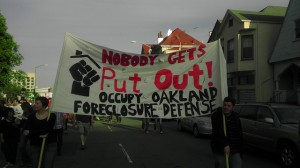 Join the Occupy Oakland Foreclosure Defense Group and the Anti-Repression Committee as we rally and march against evictions, and pay a visit to the Alameda Sheriff (responsible for doing the banks' dirty work of evicting people from their homes), perhaps the Alameda County DA, and some big banks in the downtown area.
We'll assemble at 19th & Telegraph and move on from there.
Speakers will include Boots Riley and a homeowner fighting eviction.
33446