When:
September 10, 2017 @ 7:00 pm – 9:00 pm
2017-09-10T19:00:00-07:00
2017-09-10T21:00:00-07:00
Where:
Omni Commons ballroom
4799 Shattuck Ave
Oakland, CA 94609
USA

Cost:
$5 n.o.t.a.f.l.o.f., free popcorn!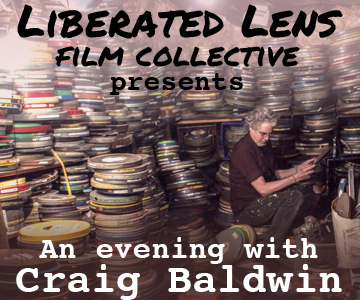 Liberated Lens Film Collective presents an evening with award-winning filmmaker Craig Baldwin.
Craig Baldwin is an experimental filmmaker who uses found-footage from the fringes of popular consciousness as well as images from the mass media to undermine and transform the traditional documentary, infusing it with the energy of high-speed montage and a provocative commentary that targets subjects from intellectual property rights to rampant consumerism.
We will showcase three of his shorter films:
"Wild Gunman" (1978, 20 mins) – A manic montage of pop-cultural amusements, cowboy iconography and advertising imagery is re-contextualized within the contemporary geopolitical crisis in a scathing critique of US cultural and political imperialism.
"RocketKitCongoKit" (1968, 30 mins) – A barrage of found-footage images and rapid-fire narration traces a history of Zaire since its independence in 1960. The CIA, German munitions manufacturers, and American pop culture are all indicted in this comic critique of neocolonialism.
"Tribulation 99: Alien Anomalies Under America" (1991, 48 mins) – This "pseudo-pseudo documentary" is a skewed history of US intervention in Latin America and a hysterical satire of conspiracy theory.
Director will be present for Q&A.
September 10th at the Omni Commons, 4799 Shattuck Ave. Doors at 7, screening at 7:30.
63490