When:
May 15, 2014 – May 16, 2014
all-day
2014-05-15T07:00:00+00:00
2014-05-16T07:00:00+00:00
Where:
10:30 AM rendezvous:
125 14th Street
Oakland, CA 94612
USA

Join striking fast food workers and allies from 36 countries and 150 U.S. cities, including Oakland, as we call out some of the world's worst corporate behavior. With success in exposing widespread wage theft and in the wake of new reports showing an industry with the largest pay gaps between CEOs and workers, we're demanding change, $15 for workers and a union.
5:30 AM Meet at ACCE Oakland Offices 2501 International Blvd
10:30 AM Meet at 14th St and Alice the Library in Downtown Oakland, 135 14th St.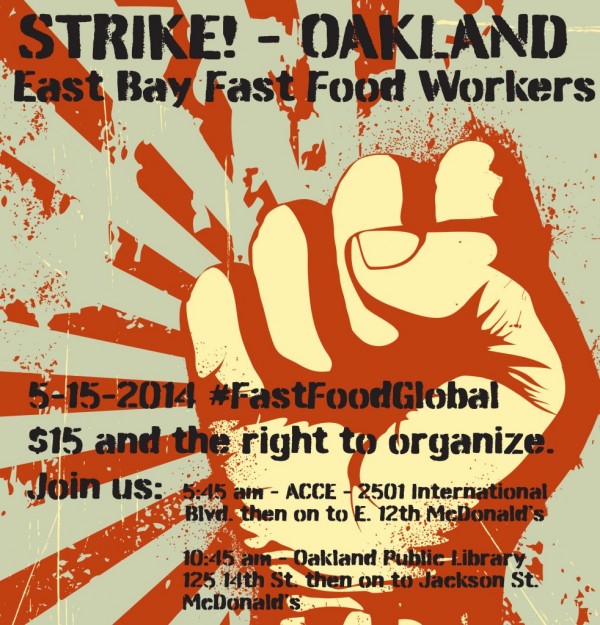 On May 15th, the #FightFor15 goes global! http://t.co/qWreiqJSZO #FastFoodGlobal pic.twitter.com/AcCIkH91SW

— Occupy Wall Street (@OccupyWallStNYC) May 7, 2014
BREAKING: Fast Workers Announce GLOBAL STRIKE on May 15th! #FastFoodGlobal pic.twitter.com/SKe6Srtk3Q

— The Other 98% (@other98) May 7, 2014
55706