When:
September 5, 2014 @ 2:00 am
2014-09-05T02:00:00+00:00
2014-09-05T02:30:00+00:00
Where:
1939 Addison Street
Berkeley, CA 94704
USA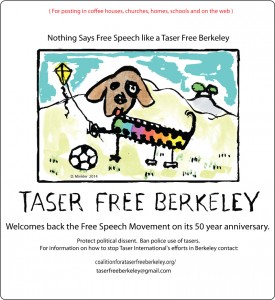 PUBLIC FORUM:
SHOULD BERKELEY POLICE USE TASERS ON
THE PEOPLE OF BERKELEY?
Thursday September 4th at 7pm
1939 Addison St, Berkeley, CA 94704
(two blocks from BART)
Berkeley Police are asking the City Council for tasers. The City Council wants a study. Some critics believe that tasers are part of the militarization of our city. The Coalition for a Taser Free Berkeley is convening a diverse panel to discuss their experiences with tasers and to help Berkeley make an informed decision about whether to acquire the weapons. We invite members of the public, city employees and even police officers who are genuinely concerned about how tasers will affect the community to attend, ask questions and participate.
Panelists include:
Aram James, Activist and former Public Defender Palo Alto
Barbara Ann White, Berkeley NAACP Vice President and Community Mental Health Professional
James Chanin. Founding member of the Police Review Commission, Civil Rights lawyer
Jeremy Miller, Program Director, Idriss Stelley Foundation, Co-organizer of the successful campaign to stop San Francisco from getting tasers
This event is free and open to the public. It is wheelchair accessible.
Sponsored by Coalition for a Taser Free Berkeley
(510) 548-0425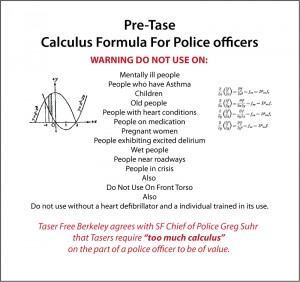 56432