When:
August 2, 2014 @ 12:00 am – 4:00 am
2014-08-02T00:00:00+00:00
2014-08-02T04:00:00+00:00
Where:
First Friday, we'll be somewhere in the mix, probably near the SDBA booth
Telegraph Avenue & 25th Street
Oakland, CA 94612
USA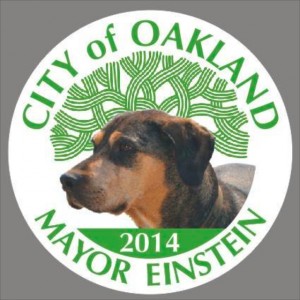 There is only one dog running for Mayor of Oakland. Here's your chance to debate Einstein's platform with the candidate his canine self.
Einstein will be keeping First Friday safe from Jean Quan and eagerly greeting his would-be constituents.
He'll be somewhere near the Alan Blueford Center for Justice and the Strike Debt Bay Area table.
Follow @EinsteinForMayor on Twitter and check out his Facewoof page. Here's an excerpt:
Einstein strongly opposes the Urban Shield weapons show in Oakland AND the Bay Area Urban Area Security Initiative (!!!). Plank 6 of Einstein's platform: "6. Stronger weapon-control laws shall apply to everyone within the City's limits, including law enforcement officers." The strategy of preventing crime with overwhelming force and intimidation is not well-conceived at all. Crime is not an issue for the same reason that smoke alarms don't cause fires. A very simplistic argument is often made in the media when crime is related to the economy: crime goes up when the economy goes down. But you don't hear anyone say that the economy goes down because crime goes up. This is just one way in which crime serves as an alarm telling us that a shortage of opportunities and of security – along with the curtailment of civil rights – puts stress on populations, and crime is the RESULT! Let's focus on reducing the CAUSES of crime – of which brutal repression and the invasion of privacy are two! BAD Urban Shield! BAD!
56282