When:
August 2, 2014 @ 12:00 pm – 7:00 pm
2014-08-02T12:00:00+00:00
2014-08-02T19:00:00+00:00
Where:
Meet at West Oakland BART, or Berth 57 (see text)

UPDATE: The community groups that called for this action have reconsidered and this action has been called off.  There will still be a bit of coffee, etc. there at 5AM for folks that didn't get the message.
In Solidarity with Palestinians, especially those beseiged and bombarded in Gaza, we will block 2 Israeli ZIM Ships from docking and unloading at the Port of Oakland.
It happened in 2010 and it will happen again! 
The Palestinian people are under attack from the state of Israel. Palestinian children are being murdered, their hospitals are being bombed, and Palestinian workers are being fired, beaten, arrested, and killed for striking in response. We call on a broad coalition of Pro-Palestinian labor, human rights, and anti-war organizations to join us for direct actions and pickets against the Israeli Shipping company ZIM!
To help organize or endorse the actions blocktheboat@riseup.net
___________________________________________
The Plan for August 2nd:
-Meet at West Oakland BART at 5 AM where we will march to SSA Berth 57 of the Port at 5:10 SHARP!
-If you can't make the 5 am shift show meet at Berth 57 ASAP where we will be picketing all day!
________________________________________
Shuttles will be provided back and forth from the West Oakland Bart to the SSA Terminal.
There is no parking at the port! If driving, you can park at West Oakland BART for free, and/or shuttle folks to the port!
Bring food, water, layers, comfortable shoes, and picket signs!
___________________________________________
Use our HashTags!
#BlockTheBoat and #PicketForPalestine to spread the word!
Also #SF2Palestine and #Youth4Palestine to connect to local networks
Please copy, paste, and share this event!
___________________________________________
On Monday July 21st there was a General Strike in Israel protesting the bloody and violent occupation of Palestinian lands. We believe that the working class must take a stand to defend the human rights of Palestinians.
An Injury to One is An Injury to All!
Tear Down The Apartheid Wall!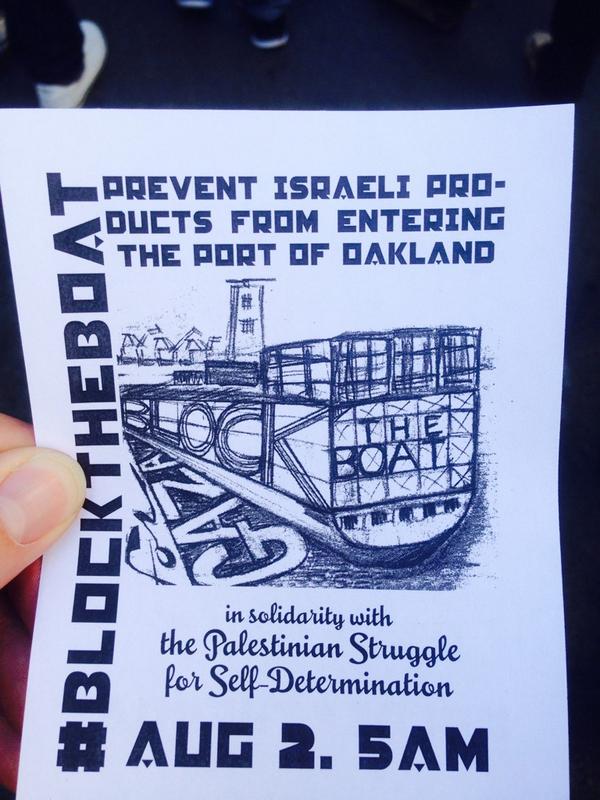 56323