Calendar
9896
Dec
1
Sun
Albany Bulb: A Festival of Resistance!

@ Albany Bulb (Buchanan west of I80)
Join us at the Albany Bulb Nov 28 – Dec 1 For a Three Day Solidarity Campout With Worksops, Discussions, Cooking, Networking, Building, Music and Films!
Sunday, December 1st:
9am – Morning Meeting/Workshop announcements and proposals – The Amphitheatre
12pm – 3pm – Clean up the Bulb Party. Pick up trash and build things! – The Amphitheatre
2pm -3pm – Live music by Mudfence – The Amphitheatre
4pm – Strategic organizing and discussion to resist eviction. – The Amphitheatre
7pm – Rocking the Foundations Film Screening. (Australian documentary about struggles in the 1970′s which fought development and gentrification). – The Amphitheatre
8pm – Towards an Ecological General Strike Power Point – IWW Environmental Unionist Caucus – The Amphitheatre
9pm – Where Do You Go When it Rains? Film Screening. (Recent documentary about life on the Albany Bulb). – The Amphitheatre
Solidarity Potluck: 12:00 noon and 4:00 PM.
Come join us for The No Thanks Resistance Festival and three day Camp-out to defend the Albany Bulb from Eviction! See the Flyer for the schedule of events! Schedule updated to the event page tonight!
FB Event Page – http://www.facebook.com/events/405870986212443/
FB Event Page for the No Thanks Anti-Colonial Potluck – http://www.facebook.com/events/547036912048234/
FB Event Page for the Artwalk of Friday and Saturday! – http://www.facebook.com/events/587362084664394/


Please forward to anyone or organizations you think would be interested!
For more information about the struggle to save the Albany Bulb visit us at: http://www.facebook.com/ShareTheBulb or http://www.sharethebulb.org!
54211
Foreclosure Defense Group Meeting

@ by the statues
Dec 1 @ 12:30 pm – 2:00 pm
Our weekly open meeting for members and supporters to discuss the weeks tasks and projects. Come get plugged into ongoing housing defense work! We have abundant and varied work for all folks in any number of meaningful projects.
Rain location: SF Pizza, 1500 Broadway, Oakland
46745
Occupy Oakland Foreclosure Defense Group Meeting

@ 19th & Telegraph, in the park by the statues
Dec 1 @ 12:30 pm – 2:00 pm
Our weekly open meeting for members and supporters to discuss the week's tasks and projects. Come get plugged into ongoing housing defense work! We have abundant and varied work for all folks in any number of meaningful projects.
Rain location: SF Pizza, 1500 Broadway, Oakland
50026
Dec
3
Tue
Berkeley Post Office Defenders General Assembly.

@ Downtown Berkeley Post Office
Dec 3 @ 2:00 am – 3:30 am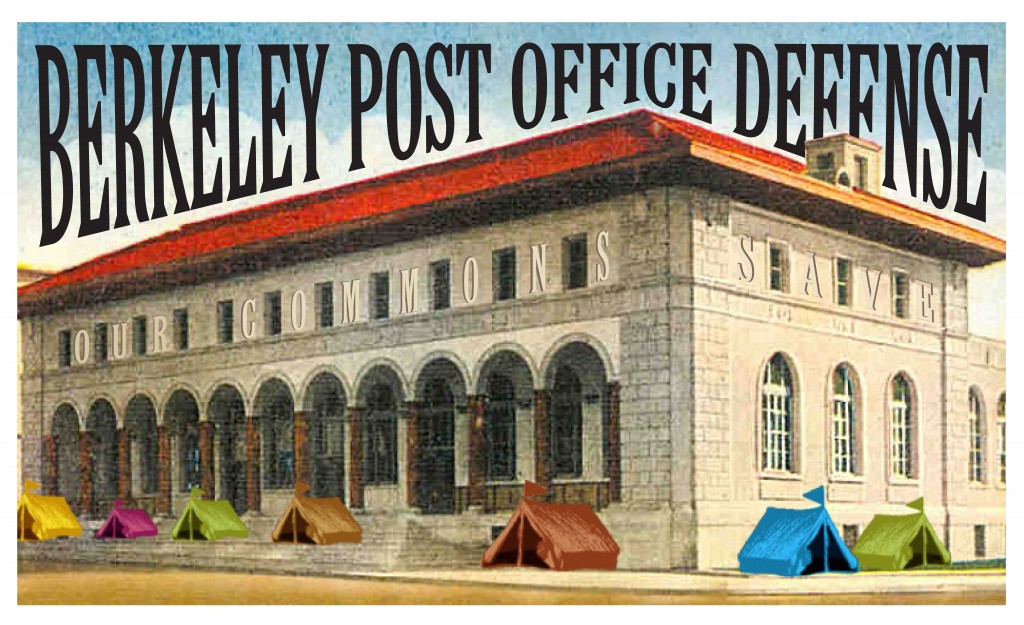 The Postal Service has put the Berkeley Post Office up for sale!!
Help us organize a public meeting on Debember 5th about what's happening with our Post Office!
Tree weeks ago the Planning Commission passed on to the Berkeley City a proposed Zoning Ordinance that would make the Post Office property less desirable to potential purchasers of the capitalist variety. We are still waiting for action on this from the City Council.
Come and help plan our next actions in defense of our post office and against privatization. We want to send a message to CBRE, the Post Office and Berkeley politicians that the sale will not be tolerated!
Check out the video of Peter Byrne's talk at our latest Save the Post Office Rally!
54245
Occupy Forum: Participatory Budgeting.

@ Global Exchange, 2nd floor, near 16th St. BART
Dec 3 @ 2:00 am – 5:00 am
Information, discussion & community! Monday Night Forum!!
Occupy Forum is an opportunity for open and respectful dialogue
on all sides of these critically important issues!
Occupy Forum presents… Participatory Budgeting: "Take Back Democracy – Occupy the Budget!"
Presentation and Q & A
with members of Community Democracy Project.
What would a city look like if the residents had a say in how the city's budget was spent? How could this be implemented? What specific legal measures and institutional structures would be necessary to make this happen? How would this change a city and how we relate to each other?
Community Democracy Project is currently gathering signatures to amend Oakland's City Charter in order to take back Oakland'sOne Billion dollar budget, put it into the hands of the community and out of the hands of the usual gatekeepers, politicians, and vested corporate interests. It's a campaign to create real democracy through dialogue, community building, education, and most of all, by taking back ownership of our own tax dollars.
Core members of CDP will share insights, approaches, history and philosophy of participatory budgeting, and discuss this necessary transformation that can fundamentally transform our communities. CDP will explain why and how you should join this movement.
More information at communitydemocracyproject.org
"It's not from lack of money that our cities are they way they are. It's a lack of democracy."
Donations to Occupy Forum to cover costs are encouraged; no one turned away!
54242
Want to Help Get a New Sheriff and/or District Attorney?

@ Siegel & Yee (set back from steet, across from City Hall, down alley to the left)
Dec 3 @ 3:00 am – 4:00 am
We held our Town Hall meeting to discuss the need to get rid of the Alameda County Sheriff and District Attorney on Tuesday, November 5th.
Now we're talking about the nuts and bolts of such a campaign while searching for the right candidates.
Bring your organizing hat, your ideas, and your friends!
Let's replace Ahern and O'Malley with real progressives, dedicated to the welfare of all Alameda County residents.
Dec
4
Wed
NO ARREST? NO ELECT! Pasta Feed Protest.

@ Santa Rosa Veterans Menorial Bldg
Dec 4 @ 12:30 am – 1:30 am
Jill Ravitch is the District Attorney for Sonoma County, where Andy Lopez was murdered by Deputy Gelhaus. Gelhaus has not yet been indicted for his crime.
—–
We will protest at a Campaign fundraiser for District Attorney Ravitch's re-election. Here we will make our presence known!
We will not stand by while Ravitch refuses to do her job. She must uphold her sworn oath to uphold the law. She must do right by her community by fulfilling her sacred duty to protect and serve the citizens of Sonoma County. She must arrest Gelhaus immediately!
There will be another event, Light Up the Night for Andy Lopez, at 8:00 PM.
54246
LIGHT UP THE NIGHT FOR ANDY LOPEZ

@ Old Court House Square
Dec 4 @ 4:00 am – 6:00 am
This is a march scheduled to take place on the 3rd of December, starting at 8:00pm. We will rally at The old court house square, and march up Santa Rosa to the Sheriffs dept. (unless people within the group "action for andy lopez" would like to start at a different location. This is Your march. This is Andy's march so all input is welcome.. This is intended to be a peaceful action, but also an action to let the city of Santa Rosa, as well as the Sonoma County Sheriff that we will not let up, and that we will be heard. December 3rd should be a historic day in Santa Rosa.
There is also an earlier event "No arrest=No Elect" taking place at 4:30pm. This is a protest that will be held at the location of the District Attorney's fund raiser, which she is having to raise money for a re-election campaign. Most of us will be attending this action, and then follow it up with "light up the night for Andy Lopez.
There are several reasons we are calling for a march in the dark. 1) This will cause the same police who are killing us, to spend the same money they purchase weapons and bullets to kill us with, on observing our march. 2) The 2nd reason we are calling for a march in the dark is because we are living in DARK DARK times. We live in a world, where a thug with a piece of tin on his blue shirt, can murder a 13 year old boy in cold blood, yet suffer no consequence. Because of this darkness in which we will endure, we will march in the dark……
Deputy Gelhaus may think that he killed Andy Lopez…… but he did not. Andy lives on now and forever in all of us who have been touched by this tragedy. Andy's light will not go out, and we will be his light,3) The fear factor of this gang called the police, needs to be removed from the youth EVERYWHERE . This will help build these kids up, just as all previous and future actions that they take part in will. on December the 3rd….. We suggest all participants where black. This is not only as a symbol of mourning, but also a show of unity. We will be one on this night. To Andy's Friends, schoolmates, peers, etc…. Ride your bikes, skate boards, scooters, or walk. Just be there. If you have a flashlight bring it. Bring pots, pans, bullhorns, or anything else to make yourself heard. Together we will bring light to the darkness in the Name of Andy Lopez.
54200
Rally to Reduce Bay Area Greenhouse Emissions & Air Quality Board Meeting

@ Bay Area Air Quality Mgmt District Board Meeting
Dec 4 @ 5:00 pm – 7:00 pm
Please mark your calendar to join Communities for a Better Environment, the Sunflower Alliance, the Richmond Environmental Justice Coalition, Idle No More, 350BayArea, Occupy, and many others for a rally at the Bay Area Air Quality Management District Board Meeting. We will rally at 9:00 a.m. and then go inside for the Board meeting at 9:45 a.m.
What is at Stake?
The Board will receive a report, that we have requested, to address the linkages of all of the Bay Area proposed Crude by Rail/Refinery Projects. We believe staff will try and downplay the connections and deny the Oil Industry has a Master Plan for the Bay Area Refinery Corridor.
Staff has been caving into the Oil Industry on the Regional Green House Gas Emissions Rule. It is imperative we let the Board members know the community is deeply engaged in these issues.
We need to show support to our allies on the Board who want to see Bay Area Green House Gas Emissions reduced substantially.
How Can You Help?
Contact me, Andrés Soto (andres@cbecal.org, or at 510.282.5363) and let me know if you would like to help plan the rally. This should be a relatively simple affair.
Pass the word to your friends, family and allies who are concerned about Climate Change and have them join us and/or join in the planning. I will schedule a planning meeting as soon as I hear from a critical mass of folks. It would be great to have our signs and banners for this one as well as a solid media strategy.
A delegation of us from Richmond will arrive by BART. We will meet at Richmond BART at 8:00 a.m. to catch the train and get off at the Civic Center BART Station.
53955
Statewide Mobilization to Fight Jail Expansion

@ Board of State and Community Corrections
Dec 4 @ 5:00 pm – 10:00 pm
Hearing starting at 9am, rally at 1pm, lobby visits in the afternoon.
On December 4th, Sheriffs throughout the state will be begging the Board of State and Community Corrections for millions of dollars to build more cages for our children. Come to Sacramento and help us show that communities across the state are united: No New Jails!
Over 33 of California's 58 counties have plans to build new jails. While some of them claim to be reformers, we know we won't be able to pass sentencing reform or bring our loved ones home unless we stop building cages. These projects put our counties in fiscal jeopardy, and steal resources from the life-affirming programs and services that get people out of jail and keep them out.
What happens December 4th will determine whether counties build new jails or reduce their jail populations.
But, as usual, what they aren't counting on is us. We're going to pack the hearing room with as many activists as we can possibly mobilize.
54011
Dec
5
Thu
Low Pay is Not Okay Rally

@ McDonalds
Dec 5 @ 7:30 pm – 8:30 pm
LowPayIsNotOkay website (find an event).
Against all odds, Fast Food Workers are organizing. In one lunch hour, you could create a tipping point for their campaign.
A whopping 52% of fast-food employees' families are forced to rely on public assistance to put food on the table or see a doctor. That means American taxpayers are putting about $7 billion a year into fast food corporate profits. Workers are taking an enormous risk — for all of us. They're asking us to give just one lunch hour to show solidarity and help spread their movement to new cities. Search for a rally near you and sign up to attend or to help organize.
54252
Dec
6
Fri
Save the Berkeley Post Office: Public Meeting to Defend Our Postal Service.

@ Berkeley Arts Festival Space
Dec 6 @ 3:00 am – 5:00 am
The Berkeley Community Heeds the Call for a Grand Alliance to Defend America's Right to a Vibrant Public Postal Service!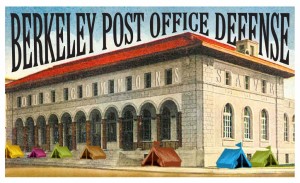 John Postal Workers, Berkeley Post Office Defenders, Strike Debt Bay Area, the Green Party and others interested in protecting our hard earned public resources from the profit pirates of privatization. We are gathering to discuss the next steps in this ongoing campaign and ask you to come help us formulate solutions to save our commons, in particular the Berkeley Post Office which is on the auction block.
Come learn more about our legislative, judicial and direct action tactics. Discuss how to bring democratic pressure to bear on Berkeley's elected officials to pass a zoning overlay which would impact the ability of the Post Office to sell the downtown property. Learn more about the toxic strategy of the privateers who hope to sell off the entire Postal Service. Contribute your energy and ideas.
Statement by APWU President Mark Dimondstein.
54182
First Friday: Food & Toy Drive with Justice 4 Alan Blueford Coalition

@ First Friday, corner of 25th & Telegraph
Dec 6 @ 5:00 pm – 9:00 pm

December is Alan's birthday month & it's the holiday season of giving, so in that spirit, this month's 1st Friday at the Alan Blueford Center 4 Justice is dedicated to the food & toy donation drive. Dec 6th will only be the 1st day the donation drive, after that, we will be collecting donations from M-F noon-6pm at ABC4J which is located at 2434 Telegraph Ave; the donations can be toys and non-perishable food items which will be donated to the Mary Ann Wright Foundation which carries on the work of Mother Wright.
As a special holiday bonus, FRESH JUICE PARTY will be playing inside ABC4J for Dec's 1st Friday!!!
Please help us spread the word about The Alan Blueford Center 4 Justice Holiday Donation Drive!
54248
Dec
7
Sat
First Friday: Oakland Privacy Group Exhibit and Outreach Against the Domain Awareness Center.

@ First Friday - We'll be somewhere in the mix!
Dec 7 @ 1:30 am – 5:00 am
Join Oakland Privacy Group peeps as we pass out literature, show a slide show, perhaps have mock-up surveillance units and discuss our opposition to the Domain Awareness Center, Oakland's implementation of '1984' on steroids.
Join us also for our next meeting at the Sudo Room on December 11th.
54207
Justice 4 Alan Blueford Coalition Meeting

@ Alan Blueford Center for Justice
Dec 7 @ 7:00 pm – 8:30 pm
Fighting the proposed curfew in Oakland. Protesting in Sacramento on O22. Demanding that Kamala Harris investigate the death of Alan Blueford and all other victims of police violence here in California. Speaking out against the militarization of police. Organizing a food and toy drive for the Holidays for the neediest amongst us.
Join as as we review our recent actions and plan future ones!
54202
Self-Determination and the National Question – A Class.

@ Workers World Offices, Oakland (#411, ring buzzer)
Dec 7 @ 11:00 pm – Dec 8 @ 1:00 am
Hear John Parker, Workers World Party National Committee and International Action Center West Coast Coordinator, lead a class on Lenin, Self-Determination and The National Question. There will be lots of opportunity for discussion and questions.
54059
Strike Debt: Ideas Into Action!

@ UC Student-Workers Union (cross street Milvia)
Dec 7 @ 11:00 pm – Dec 8 @ 1:00 am
Join Strike Debt Bay Area in working on some exciting projects locally and nationally to fight unjust debt.
– The latest on our coalition efforts to Save the Berkeley Post Office and fight the privatization of our commons. Watch the video of Peter Bryne speaking at our September 28th rally on the steps of the historic downtown Berkeley Post Office.
– The latest on our efforts to help Richmond and NGO allies push for principal reduction for Richmond's homeowners. Read an article written by two Strike Debt Bay Area members on the Richmond principal reduction / eminent domain case.
In addition, we are exploring the use of a public bank to help Richmond, CA and other communities escape the thrall of Wall Street.
– Other projects include efforts to fight against student debt in conjunction with peeps at UC Cal, action to bring awareness about the Federal Reserve on our near it's hundredth birthday on December 23rd, 2013, a Debtors' Union, a book group with semi-weekly discussions, investigations into the legitimacy of mortgage ownership and therefore the right to foreclose, efforts to thwart payday loan usury and more.
Check out our website, our Facebook, and follow us on Twitter.
54055
Dec
8
Sun
Foreclosure Defense Group Meeting

@ by the statues
Dec 8 @ 12:30 pm – 2:00 pm
Our weekly open meeting for members and supporters to discuss the weeks tasks and projects. Come get plugged into ongoing housing defense work! We have abundant and varied work for all folks in any number of meaningful projects.
Rain location: SF Pizza, 1500 Broadway, Oakland
46745
Occupy Oakland Foreclosure Defense Group Meeting

@ 19th & Telegraph, in the park by the statues
Dec 8 @ 12:30 pm – 2:00 pm
Our weekly open meeting for members and supporters to discuss the week's tasks and projects. Come get plugged into ongoing housing defense work! We have abundant and varied work for all folks in any number of meaningful projects.
Rain location: SF Pizza, 1500 Broadway, Oakland
50026
Film Screening: "The Battle for Oscar Grant Plaza"

@ Sudo Room (entrance on 22nd St, buzzer)
Dec 8 @ 11:00 pm – Dec 9 @ 1:00 am
Short documentary screening: "The Battle for Oscar Grant Plaza" by Jacob Crawford and co-produced by Dave Id, Indybay.org. The documentary shows how the City of Oakland and its Police tried to shut down the budding "Occupy Wall Street" movement, turning downtown Oakland into a teargas filled war zone and injuring numerous people. Police video obtained in discovery in the National Lawyers Guild's successful lawsuit and interviews with activists and journalists about their experiences, tell the real story of the disastrous Fall 2011 police actions that pushed the troubled OPD to the brink of federal receivership.
Documentary (in it's current state) is 25 minutes and will start around 3:15. Expect light refreshments and intellectual discourse! We're interested in sparking conversation around police accountability in the Oakland area and beyond. If you have any interest in direct involvement with OPD accountability (especially if you are a coder!), you won't want to miss this!
The producers and some plaintiffs (including Scott Olsen) will be present to answer any questions.
Jacob Crawford is a long time Copwatcher based out of the Bay Area in California. He joined Berkeley Copwatch in 2000 and produced the first ever "in the streets" non-dramatized know your rights video "These Streets Are Watching". He currently is running WeCopwatch.org with other Copwatchers and has been a contributor for CopBlock.org for several years.
54253