Calendar
9896
May
26
Sun
Sunday Morning at the Marxist Library

@ Niebyl Proctor Library
May 26 @ 10:30 am – 12:30 pm
Sun, May 12
Turkey at the cross roads of imperialism
Turkey is struggling to find a new and better position in the world while fascism erodes the economy, human rights, freedom of press and all opposition.  New "elections" on March 31 is only a sham as mounting evidence of corruption piles.  Turkey has lost on Syria, a quagmire it planned on winning big with the bog guys.  As Turkey oscillates between European Union, the USA and Russia, it finds itself more and more irrelevant.  Contrary to the big plans of becoming a leader in the Middle East, Turkey has been relegated to a position where it is only trying to find who to follow.  Such is the position of those who accept imperialism instead of standing up to it. ICSS member Mehmet Bayram will present and lead our discussion. TENTATIVE
Sun, May 19
¡VIVA MEXICO!
Mexican President Díaz (1876-1880 and 1884-1911) famously commented: "Poor Mexico, so far from God and so close to the United States."
Diaz got it at least half right. Mexico has suffered in the shadow of the Colossus of the North, but Mexico is not poor. Mexico is rich in many ways, yet it also has been impoverished. And Mexico has been greatly underappreciated by North Americans. This presentation will emphasize the many poorly known accomplishments of Mexico, while uncovering the role of US imperialism.
Mexico is bucking an international right-wing tide, shifting its government from right to left-of-center with the presidential inauguration of Andrés Manuel López Obrador (AMLO) on December 1. Speaking for international capital, The Economist is worried. The other 99% of humanity is hopeful.
Roger Harris will present a PowerPoint-illustrated cautionary history of this trice conquered land. A longtime activist with the Niebyl-Proctor Marxist Library, Roger is on the board of the Task Force on the Americas (http://taskforceamericas.org/), a 33-year-old human rights organization, and is active with the Campaign to End US-Canadian Sanctions Against Venezuela (https://tinyurl.com/yd4ptxkx). He last visited Mexico in March.
MEMORIAL DAY WEEKEND
Sun, May 26, 2019: 10:30 am to 12:30 pm
Report from Venezuela Delegation
Venezuela is in the cross hairs of imperialism.  It has the largest oil reserves in the world, but more than that, Venezuela is determined to use its resources for the benefit of its own people instead of handing them over to transnational corporations or imperialist rulers.  In the age of imperialism, these trends are enough to make any country the target of imperialist plunderers.  We are under a media barrage of lies, misinformation, and open US propaganda about Venezuela. With this intense muddying of waters it becomes very hard to know and understand the events happening around this Latin American, Bolivarian, country.
In order to observe what is really going on there, recently Bay Area residents Mehmet Bayram, ICSS member and journalist, and Laura Wells, Green Party Congressional Candidate, visited Venezuela with the "End Venezuela Sanctions" delegation.  They will present their experience and lead the discussion afterwards.
Sun, June 9, 2019: 10:30 am to 12:30 pm
A Socialist Defector: From Harvard to Karl-Marx-Allee
After 24 years in the USA, 38 years in the (East) German Democratic Republic as a McCarthy-era exile, then nearly 30 years in unified Germany, Victor Grossman, the ex-pat journalist and author examines the rise and fall of a socialist experiment as he observed and participated in it. He tries to clear through a fog of misinformation and distortion regarding it, describing its achievements, its successes as well as its blunders and negative aspects. Its position regarding Nazis and fascism is compared with that in West Germany. Its school system, women's rights, both models in many ways, cultural questions and other matters are examined from a personal, anecdotal and sometimes humorous perspective. 
The book then turns to a broader examination of possible lessons to be learned when searching for solutions to present-day problems: the growing gap between rich and poor, alarmingly malevolent dangers for a crippled environment, the menace of racism and new fascist movements, the almost ignored danger of atomic annihilation – and who is to blame for them. But the book also looks at newly invigorated hopes for a better, a socialist future despite the many barriers to its realization – seen through the prism of a veteran of the "old Left" in the USA, Communist rule and the Cold War in the shadow of the Berlin Wall, and expresses his views on current fears and hopes on both sides of the Atlantic – and the Pacific. 
(Copies of Victor's book will be available for purchase, cash or checks only, NO CREDIT CARDS.
Sun, Jun 16, 2019: 10:30 am to 12:30 pm
Cuba"s Democracy
Constitutional Referendum and grassroots political processes.
Cuba is always described as a "dictatorship" by the mainstream media and the U.S. government, thus providing a pretext for the economic blockade and talk about regime change. But Sharat G. Lin found a remarkable democratic process in the recent Constitutional Referendum in Cuba and months of nationwide discussions involving millions of voters. (Awaiting confirmation)
66451
Potluck before Occupy Oakland General Assembly

@ Oscar Grant Plaza
May 26 @ 3:00 pm – 4:00 pm
Feed The People!
The last Sunday of every month attendees of the OO GA get together a little earlier than usual, at 3 PM (2 PM during cooler months) to share some food with each other and the community.  There should be a table, utensils/plates, meat and veggie entrees and whatnot, courtesy of the Kitchen Committee (such at he is), so just bring yourself, or something to share as well if you'd like.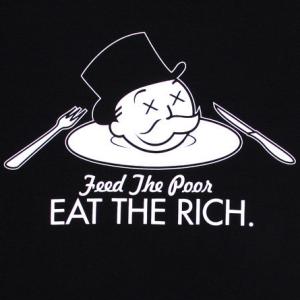 After the meal the Occupy Oakland General Assembly meets Sundays at 4 PM at the Oscar Grant Plaza amphitheater at 14th Street & Broadway. If it is raining (as in RAINING, not just misting) at 4:00 PM we meet in the basement of the Omni Collective, 4799 Shattuck Ave., Oakland. During Daylights Losing Time in the Winter we meet at 3 PM at the plaza, & again, we retreat to the Omni if the rain is a pain.

The OO General Assembly has met on a continuous basis for more than six years! Our General Assembly is a participatory gathering of Oakland community members and beyond, where everyone who shows up is treated equally. Our Assembly and the process we have collectively cultivated strives to reach agreement while building community.
At the GA committees, caucuses, and loosely associated groups whose representatives come voluntarily report on past and future actions, with discussion. If you like, just come and hear all the organizing being done! Occupy Oakland encourages political activity that is decentralized and welcomes diverse voices and actions into the movement.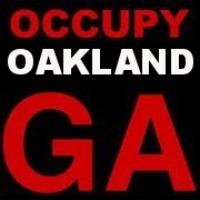 General Assembly Standard Agenda
Welcome & Introductions
Reports from Committees, Caucuses, & Independent Organizations
Announcements
(Optional) Discussion Topic
Occupy Oakland activities and contact info for some Bay Area Groups with past or present Occupy Oakland members.
Occupy Oakland Web Committee: (web@occupyoakland.org)
Occupy Oakland Kitchen Committee: (kitchen@occupyoakland.org)
Strike Debt Bay Area : strikedebtbayarea.tumblr.com
Berkeley Post Office Defenders:http://berkeleypostofficedefenders.wordpress.com/
Alan Blueford Center 4 Justice:https://www.facebook.com/ABC4JUSTICE
Oakland Privacy Working Group:https://oaklandprivacy.wordpress.com
Prisoner Hunger Strike Solidarity: prisonerhungerstrikesolidarity.wordpress.com/
Bay Area AntiRepression: antirepression@occupyoakland.org
Biblioteca Popular: http://tinyurl.com/mdlzshy
Interfaith Tent: www.facebook.com/InterfaithTent
Port Truckers Solidarity: oaklandporttruckers.wordpress.com
Bay Area Intifada: bayareaintifada.wordpress.com
Transport Workers Solidarity: www.transportworkers.org
Fresh Juice Party (aka Chalkupy) freshjuiceparty.com/chalkupy-gallery
Sudo Room: https://sudoroom.org
Omni Collective: https://omnicommons.org/
First They Came for the Homeless: https://www.facebook.com/pages/First-they-came-for-the-homeless/253882908111999
Sunflower Alliance: http://www.sunflower-alliance.org/
Bay Area Public School: http://thepublicschool.org/bay-area
San Francisco based groups:
Occupy Bay Area United: www.obau.org
Occupy Forum: (see OBAU above)
San Francisco Projection Department: http://tinyurl.com/kpvb3rv
64399
Free Dinner and a Movie Discussion Night – Oakland Greens

@ It's Your Move Games
May 26 @ 6:30 pm – 9:00 pm
The Oakland Greens 2019 FREE Dinner and a Movie discussion series.
As usual, the doors at the It's Your Move Games and Hobbies store will open at 6:30 p.m., a free dinner will be provided at 7 p.m., and the movie will start promptly at 7:30 p.m.
65437
May
28
Tue
East Bay DSA Social – Berkeley

@ Moxie Beer Garden
May 28 @ 7:00 pm – 9:00 pm
Come hang out with East Bay DSA members and talk about socialism, current events, historic events, the future, music, your cat, someone else's cat, etc. We'll tell you about upcoming East Bay DSA events and how you can get involved!
66499
May
29
Wed
Support the Coalition for Police Accountability's Effort to Intervene in Oakland's Negotiated Settlement Agreement

@ Federal Courthouse, Dept 2, 17th Floor
May 29 @ 2:00 pm – 4:00 pm
The Coalition for Police Accountability filed a motion to be Intervenors in the 16 year-long Negotiated Settlement Agreement (NSA). Our motion was opposed by the City, by Plaintiffs' Attorneys and, of course, the OPOA.   Here's an excerpt of the City of Oakland's response to our motion:
"Today is a much different day than when the NSA began.   For one thing, the City is in compliance with all but four tasks.   Dkt. No. 1238.   The City is faithful to the idea that with strong  medicine like the new policies the Department has put into place and a bench of strong, committed  leaders, the Department can be the trustworthy guardian the community deserves.    Today is a much different day than when the NSA began."
REALLY??????*
We need to have a strong representation of supporters at the hearing a week from today*!
*(It's possible that the Judge will notify us of his determination and cancel the hearing  –  if so, we'll cerrtainly let everyone know well ahead of time,)

Can we count on you?
Please help to spread the word and come to the hearing (you must have a valid, non-expired ID to get into the building). We ask:
Why is the City opposed to our involvement?
How many more years and millions of dollars must we spend to reform OPD?
Why shouldn't the community have a voice in this process after 16 years of gridlock?
We need to be visible to Judge Orrick to advance our argument that the community cannot continue to be a silent partner or a hostage in this ongoing, expensive enterprise.
Basta!
66614
Forum: Eyewitness Venezuela with Gloria La Riva
May 29 @ 7:00 pm – 8:30 pm
With guest speakers:
David Paul, Embassy Protection Collective
Carolina Morales, Venezuelan activistOn the heels of a month-long trip through Venezuela in the midst of growing U.S. aggression, anti-war activist Gloria La Riva will speak on the current situation in Venezuela, with a progressive perspective on the crucial issues facing the Venezuelan people: the U.S. economic sanctions, the U.S. media blockade, and the people's organizing efforts to overcome the aggression. La Riva will show exclusive first-hand video footage from her trip and answer the questions:
• What is the Bolivarian revolution all about?
• Is Venezuela suffering an economic collapse?
• What is the role of the U.S. and is the danger of U.S. war near?
• How can people in the United States get involved?
$5-10 donation (no one turned away for lack of funds)
Wheelchair accessible. Refreshments provided.
Facebook event page: https://www.facebook.com/events/464500407626348/
66602
May
30
Thu
Rally for Berkeley's Homeless Community

@ MLK Civic Center Park
May 30 @ 11:30 am – 12:30 pm
Screening of 'The One Percent'

@ Bobby Bowens Progressive Center
May 30 @ 6:30 pm – 8:30 pm
It's almost time for May's monthly potluck and free movie at the Bobby Bowens Progressive Center!
This month we will be screening The One Percent (1h 16m)
Schedule: 6:30pm Potluck / 7pm Screening
Join us on May 30 for the documentary The One Percent, created by Jamie Johnson, heir to the Johnson & Johnson pharmaceutical fortune. The film examines the system that allows a growing divide between the wealthy and the poor in America. Johnson interviews a number of America's richest people and asks them about the inherent dangers of having the majority of America's money in the hands of less than one percent of its citizens. Also interviewed are Chuck Collins and Bill Gates Sr., estate tax proponents and Johnson's own father, James Johnson who earlier in his life was interested too in the subject of inequality.
Johnson also discusses the economic and societal pitfalls of our current economic imbalance with Milton Friedman, Robert Reich and Ralph Nader. Using real-world examples of the wealth gap, Johnson takes a tour of a dilapidated housing project in Chicago, rides around with an enlightened taxi driver, and sees the human toll of the unfair economics of the Florida sugar industry.
The money that flows into the system shapes who gets what in the economy. At the end people who give the money have the greatest benefits. Yet not all rich people see the wealth gap a good sign and think the problem should be reversed. Is there truly equality in life? Are there solutions to the problem?
This is a free monthly event at BBPC that falls on the last Thursday each month. Mark your calendar for upcoming films:
June 27 – Flow: for Love of Water
July 25 – Tapped
66596
May
31
Fri
Free Chelsea Manning Oakland Weekly Friday Vigil
May 31 @ 12:00 pm – 1:00 pm
TILL SHE IS FREE OR MARYTRED YEAH IT/S VERY SERIOUS
BASTA !!! FREE CHELSEA MANNING WEEKLY VIGIL
optional after meeting/party rain cancels.
66601
Jun
1
Sat
Community Foods Market Grand Opening

@ Community Foods Market
Jun 1 @ 11:00 am – 4:00 pm
66571
Impeach on the Beach
Jun 1 @ 11:00 am – 1:00 pm
Join us at Ocean Beach (near the Cliff House) at 11:00 AM on Saturday June 1st as we help the legendary Brad create a brand new I-M-P-E-A-C-H human banner. It's CADem weekend and MoveOn presidential forum weekend so every big name D will be in town, including Elizabeth Warren, Bernie Sanders, Kamala Harris & Kirsten Gilibrand.
The helicopter arrives at midday, so get there early and don't miss out!
This is a great opportunity to make ourselves seen and heard, and immediately after the event we plan to head off to the MoveOn forum and the CADem event with our IMPEACH signs and banners – so BRING IMPEACH SIGNS AND BANNERS, & be prepared for a long and impeachful day!!!
Please sign up HERE if you would like to VOLUNTEER, and sign up at the official event page (link under the 'tickets' tab) if you'd just like to attend.
Let's ITMFA!!!
Please amplify on social media using the hashtag #ImpeachOnTheBeach.
66603
Jun
2
Sun
International Sex Worker Day

@ Oscar Grant Plaza
Jun 2 @ 11:00 am – 4:00 pm
🗣️ Spread the word
~SIT WITH US~
Inviting Bay Area community to our table for a Sex Worker celebration! 6/2
• Tabling by community health, wellness & social justice orgs
• Performers, Pole, & Speakers TBA
• Allies are wanted & welcome
• Wear red
• Bring flowers to share pic.twitter.com/nz57lql8oD

— Bay Area Workers Support (@BAWSupport) May 15, 2019
66611
Migrants At The Border: What's Really Happening? What Can We Do?

@ RSVP for location (see text)
Jun 2 @ 3:00 pm – 5:00 pm
How can we show up in solidarity with migrants at the southern border who have fled gang violence and government brutality to endure traveling on foot for months, family separation, and further persecution?
Please join us on June 2 to hear how you can volunteer with Al Otro Lado, (AOL), a wonderful organization known as the "most loving place in Tijuana." Al Otro Lado, is mostly volunteer-run and provides asylum seekers with know-your-rights training, legal consultation, document support, meals and medical care.Bay Area SURJ members who spent several days at the border will share their experiences working with asylum seekers. Volunteering is a great way for you to work against white supremacy and for human rights, and Spanish is not required.
66516
Film Screening: THE LOBBY, ABRIDGED

@ Redwood Gardens Community Meeting Room
Jun 2 @ 7:30 pm – 9:00 pm
"If Americans Knew" presents a 1-hour version of the censored Al Jazeera documentary, "The Lobby, Abridged".
66606
Jun
4
Tue
CloseThe Loopholes in Oakland Rent Control

@ Oakland City Hall Council Chambers,
Jun 4 @ 5:30 pm – 8:00 pm
We don't have to wait to repeal Costa Hawkins to fight displacement and stabilize the homes of thousands of tenants in Oakland NOW.
Oakland City Council has the power to remove rent-control exemptions on thousands of currently owner-occupied duplex and triplex units in Oakland and protect the futures of families in thousands more. It's time we demand they take action to stop displacement and rent gouging.
Closing the rent stabilization loophole for owner-occupied 2-3 unit buildings would immediately:
• Protect an estimated 5,100 tenants already living owner-occupied duplexes or triplex units by allowing them to re/gain rent stabilization;
• Qualify these tenants for protections under Oakland's Tenant Protection Ordinance, which protects tenants from harassment and "bad acting" landlords who are refusing to make necessary repairs;
• Make these tenants eligible for relocation payments for no-fault evictions
• Preserve the affordability of approximately 11,000 additional units vulnerable to losing rent stabilization and coverage under the Tenant Protection Ordinance and Uniform Relocation Ordinance.
Learn more about the fight here https://cjjc.org/mediapress/closetheloopholes-to-defend-and-expand-oaklands-rent-stabilized-housing/
And join us
Tuesday 5/21 @ 5:30pm First full City Council Vote – 3rd Floor Oakland City Hall
and
Tuesday 6/4 @ 5:30pm Final vote 3rd Floor Oakland City Hall
Also up for a vote on 5/21 – demand transparency and accountability from the Alameda County Sheriff's Department https://www.facebook.com/events/395420811306185/
66573
Jun
13
Thu
Movie Night at Reem's

@ Reem's Bakery
Jun 13 @ 6:00 pm – 8:00 pm
The Arab Film and Media Institute and Reem's are partnering to bring some of our favorite Arab films to Oakland. Screenings are free + the amazing team at Reem's will be serving the full menu throughout the evening.  And that's not all! There will be movie snacks (including za'atar popcorn!),
April 11: Refugee Stories
Far from a one-size-fits-all marking of "experience" so often depicted on Western media outlets when it comes to the plight of the refugee, this program of 5 powerful short documentaries spotlight the multitude of hues that should be considered when discussions of the refugee experience are had.


May 23: Shorts (Playful Pondering)
From dating drama in Bahrain and an abandoned Qatari cinemaplex, to wacky Lebanese nuns and land mine explosions, this eclectic mix of 6 whimsical, albeit socially-concerned short format narrative works will take viewers on a journey of humor, self-discovery, and provocation.
June 13: Seventeen
The Jordanian under-17 women's soccer team prepares for the FIFA U17 Women's World Cup, hosted by Jordan in 2016. Coming from different backgrounds, each of the girls has faced a different set of challenges as a national team player. But now they come together to face their biggest challenge yet.
66320