Two Occupy Oakland participants went up to Tacoma for the Block the Boat action over the weekend of August 23rd-24th, 2014.  Here is their account and some observations on the action the local ILWU and supporting unions.
We drove up to Tacoma on Friday afternoon. We were not sure if the blockade was already underway for the 4:30 p.m. tentative meet up at the Wash. United Terminal (WUT) for the evening shift but when we arrived late (6:30) we saw no crowds at the terminal. We learned that the ship was not in port and so we met at our specified meet up house for the evening to prepare for the next possible arrival Saturday morning.
The next day we arrived at the port at 6:30 AM and quickly got set up in front of the WUT terminal. As the morning progressed I would guess there was about 150 or so protesters (est. say 200 to 300 – but I honestly didn't see that – could be for the day, we had 2 shifts we tried to cover). Nice group set up…many wonderful signs including Philippines for Gaza and later in the day some Tibetan Monks arrived at the Blair berth entrance (one of many points of entry we did not know about when we first arrived in the morning).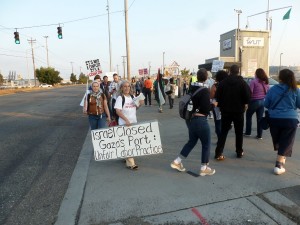 About 7:30 we noticed that not many cars were approaching the main WUT gate so a scout went along Tacoma Port Rd. and found cars were turning down another street. People were taken to what was thought to be a possible gate location on the corner of Maxwell and Tacoma. A cop car drove to the corner and began stopping cars trying to go further down Tacoma Rd. towards WUT and denying them access unless they were workers trying to get to their jobsite. WTF? Some of the demonstrator cars were told they could not go down to WUT terminal gate. We were in our van and went down to the Blair terminal gate on Maxwell St. and went back to Tacoma to go back to WUT and the cop stopped us. We told the cop that Tacoma was a public street and he had no right to prevent us from driving down the street. We drove back to WUT and informed people what the cops were doing. It was clear that the ILWU workers were getting through the port to the WUT terminal from another access point. By 10 a.m. people determined that we needed to focus on planning for the next shift change at 6 pm so folks were encouraged to go get food and rest and plan for the next action at 4 pm.
We met back at the house in Tacoma and it was determined that a scout team needed to go out and research the port for the gate locations that were connected to WUT terminal. The scouts went out.
At 4 pm cars went back out to the port. I'm guessing the numbers at the evening picket were about 50 or 60 people in total. A group was placed at the WUT terminal, the Blair terminal and then a remote road on the corner of route 509 and Taylor Way that was marked PRIVATE road w/ a sign. We called that Evergreen. We had people at all three locations and then 2 entrances that looked like would be opened up as potential gate openings. The fact that there were fewer people at the afternoon action was a disadvantage, but people from Seattle began to show up which helped. There were people on bicycles which was also helpful to get info and see what was going on w/ the cops. The afternoon shift of picketers were there until at least 7 pm. It wasn't until 6:30 pm that it we all discovered ANOTHER gate that was used to get workers to their 6 pm shift at the ZIM ship.
I want to talk about the biggest obstacle to the port action not resulting in a success of stopping or even significantly delaying the ZIM ship from unloading at Tacoma. The ILWU Local 23 is nothing like the ILWU Local 10 in Oakland or maybe even like the ILWU local in Long Beach. I have to say that this ILWU Local should be ASHAMED of themselves. Really, they were not only annoyed with the citizen picket line but they were verbally and even physically abusive with us (using their car/truck/van/motorcycle to either simulate & scare us into thinking they would drive thru the picket or in one case, actually barreling thru the picket line as a very dangerous motorcyclist did at the Evergreen picket line late in the day, grabbing a picket sign and nearly hitting the picketers – all while the Tacoma cops stood on the private property street watching it happen and doing nothing after it happened).
The numbers of reports that I heard about, of ILWU worker vehicles being threatening or aggressive, was astounding, I happened to approach a worker who was in his van in the early morning in front of WUT terminal to talk w/ him about what we were doing & ask him politely to not go to work today. This man proudly pulled his sweatshirt off to show off his ILWU Local 23 t-shirt to me. Then he shouted at me that we were preventing him from going to work. He asked me if I was working at the port. I responded that I was working to stop the ZIM ship from being unloaded and reminded him that back in the 1980s his brothers and sisters in ILWU Local 10 in Oakland worked to stop Apartheid S. Africa by not unloading cargo supporting that corrupt govt. This guy didn't care and wanted us to get out of his way. I took a picture of this man and then found him later in the day with his other co-workers across the street from WUT gate entrance w/ his other fellow ILWU Local 23 workers gawking at the picket lines and according to those on that afternoon picket line they were harassing them. I did not witness that part, but just captured them on film and video hanging out and watching our demonstration.
In 1984 the ILWU shut down the ports for 11 days in a political strike against aparthied in South Africa.
Given how the unions are dwindling and the union workers' environment and work pay/benefits are in severe decline, one might think they need to organize the rank and file to not only save themselves, but to save their community and their future. You know there is no security without community.
Alienating ones self-preservation is not a good long term strategy. It won't work. It is not good for anyone to think in such narrow terms. The fact that the ILWUs only consistency is inconsistency is depressing. I do not feel that I can, in good conscience, do any more support work for any union that has not demonstrated their care and involvement in the wider community. I am grateful that I have been able to get to hear and know (to a limited extent) people like The Real Clarence Thomas and Jack Heyman (retired ILWU Local 10 workers) who are routinely involved in local issues, labor issues, and social justice causes that impact people everywhere and who are committed to justice in the world. I only wish more ILWU workers, union workers and all workers who are not union workers would commit themselves to those same values.
Anyway, the port of Tacoma is HUGE! It is the largest port I have ever been to. Sadly, we didn't have maps of the port and there had not been a study of how the gates at the port work to get workers/trucks to the various berths. It was partly because of this that the blockade wasn't a success in keeping the ILWU local 23 workers from getting through the pickets to their job.
Nonetheless I believe our action was a success in a few ways. The fact that there was a nice size and significant group of people who were there for the first shift and then a smaller but very flexible group ready for the second shift in Tacoma creating problems and delays to unloading ZIM ship containers is a success. The fact that ILWU Local 23 workers had to be confronted with community members/neighbors/citizens who care about the lives of people in a land occupied by genocidal maniacs was a success. The fact that the ship was not unloaded in a timely manner was a success. And the fact that people from around NW got together and worked together to shut down a symbol of power and aggression is the best success in my opinion.
There will be more opportunities to grow our efforts to stop Israeli owned businesses to make a profit while the Israeli government continues their genocidal behavior in Palestine generally and Gaza specifically.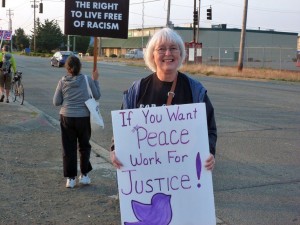 Cindy and Craig Corrie (parents of Rachel Corrie who was killed by the IDF in Gaza in March 2003) were there.
56514