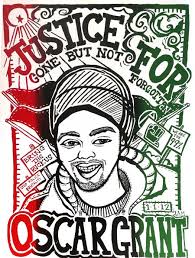 This morning, July 1st, 2014, five and a half years after Oscar Grant was killed at the Fruitvale BART Station, a verdict of  "no justice" was given to Oscar's father.
Former BART Police Officer Johannes Mehserle won't have to pay any monetary damages to the father of BART rider Oscar Grant.
A federal jury in San Francisco ruled Oscar Grant Jr. is entitled to no monetary damages in the death of his son who was shot and killed at the Fruitvale BART station early on New Year's Morning 2009.
"They took the most precious thing in the world to me,my only child."  
After serving a short sentence for involuntary manslaughter, Johannes Meserle walks free, unlike either Grant, one who walks back and forth in a prison cell, one who no longer walks the Earth.
56126