SPEAKER JOSHUA SMITH / OAKLAND CITY COUNCIL / AGENDA ITEM #9 / NOVEMBER 12, 2013
TRANSCRIPT: "My name is Joshua Smith I'm a resident of Oakland. We were here before shaming you for hiring a company that is involved in nuclear weapons procurement.
SAIC also trains for Interrogation. SAIC facilitates the telecommunications for the drone program in Afghanistan, that s murdered over a thousand innocent civilians, including children, and this is the company you chose. I would like to know what genius vetted this company?
Dan Kalb I remember you saying "Sounds great!" when it was presented to you, without any research or looking into it at all.
SAIC is known as "NSA WEST" to those in inner circles. SAIC headquarters is on the same street as Central Intelligence Agency in Mclean. SAIC is partnering with VIDSYS, which is right across the street from SAIC in McLean, Virginia. Anytime you see the word McLean, Virginia it's a red flag, you have a problem, ok?
.Now, in regard to Mclean and CIA, the City of Oakland runs it's website via a mechanism from a company called Socrata. Socrata is invested by a company called IN-Q-TEL (I-N-Q-T-E-L) which is the venture capital arm of the CIA. Look it up.
.The company that handles all the LPR data (License Plate Readers) that are on Oakland police cars, which today I believe there are 14 to 16. which at any time can become standard issue and they just don't have to be on police cars, they can be on street lights, telephone poles… the database for LPR data is handled by a company called PALANTIR which is CIA funded (P-A-L-A-N-T-I-R) Look it up .
.Whoever's advising you all, well I don't know if anybody is, or you are not doing any of your research. But you're just in the pocket of DHS which a domestic police force. And you are going to criminalize dissent while you are militarizing the police. And if you ever, ever implement Facial Recognition into this system… expect resistance. Thank you.".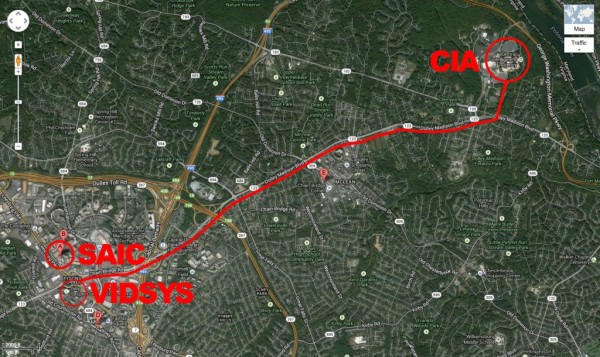 .Journalists/Researchers/Whistleblowers: direct contact with Joshua Smith (occupyoakland [at] riseup.net)
.
———————————————————
SOURCES & RESOURCES:
———————————————————
OAKLAND DOMAIN AWARENESS CENTER:
http://oaklandwiki.org/Domain_Awareness_Center
PRIVACY FEARS GROW AS CITIES INCREASE SURVEILLANCE:
http://www.nytimes.com/2013/10/14/technology/privacy-fears-as-surveillance-grows-in-cities.html?_r=0
NUCLEAR LAW FORCES OAKLAND TO BACK OUT OF SURVEILLANCE CENTER CONTRACT:
http://www.contracostatimes.com/news/ci_24460915/nuclear-law-forces-oakland-back-out-surveillance-center
SAIC NUCLEAR WEAPONS:
http://darwinbondgraham.wordpress.com/2013/07/20/saic-oaklands-border-militarizing-drone-flying-nuclear-weapons-engineering-surveillance-contractor/
SAIC DRONE WARFARE SATELLITE COMMUNICATIONS:
http://www.upi.com/Business_News/Security-Industry/2013/06/13/SAIC-providing-OM-services-for-Air-Force-drones/UPI-34101371148630/
SAIC "NSA WEST":
http://pogoblog.typepad.com/pogo/2006/02/nsa_west.html
"Trailblazer was a United States National Security Agency (NSA) program intended to develop a capability to analyze data carried on communications networks like the Internet. It was intended to track entities using communication methods such as cell phones and e-mail. The project was overseen by NSA Deputy Director William B. Black, Jr., an NSA worker who had gone to SAIC, and then been re-hired back to NSA by NSA director Michael Hayden in 2000. SAIC had also hired a former NSA director to its management; Bobby Inman. SAIC also participated in the concept definition phase of Trailblazer."
http://en.wikipedia.org/wiki/Trailblazer_Project
SNOWDEN NSA LEAKS:
http://cryptome.org/2013/08/nsa-xkeyscore-saic.htm
http://www.theguardian.com/world/2013/jul/31/nsa-top-secret-program-online-data
DRONES KILL CIVILIANS:
"50 Civilians Are Killed For Every 1 Terrorist, and the CIA Only Wants to Up Drone Warfare"
http://www.policymic.com/articles/16949/predator-drone-strikes-50-civilians-are-killed-for-every-1-terrorist-and-the-cia-only-wants-to-up-drone-warfare
"Sometimes you hit innocent people, and I hate that, but we're at war…"
http://rt.com/usa/sen-lindsey-graham-says-us-drones-have-killed-nearly-5000-people-185/
"Pakistani assessment of America's lethal drone program, that says U.S. drones killed scores of civilians in a three-year span and that nearly 100 of those were children."
http://abcnews.go.com/Blotter/kids-killed-drones-us-pushes-back/story?id=19759808
THE CIA, NOT THE PENTAGON, WILL KEEP RUNNING OBAMA'S DRONE WAR:
http://killerapps.foreignpolicy.com/posts/2013/11/05/cia_pentagon_drone_war_control
SOCRATA ANNOUNCES STRATEGIC INVESTMENT FROM IN-Q-TEL:
http://www.socrata.com/newsroom-article/socrata-announces-strategic-investment-from-in-q-tel/
SOCRATA CITY OF OAKLAND:
http://www.infoalamedacounty.org/index.php/tag/socrata.html
https://data.oaklandnet.com
http://openoakland.org
PALANTIR IN-Q-TEL INVESTMENT:
http://baltimore.citybizlist.com/article/q-tel-backed-palantir-technologies-valued-"billions"
PALANTIR NORCAL LPR DATABASE:
http://www.theverge.com/2013/6/29/4478748/california-license-plate-reader-database-palantir
http://www.forbes.com/sites/andygreenberg/2013/08/14/agent-of-intelligence-how-a-deviant-philosopher-built-palantir-a-cia-funded-data-mining-juggernaut/4/
53912