Friday, October 25 – in Oakland 
SAY NO!
NO WAR GAMES, NO WAR PROFITEERS,
NO MILITARIZATION
of POLICE in OUR COMMUNITY
Community witness/walking picket  9 AM – 5 PM
Marriott Hotel, 11th & Broadway, downtown Oakland
Rally 5 – 6 PM
URBAN SHIELD: 
MILITARIZING THE POLICE WITH MORE WEAPONS

Urban Shield deepens the militarization of police in our neighborhoods, which results in harassment and violence, disproportionately against African-American, Latino and Arab/Muslim communities.
Urban Shield provides training and information sharing among SWAT teams and international police forces, many of which are guilty of major human rights violations – including teams from Israel, Bahrain and Qatar among others.
Urban Shield normalizes the use of 'non-lethal' chemical weapons, surveillance drones, armored cars and other military weapons against Muslims, people of color and peaceful protestors.
Urban Shield spends up to $7.5 million of public monies – to fund big military contractors that turn disaster and deadly conflict into profit. We see this trend in attempts to purchase tanks and drones by police forces and sheriffs across the Bay Area.
Urban Shield targets people expressing their constitutional right of freedom of assembly and protest through scenarios that portray activists as a danger to public safety. In the name of fighting 'terrorism', Urban Shield justifies Islamophobia, stop and frisk, and other intrusions into our constitutional rights.
More: https://www.indybay.org/newsitems/2013/10/01/18744164.php
FLIERS: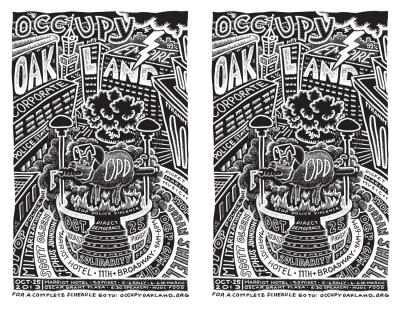 53183