Photos and Art by TRISTAN ANDERSON.
Between La Peña and The LONG HAUL on both sides of the street!
ANARCHO-SPECTIVE: Political Art Show
Photos and Art by Tristan Anderson
FREE EVENT
SUNDAY, MAY 5 (5:30- 10 pm)
at LA PENA CULTURAL CENTER and the LONG HAUL INFOSHOP
(On both sides of Shattuck Ave, between Woolsey and Prince St– Berkeley)
5:30: Dinner with FOOD NOT BOMBS
6:15 Doors Open for Art Show
7:00 OAXACA COMMUNE Slide Show
40 THIEVES Revolutionary Hip Hop
NEPANTLER@S Queer Chicano Punk
And… Save the Date! MON JUNE 10, PROTEST IN SF coinciding with the start of Tristan Anderson's civil trial against the Israeli Military.
TRISTAN ANDERSON is a longtime Oakland anarchist/activist who was shot in the head by Israeli military police during a demonstration in Occupied Palestine in 2009….
Facebook Event Page: https://www.facebook.com/events/457901524286109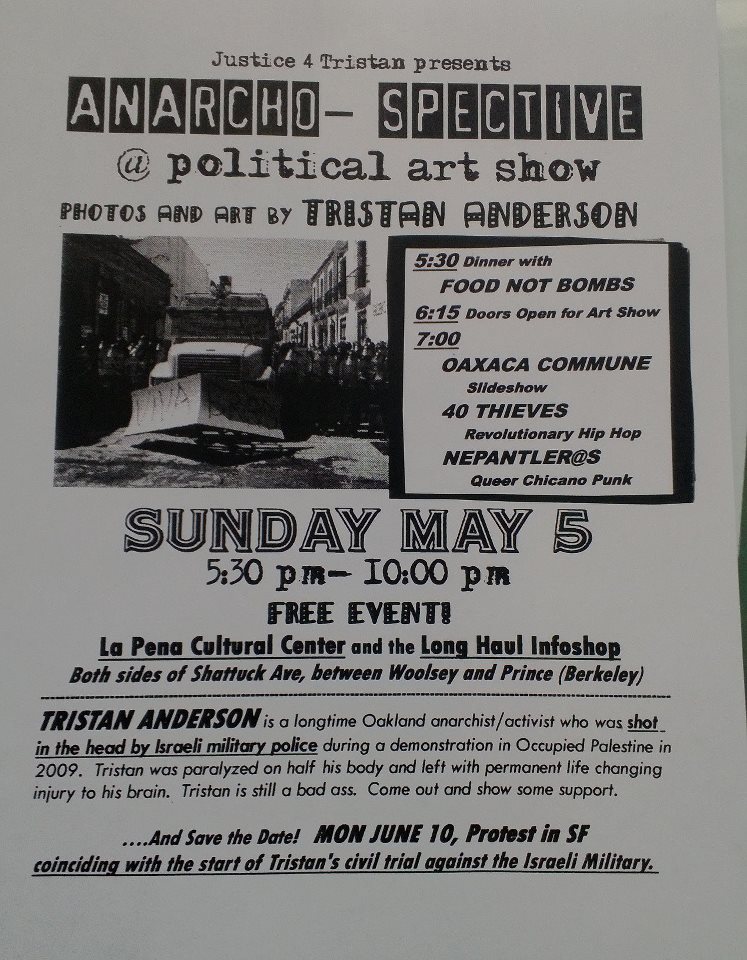 48983