Please join us for a free community BBQ with a health booth, music, activities for kids, and much more.  OPD officer Miguel Masso murdered 18 year-old Alan Blueford last May 6th in Deep East Oakland.  As Alan was laying on the ground with his hands raised his last words were "I didn't do anything."  The Justice For Alan Blueford Coalition has been fighting to get officer Masso fired and prosecuted, rallying and marching, shutting down City Council, and occupying the District Attorney's office.  Come out and share some food and ideas with us on how to address violent, unaccountable police and help get justice for Alan.
Officer Masso must be fired because factual evidence exists that:
– he participated in an illegal 'Stop & Frisk,' precipitating Alan's death
– he did not activate his lapel camera as required by OPD protocols
– he executed Alan Blueford, firing three shots at someone who was unarmed
– he lied after the fact about the events of May 5th & May 6
– he should never have been hired in the first place because of his NYPD record
– he refused a prisoner medical treatment, as documented by NYPD Internal Affair
– he is not psychologically fit to be a police officer, as evidenced by his own statements in the District Attorney's report
Join us in demanding the arrest of Officer Miguel Masso for the murder of Alan Blueford, and an end to racial profiling and violent, unaccountable police in Oakland.
When:
April 13, 2013 @ 1:00 pm – 5:00 pm
Where:
Arroyo Park
7701 Krause Avenue
Oakland,CA 94605 (see map below)
Contact:
http://justice4alanblueford.org/
alanblueford@yahoo.ca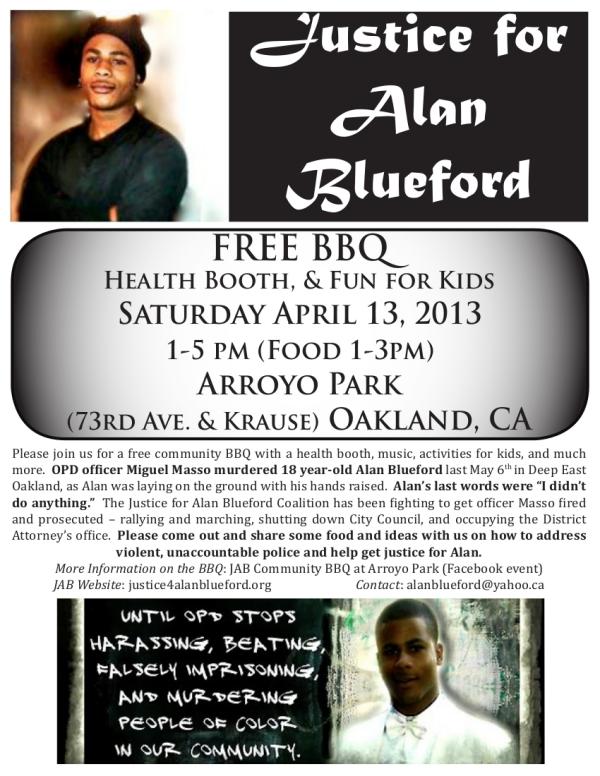 We need help setting up, cooking, serving, with tables (buttons, literature), trash pick-up, etc. We are having a planning meeting Wednesday, April 10th at 7PM at SF Pizza at 1500 Broadway, Oakland.
We also need cooks to show up at the 1st Congregational Church on 2501 Harrison Street in Oakland from 1PM 11 AM to 5 PM on Friday, April 12th.
Justice 4 Alan Blueford Coalition website.

View Larger Map
48143