Update Day 5
#defendjodie Nov 09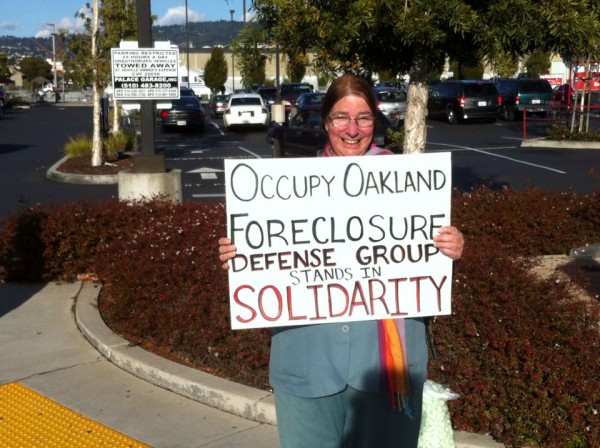 #defendjodie f

olks bring food and solidarity to the nearby Nob Hill picket!
Upda

t

es:
Our text alert system continues to grow. It has doubled in size over the last week and a half.
We are fielding requests from local papers and blogs for interviews with Jodie, so stay tuned for more media on #defendjodie.

Today also was a phone blast day to pressure Morgan Stanley to negotiate with Jodie.
Congratulations everybody!
When we last checked, John Sheldon's phoneline at Morgan Stanley/SF shutdown because it was getting so manycalls!
Calls are going straight to voicemail now! Good work everybody! Now we approach Morgan Stanley again and see what they have to say now that we have demonstrated our numbers and strength.
Jodie's house is quickly becoming a central spot in the neighborhood and our political community. We are putting together ideas and plans for neighborhood events like amovie night in the driveway, a thanksgiving donation and dinner day, day canvasses and flyering…. you name it, we want to do it.
Please repost and share this update.
#defendjodie
"Solidarity is the People's Weapon!"
43751