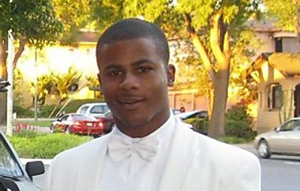 "I'd like to update you all about Justice 4 Alan Blueford at the Oakland City Council meeting tonight.
Several members of the Blueford family spoke to the council about their son's, brother's, nephew's, cousin's murder. I was in tears listening to the pain the family was expressing.
At one point president of the city council Larry Reid interrupted Adam Blueford (Alan's father) to announce that they were going to give the family the police report after they took a 10min break, he said Chief Jordan was on his way with the report.The 10min break turned into about 45min, when the council came back there was no mention of the police report, it was announced that they were moving on to another agenda item, which ironically was a recommendation to make Oakland an International City of Peace.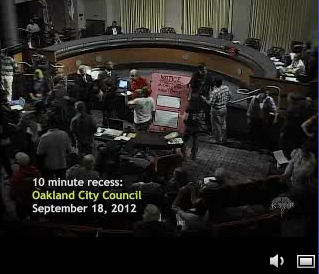 The crowd started chanting "No Justice! No Peace!".
Larry Reid then stated that the meeting was adjourned without a vote or anything. Needless to say, the people were not happy and there was a lot of yelling at the city council. I was up front at this point, close enough to speak to council
member Pat Kernighan, I asked her why they were leaving.
She said it was because we were yelling.
I called her on that bullshit, I told her we were yelling because the family was promised a police report after a 10min break and they came back w/no report after 45min.
I told her that we'd stop yelling if they gave the Blueford's the police report.
She then piled on more bullshit by trying to tell me that it was a 'legal matter' about why they could not release the police report.
I said to Kernighan that the only 'legal matter' that concerns me was the murder of an innocent 18 year old boy by an Oakland police officer.
She walked away from me.
Shocking.
•Release the police report on Alan's murder.
•Officer Miguel Masso be fired and charged with Alan's murder.
•OPD Chief Howard Jordan be held accountable for lying to the Blueford family.
•An end to stop-and-frisk and other police practices of racial profiling.
•The repeal of the Police Officers' Bill of Rights, that shields violent cops from prosecution and keeps them on the street."
40358