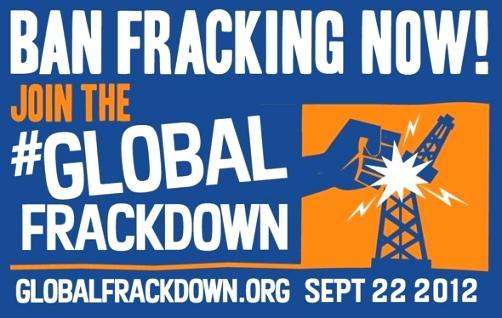 Interview with Adam Scow, Food & Water Watch by Willi Paul, PlanetShifter.com Magazine
Day: Saturday, Sept 22, 2012
Location: 983 Marine Drive, San Francisco, CA 94129
Oil and Gas companies have started fracking in the San Francisco Bay Delta and near the Sacramento River, which flows right into the Bay! In late September the State will propose regulations to allow fracking to continue. Here in San Francisco we will gather for a rally to tell the Governor and our state legislators that fracking must be banned! We'll be joined by guest speakers, breakfast, and a photo on Golden Gate Bridge. We'll meet next to the Warming Hut at 10am. Come and join the movement to stop our Bay and State from being fracked!
Check out the action guide for event ideas and planning tips!
* * * * * * *
Willi's Interview with Adam,
Food & Water Watch – FRACKING ACTION CENTER
"Fracking has already damaged communities and ruined lives." What is the history of this technology in the Bay Area? What companies are involved? Tell us about the dirty global politics to date?
Fracking is now happening in California for both oil and gas. Venoco is fracking for gas in both the Sacramento Valley and near the Bay Delta, and several companies have fracked for oil in Monterey, San Benito, Kern, and LA counties. Occidental Petroleum is also fracking in southern California and may be fracking near the Bay, but there's no way to know for sure, as the State does not require companies to disclose whether they are fracking. The State agency that's supposed to protect us from oil and gas companies is very cozy with the oil and gas industry.
How does the industry impose their will on us and the land? Talk strategy — and connect this one with the other dirty fuels…
These companies are extremely powerful..California provides over 10% of the nation's crude oil and oil extraction is not taxed in California. They are major campaign contributors to politicians and they are exempt from the Governor's proposed tax hikes on the November ballot.
You list an impressive set of Global Frackdown Partners. Who have you worked with and why did you choose them?
The partners supporting the frackdown are organizations who want fracking stopped completely, not just regulated. We are building for local and state action to stop Fracking in California. We anticipate having statewide legislation introduced in early 2013. Saturday is an important day to show our electeds that we are aware this is happening and we want it stopped.
Oh, no! Another online petition! Why are using this tool?
It's a way to grow the movement and identify supporters to plug them into real life actions like the one on Saturday.
Many want direct action these days, aka Occupy. Do you support stopping of this technology by any means necessary?
FWW is supporting and working for legislative bans at the local, state, and federal levels. However, some communities who are directly threatened by this practice may use other tactics to protect themselves.
There is no substitute for clean air and water.
40307