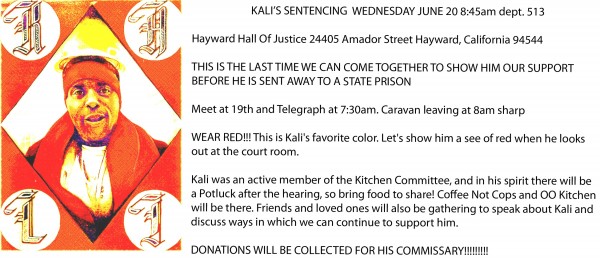 This is our last chance to support Kali before he is sent to a state prison for Occupying! On June 20, meet at 19th & Telegraph 7:30 am for the bus to Hayward, WEAR RED!
Kali was originally arrested December 16th on minor misdemeanor charges,
but because of a probation violation hold he was incarcerated for 4 days
before any charges were formally filed.
While most people would have been released from jail and asked to appear
for a future court date given the minor nature of the misdemeanor charges,
the DA denied Kali's release because of the county's assertion
that he is homeless. At his arraignment Kali immediately notified the
judge that he did have a residence and provided the address. The staff
that could confirm this residence was gone for the day and it was
concluded that
Kali would have to remain in jail until his next court date.
Bail, however, was set and Occupy Oakland immediately began the process
of posting it. Shortly after, we were notified that Kali could no longer
be bailed out because he was now being charged with a felony count of
assaulting a correctional officer. We have since found out that this
alleged incident occurred upon his arrival back at Santa Rita Jail. Kali's
bail for this case was then set for a staggering $580,000. During this
time, Santa Rita Jail withheld his psychiatric medication despite numerous
calls from friends and family and even a court order by a Judge. Their
negligence created the conditions under which he was charged with a
serious
felony.
Now, after being held in solitary confinement for nearly 6 months, Kali
has chosen to take a plea deal. His formal sentencing is on June 20th.
33310