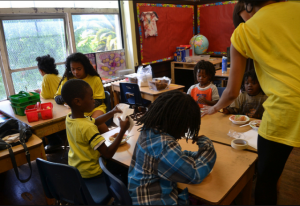 Daily Rallies at Lakeview Elementary 746 Grand Ave. at 5pm! ( In case of a police raid, rally the next day 5 pm at Lakeview)
Public education in Oakland is under attack. Literally. On Monday, the 18th, Oakland Unified School District (OUSD) police and OPD threatened the parent and teacher led sit-in at Lakeview Elementary. We re-opened the school they shut down. Now we need a mass mobilization to defend the re-opening. Instead of keeping elementary schools open, the OUSD claims they're broke – yet 6 million dollars goes to paying the state debt each year! Yet another example of how schools are run by people who think like capitalists!
Demands:
Don't Close the 5 Schools! Keep All Neighborhood Schools Open!
Stop Union Busting: Defend the OEA and All School Worker Unions!
Refuse the Debt: Demand the District Call on the Banks to Bailout Schools!
Fully Fund Quality Public Education For All!
Demand Tony Smith Re-Open the Schools or Resign. Re-Open or Resign!
Support
Sign the petition: http://www.ipetitions.com/petition/i-support-the-lakeview-sit-in/
Donate food or supplies: your contributions are always welcome, bring them down to Lakeview!
Sign-up to recieve emergency text blasts
text "Lakeviewsitin" to 41411
WEB: saveoaklandschools.org
EMAIL: saveoaklandschools@gmail.com
Visit: The Lakeview Elementary Sit-in is located 746 Grand Avenue in Oakland – directly across the street from the Lake Merritt Farmer's Market and kitty corner from the Grand Lake Theatre
34425