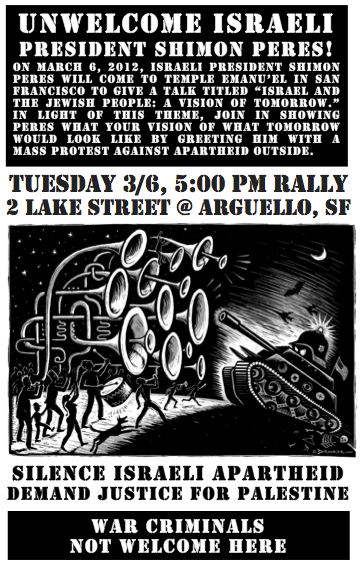 On March 6, 2012, Israeli President Shimon Peres will come to Temple Emanu-El in San Francisco to give a talk titled "Israel and the Jewish People: A Vision of Tomorrow." In light of this theme, we want to show Peres what our vision of tomorrow would look like by warmly greeting him with a mass protest against apartheid outside of the temple.
Shimon Peres, as seen by the choice of his themed talk, is a positive thinker. He likes to put things into positive light and make the future look bright and happy. But for Palestinians, Jews of color, and other people of color living in and out of Israel, he does anything but make the future bright and happy. During his military career in the 1950's, Peres was responsible for making imperial ties with European countries such as France and the UK in order to secure advanced military technology, such as the Dassault Mirage III fighter jet and the Dimona nuclear reactor, and has been developing nuclear weapons since.
Shimon Peres inaugurated the annual Israeli Presidential Conference that aims to bring the world's best minds together to envision the global tomorrow, the Jewish tomorrow, and the Israeli tomorrow. This conference takes place amidst widely documented daily occurrences of human rights abuses like land theft, murder of civilians, illegal detentions, and continuous violations of international law. The same "great minds and world experts," including George W. Bush, Ehud Olmert, Ruport Murdoch, and Henry Kissinger, who participate in the conference, are guilty of collaboration with the apartheid regime. Palestinians in the diaspora and within the Israeli apartheid regime do not have free access to this conference. Palestinians cannot contribute to the conference their knowledge of Israel's human rights abuses, and the systematic destruction by the apartheid regime of the Palestinian ability to survive today, much less tomorrow. This conference clearly fits the guidelines of the Palestinian Campaign for the Academic and Cultural Boycott, and thus protesting a talk by its creator does as well.
As President, Peres has signed into law racist and colonialist legislation criminalizing freedom of speech for Israeli citizens to advocate for BDS, the boycott which Occupy Oakland has endorsed, and a series of laws and amendments disenfranchising and ethnically cleansing Palestinians from their land, such as the Israeli Land Administration Law in 2009 allowing privatization of seized property, an amendment to the Land Ordinance 2010 confirming state ownership over confiscated land, and an amendment to the Negev Development Authority Law in 2010 recognizing individual settlements in the Naqab, regardless of whether it was built in accordance with permits and planning laws. He is also responsible for signing the Law to Prevent Infiltration (2012) which criminalizes refugees and asylum seekers entering the country, making it possible for the state to imprison them for a minimum of three years and possibly indefinitely.
We can see, then, as presidents often do, Shimon Peres serves the wealthy colonial elite and the settler state of Israel. Peres tours the world speaking on behalf of Jewish people, co-opting the history of the Holocaust. At the same time, he has on his conscience a massive arms trade and racist laws which advance the ethnic cleansing and genocide of Palestinian peoples. His very presence at a synagogue in San Francisco normalizes settler colonialism here and in Israel, connecting two settler states in the name of Judaism and an imperial and colonial "vision of tomorrow."
To contest the normalization and cultural violence of this event, a number of Bay Area activists, including the proposers, are organizing a protest outside of the synagogue on March 6, 2012 at 5:00 PM. This proposal does not seek to create a formal Occupy Oakland working group, but does not oppose this, and will participate if one is formed. We ask Occupy Oakland to take a stand against apartheid and settler colonialism by endorsing, participating in, and helping plan this action. We hope Occupy Oakland will help think up and enact creative ways for us to show Peres that he is not welcome to promote apartheid and colonialism in the already colonized Bay Area.
The organizers of this demonstration are committed to anti-oppression principles and will not be represented by any oppressive language or behavior at the demonstration, which includes anti-Jewish racism.
22696