Calendar
9896
November 2014
Nov
2
Sun
Occupy Oakland General Assembly

@ Oscar Grant Plaza or SUDOROOM if raining
Nov 2 @ 4:00 pm – 5:15 pm
The Occupy Oakland General Assembly meeting time has been temporarily changed to 4:00 PM for the summer, anyway.
The Occupy Oakland General Assembly generally meets Sundays, 2-4 PM at Oscar Grant Plaza amphitheater at 14th Street & Broadway, often on the steps of City Hall. "If it is raining (as in RAINING, not just misting) at 2:00 PM we meet inside at the new Sudoroom, 4799 Shattuck Ave, Oakland  Directions
We have met on a continuous basis for more then two and a half years! Our General Assembly is a participatory gathering of Oakland community members and beyond, where everyone who shows up is treated equally . Our Assembly and the process we have collectively cultivated strives to reach agreement while building community.
The bulk of the work of Occupy Oakland does NOT happen in the General Assembly. It happens in various committees, caucuses, and loosely associated groups whose representatives voluntarily come to the GA and report on past and future actions. We encourage everyone participating in the Occupy Oakland GA to be part of at least one associated group, but it is by no means a requirement.  If you like, just come and hear all the organizing being done! Occupy Oakland encourages political activity that is decentralized and welcomes diverse voices and actions into the movement.
General Assembly Standard Agenda
Welcome & Introductions
Reports from Committees, Caucuses, & Independent Organizations
Announcements
Discussion Topic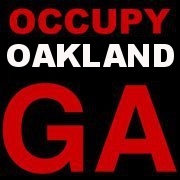 Occupy Oakland activities and contact info for some Bay Area Groups with past or present Occupy Oakland members.
Occupy Oakland Web Committee: (web@occupyoakland.org)
Occupy Oakland Kitchen Committee: (kitchen@occupyoakland.org)
Strike Debt Bay Area : strikedebtbayarea.tumblr.com
Berkeley Post Office Defenders: http://berkeleypostofficedefenders.wordpress.com/
Justice 4 Alan Blueford: justice4alanblueford.org
Oakland Privacy Group: oaklandprivacy.wordpress.com
Prisoner Hunger Strike Solidarity: prisonerhungerstrikesolidarity.wordpress.com/
Bay Area AntiRepression: antirepression@occupyoakland.org
Biblioteca Popular: http://tinyurl.com/mdlzshy
Interfaith Tent: www.facebook.com/InterfaithTent
Port Truckers Solidarity: oaklandporttruckers.wordpress.com
Bay Area Intifada: bayareaintifada.wordpress.com
Transport Workers Solidarity: www.transportworkers.org
Albany Bulb Defense: sharethebulb.org
Fresh Juice Party (aka Chalkupy) freshjuiceparty.com/chalkupy-gallery
Sudo Room: sudoroom.org
San Francisco based groups:
Occupy Bay Area United: www.obau.org
Occupy Forum: (see OBAU above)
San Francisco Projection Department: http://tinyurl.com/kpvb3rv
9896
Nov
4
Tue
Oscar Grant Committee Against Police Brutality and State Repression. Monthly Meeting.

@ Niebyl-Proctor Library
Nov 4 @ 7:00 pm – 8:30 pm
Nov
5
Wed
Million Mask March in San Francisco.

@ Civic Center Plaza
Nov 5 @ 10:00 am – 12:00 pm
March to Chelsea Manning Plaza.
This 5th of November, we call on those of you that see the wrongs of society, those that can see we are on a collision course with oblivion. This 5th of November, we ask those of you that can see the fabric of our civilization unraveling before our very eyes to take a stand against the corruption, lies, deceit and greed threatening our very existence. This 5th of November, we ask that you look through the veil of obscurity the shady and corrupt individuals in leadership are desperately trying to perpetuate in order to continue with their obscenities. This 5th of November, we ask that you dawn your mask, take a stand and refuse to live a lie any longer. Let us stand united against the wrongs of this world on Anonymous' Million Mask March and let us give them a 5th of November they will never, ever forget!
————————–————————–———————
— Starting Position: Civic Center Plaza (near the center of the plaza) —
10:00AM-10:30AM: Gathering the Armada – This is the time we have for the majority of the attendees to arrive and get together; mingle, discuss the upcoming march, advertise to passers-by about our cause and get ready to march. We are not going to be doing too much in the way of preparation here, mostly just waiting for people to arrive.
10:30AM-11:00AM: Time for a little Chat – At this time, we will be mostly assembled and will listen intently as Alfred gives us the "pre-flight safety guidelines" for our march and following rally. Please pay attention as we do want you guys to be safe through-out the duration of the event. In addition to the safety briefing, we will also be reciting the cadences that will be used during the march.
11:00AM-~12:00PM: We will begin our progression to the set destination: Justin Herman Plaza. Our route will be as follows:
Civic Center Plaza –> Larkin St.
Larkin Street –> Golden Gate Avenue
Golden Gate Avenue –> Market Street
Market Street –> Justin Herman Plaza
—- End Position: Justin Herman Plaza —-
12:00PM-~3:00PM: May the Speakers Stand Up – We will have our confirmed speakers give their stance on the issues facing our country and world. This will also be a time for those in the audience to give their points of view as well. Please keep in mind though, that we will be on a time limit permit-wise, so if you do have something you would like to say, be sure to have a general idea what you are saying before you step up.
3:00PM-???: Time for dispersal of our fine march. Great work to all and pats on the back all around!
9896