Calendar
9896
January – February 2015
Jan
31
Sat
Global Day Against Torture

@ Everywhere
Jan 31 @ 12:00 pm – 11:45 pm
In late November the Senate Report on the Central Intelligence Agency's use of Torture was released. This report has since been swept under the rug and nearly forgotten.
The Mainstream media, the government and a complicit American public are prepared to forget about the Senate Report on CIA torture AND WE CANNOT LET THAT HAPPEN!
Join organizations and individuals from across the political spectrum for protests, rallies, and gatherings on Saturday January 31st to make sure America and the US government do not go unchallenged.
WAKE UP THE PUBLIC TO TAX PAYER FUNDED TORTURE!
DETAILS:
1. This is Decentralized. Connect with activists in your community and plan rallies, protests, street theater, or reenactments of waterboarding or force-feeding. GRAB THE PUBLIC'S ATTENTION!
2. Create a FB event and post it on the coordinating Facebook page! We will add it to the list below.
3. Create memes, write blogs, contact local media, indy media, talk to friends and families! Use the Hashtag #EndTorture Do whatever you can to spread the word through social media and in real life!
4. INVITE! INVITE! INVITE! Let's get the invite list over 50,000 people by January 30th. We can do this! Share on FB pages, twitter, and more!
5. Hit the streets, inform the public and change the global conversation.
—-
EVENTS as of 1/11/15.  Check the Facebook page for updates.
Portland, Oregon
https://www.facebook.com/events/700635680034377/
Seattle, Washington
https://www.facebook.com/events/1660749850819078/
Houston, Texas
https://www.facebook.com/events/385512068297291/
Grand Rapids, Michigan
https://www.facebook.com/events/1532735950317073/
Leesburg Florida
https://www.facebook.com/events/1525215821094777/.
St. Pete, Florida https://www.facebook.com/events/416528388499160
Ft. Lauderdale, Florida
https://www.facebook.com/events/1546582688961423/
9896
From NYC to Ferguson to Oakland, Imani Henry Talks on Nationwide Fight Against Police Terror

@ Alan Blueford Center for Justice
Jan 31 @ 6:30 pm – 8:30 pm
Imani Keith Henry is a longtime activist in the anti-police brutality, anti-war and LGBTQ movements in the US. He is an organizer with The Peoples Power Assembly, which helped to coordinate emergency day of/day after actions in NYC and nationally in response to the Ferguson grand jury decision. Imani has travelled to Ferguson, MO twice and most recently took part in a 36-person civil disobedience action on December 4th in response to the Garner grand jury decision.
He is also the founder of The Equality for Flatbush Project (E4F), which does grassroots anti-police repression, affordable housing and anti-gentrification organizing in the East Flatbush and Flatbush communities of Brooklyn, NY.Additionally Gloria Verdieu of the San Diego Committee Against Police Brutality will report on what's going on in San Diego. Community Activisit, Gloria Verdieu is an organizer with the Committee Against Police Brutality- San Diego and San Diego Coalition to Free Mumia Abu Jamal and All Political Prisoners.Refreshments will be provided, wheelchair accessible, a few blocks from 19th St BART
Presented by Workers World Party
1305 Franklin, #411, Oakland 510-600-5800 
Workers.org
More on Imani Henry: Imani's writing has appeared in several publications including the Lambda award winning Does Your Mama Know (Red Bone Press), Voices Rising: Celebrating 20 years of Black LGBT Writing (Other Countries) and Marxism, Reparations and the Black Freedom Struggle, (World View Forum Publishing) and the newly released, Against Equality: Prisons Will Not Protect You, (Against Equality Publishing).
Under the brand, OD For the People, Imani is an Organizational Development Consultant and Diversity Trainer who provides change management services specifically for nonprofits and universities. Imani has a Masters in Social Work from New York University's Silver School of Social Work and a Masters in Public Administration from The Wagner School of Public Service. Follow Imani on Twitter Imani Henry
9896
Feb
1
Sun
Anonymous: Mass Protest beginning at Walmart

@ Walmart Oakland (near the airport)
Feb 1 @ 11:00 am – 2:00 pm
Dear Citizens of the World,

It has come to our attention that Beavercreek Officer Sean C. Williams has murdered a young, innocent, black man named John Crawford III, while he shopped at Walmart.

As a result of the gun fire, Angela D. Williams had a heart attack & died. These two innocent people should be alive today.

This injustice will not go unnoticed.

The no indictment of the officer responsible has only furthered the indictment a broken system, a system that's time has come to a close.

Because of this, we have taken matters into our own hands.

With the start of #FloodTheStreets, We are bringing an end to this current police state.

We are calling for a mass protest on February 1st to show support against this tragedy caused by our own public servants.

Starting at your local Walmart at 11:00PM EST, we will begin to flood the streets, all day, in an act of peaceful civil disobedience.

Until the grip of the police force has loosened, our grip grows tighter.

That is not a threat.

That is a promise.

This is not a fad, we are not going away.

The mass protests will continue.

The shut downs will continue.

This is only the beginning.

We are Anonymous.

We are Legion.

We do not Forgive.

We do not Forget.

Expect Us.

- Anonymous
9896
Feb
2
Mon
Speak on Fracking & Clean Energy at the Alameda County Board of Supervisors

@ Alameda County Administration Bldg
Feb 2 @ 9:30 am – 12:00 pm
Here's your chance to address the Alameda County Board of Supervisors Committee which is hearing public comments on two important environmental topics:
 Fracking;

 how the community will be able to give input during the next several months into the design of the upcoming Community Choice program, which will provide clean energy and competition for PG&E.
Sponsored by MoveOn.
9896
Occupy Forum: Shutting Down the Fossil Fuel Industry via Its Supply Chains

@ Global Exchange, 2nd floor, near 16th St. BART
Feb 2 @ 6:00 pm – 9:00 pm
OccupyForum presents

Information, discussion & community! Monday Night Forum!!
Occupy Forum is an opportunity for open and respectful dialogue
on all sides of these critically important issues!

Shutting Down the Fossil Fuel Industry
via Its Supply Chains
Climate Change, Direct Action & Community Solidarity
Empire Logistics will facilitate an interactive workshop for Occupy SF Forum where participants will brainstorm to find ways to create solidarity along fossil fuel supply chains
​
and will model ways for worker resistance, community solidarity, and direct action to flow from the point of extraction to the point of consumption, including the communities
which the energy commodities pass through. Our strength lies in everyone acting in unison with the common goal of stopping the earth's destruction. We will facilitate a discussion
about how we can transition away from an oil economy and transform our mode of existence into an ecologically sustainable one.
On March 14, 2015, Empire Logistics will join Railroad Workers United, as well as over 30 environmental and community groups, and labor unions and other workers' associations, for the first "The Future of Railroads: Safety, Workers, Community, and Environment" Conference in Richmond, California (the second conference will be on March 21 in Olympia, Washington). The purpose is for railroad workers to teach others in the fossil fuel industry about safety issues from the inside, and those supply chain workers will learn about community concerns over the extreme dangers from the greatly increased transportation of fossil fuels; both groups will strategize about how to transition away from fossil fuels and to create an environmentally healthy world.
This Monday's workshop is an opportunity for Occupy SF Forum to learn about these issues by discussing them directly. Empire Logistics will provide all necessary maps and flowcharts of fossil fuel supply chains, and guide this interactive exercise.

See Labor Notes for a description of the Richmond conference on March 14, 2015:

http://labornotes.org/blogs/2015/01/rail-workers-and-environmentalists-teach-each-other

or visit the website: http://www.railroadconference.org/

Gifford Hartman is a participant in the Empire Logistics mapping project, as well as a co-founder of the Global Supply Chains Study Group. He is an adult education teacher, labor trainer, historian, and the Bay Area contact for the Future of Railroads Conference.
9896
Protest the San Leandro Tank!

@ City Hall
Feb 2 @ 6:00 pm – 7:00 pm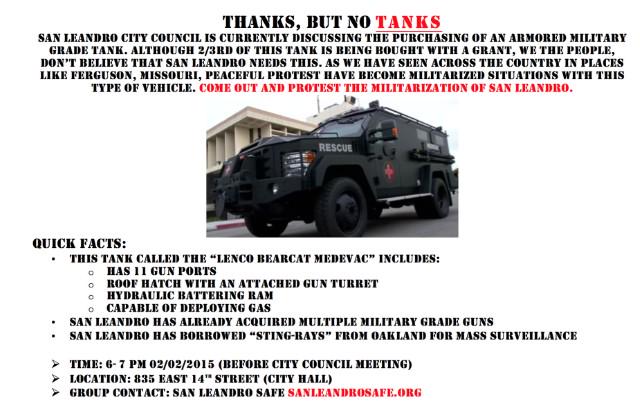 9896
Feb
3
Tue
City Council to Consider #BlackLivesMatter, Police Violence Recommendations.
Feb 3 @ 6:30 pm – 11:00 pm
According to the Contra Costa Times, "Recommendations from the meeting ((The #BlackLivesMatter City Council forum held on January 24th)) will be considered ((at the February 3rd City Council meeting)) ."
9896
Feb
7
Sat
March for Real Climate Leadership

@ Snow Park
Feb 7 @ 11:00 am – 5:00 pm
On February 7th thousands of Californians from across the state are gathering in Governor Jerry Brown's longtime home of Oakland to say that we need real climate leadership. Across the state wells are drying up, more than a dozen cities are in real danger of running out of water, & there's no question it's being made worse by climate change.
But instead of reigning in the oil and gas industry & putting an end to incredibly dangerous and water-intensive practices like fracking, Governor Brown has been letting companies continue with business as usual. Join people from all corners of California this February in telling Governor Brown that if he won't be a real climate leader, that if he won't stand up to the fossil fuel industry, then we will. Because this is about our water, our health, & our California.
For more information: http://marchforclimateleadership.org/
9896
Continue Work on the Berkeley Post Office Community Garden.

@ Downtown Berkeley Post Office
Feb 7 @ 12:00 pm – 2:30 pm
The planting was a few weeks ago.  The gardening work continues. Join us!
More information on  the Berkeley Post Office Defense against the sale and privatization here.
Pictures and videos of the soil preparation and planting here.
9896
Jeff Mackler on The Alternative to Capitalism

@ Niebyl Proctor Library
Feb 7 @ 7:00 pm – 9:00 pm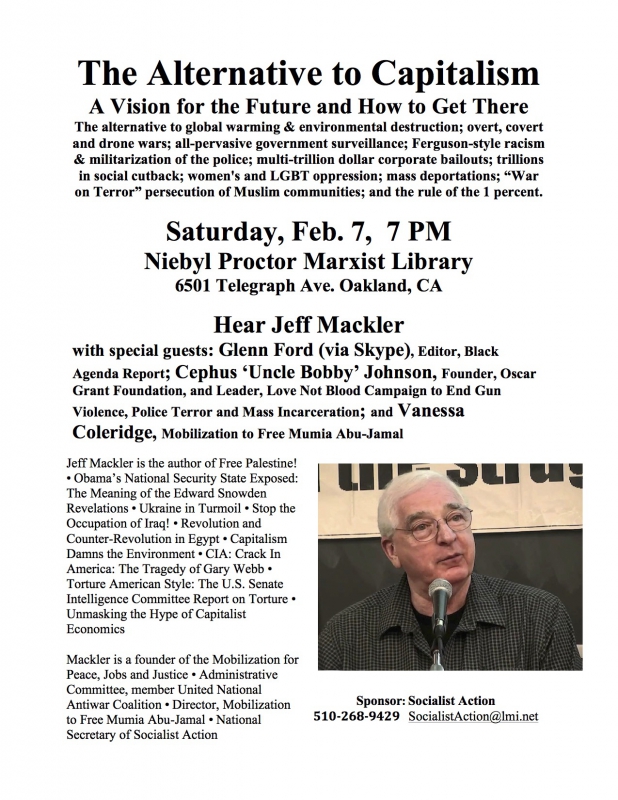 9896
Feb
9
Mon
Court Support: Intervening Pretrial Ferguson 3

@ Dep 11 Alameda County Superior Court
Feb 9 @ 9:00 am – 11:30 am
Feb
10
Tue
Berkeley City Council to Consider Policing Ordinances

@ Old Berkeley City Hall
Feb 10 @ 7:00 pm – 11:00 pm
The following items, postponed twice, are scheduled for early consideration.
D. Berkeley Police Department Use of Police Vehicle In-Vehicle and Body-Worn Cameras
Recommendation: Refer to the City Manager to develop a plan to implement the use of dash cameras and body-worn cameras for the Berkeley Police Department. The report should be presented to the City Council within 3 months.
Contact: Darryl Moore, Councilmember, District 2, 981-7120
E. Support the National Demands by Ferguson Action 
Recommendation: 1. Adopt a motion endorsing the National Demands from Ferguson. 2. Advocate for changes to the Alameda County District Attorney policy to include investigations to all in-custody deaths. 3. Issue a statement of concern and support for people of color and their families who have been affected by injury or death by law enforcement agencies.
Contact: Jesse Arreguin, Councilmember, District 4, 981-7140
F. Amendments to BPD General Orders C-64 (Crowd Control), M-2 (Mutual Aid) and U-2 (Use of Force) (Continued from January 20, 2015 – Item includes revised recommendation.)
Recommendation:
1. Refer to the Police Review Commission (PRC) and City Manager the attached changes to BPD General Orders C-64, M-2, U-2, and request that they return to the City Council with recommended revisions to the General Orders. The proposed changes are modeled after the Oakland Police Department's recent amendments to their Crowd Control Policy and address issues raised with the police response to the December 6, 2014 Ferguson protests.
2. Adopt a motion declaring as a temporary City of Berkeley policy that the use of chemical agents (tear gas etc.), Specialty Impact Less-Lethal Weapons ("projectiles" or rubber bullets, wooden dowels, stinger grenades, rubber bullets) and over the shoulder baton strikes, are prohibited uses of force in responding to crowd situations, until such time as an investigation is conducted as to the Police response to the December 6, 2014 protests, and a review of General Orders C-64, M-2, and U-2 is completed.
Contact: Jesse Arreguin, Councilmember, District 4, 981-7140
G. Independent Investigation of Police Response to December 6, 2014 Protests
Recommendation: Direct the City Manager to initiate an independent investigation into the police response to protests on December 6, 2014 and to return to Council as soon as possible, but no later than 60 days with a contract to hire a qualified independent investigator. In considering who to select to conduct the investigation, the City Manager should give preference to former police chiefs or law enforcement officials with experience conducting internal investigations. To avoid the appearance of or possibility of conflicts of interests, the City Manager should avoid selecting an individual or firm who previously worked for the Berkeley Police Department or who previously or currently worked for any law enforcement agency in the San Francisco Bay Area. The City Manager shall ensure that the selected individual or firm has no apparent conflicts of interest.
The Council also refers the questions attached to the report for the City Manager and outside investigator to consider in conducting their investigation.
Contact: Jesse Arreguin, Councilmember, District 4, 981-7140
9896
Feb
14
Sat
Dare to Divest! Global Divestment Day.

@ San Rafael Corporate Center
Feb 14 @ 11:00 am – 12:00 pm
Dare To Divest!
Join 350Marin on Valentine's Day:  Do you have the courage to break up with oil/gas/coal and meet some renewables?  Hear Jody Timms, Chair, Divest~Invest, "Stranded Assets-Stranded Ethics," and J. Patrick Costello, "Green Investing:  More Than Being Socially Responsible."
9896
Continue Work on the Berkeley Post Office Community Garden.

@ Downtown Berkeley Post Office
Feb 14 @ 12:00 pm – 2:30 pm
The planting was a few weeks ago.  The gardening work continues. Join us!
More information on  the Berkeley Post Office Defense against the sale and privatization here.
Pictures and videos of the soil preparation and planting here.
9896
Feb
15
Sun
Domain Awareness Center, Privacy Policy Teach-In

@ OMNI Collective in the ballroom
Feb 15 @ 6:00 pm – 8:00 pm
Domain Awareness Center Teach-In
 The Oakland Privacy Working Group has been active trying to get the city to adopt a privacy policy which will soon be voted on by the City Council. We wanted to have another teach-in accompanied by a security-state movie, with speakers and discussion afterward. There will probably be some food available, most likely just a few pizzas.
Here are video highlights from the last teach-in on January 18th.
9896
RICHARD WOLFF: Time To Change this Capitalist System: Oh Yes We Can.

@ First Congregational Church
Feb 15 @ 7:30 pm – 9:00 pm
KPFA Benefit: $12 advance tickets, $15 /door. Tickets available in Berkeley: Pegasus (3 locations), Marcus Books, Moes, Walden Pond, Diesel a Bookstore In S.F: Modern Times.
Radical economist Richard Wolffs most recent book, Capitalism Hits the Fan, is a passionately concerned response to current events, chronicling Wolffs brilliant public response to what he sees as an unworkable economic system. He closely monitors international economic shifts, much as Noam Chomsky does political happenings, and presents us with clear new perspectives.
Richard Wolff is the leading social economist in the country. This book is required reading for anyone concerned about a fundamental transformation of the ailing capitalist economy. ­ Cornel West
A powerful and challenging vision that takes us beyond both corporate capitalism and state socialism. Richard Wolff at his best!
—Gar Alperovitz, author American Beyond Capitalism
Professor of Economics Emeritus from the University of Massachusetts, Amherst, Wolff is a Visiting Professor in the Graduate Program in International Affairs at the New School University in New York. In recent years he has been delivering public lectures at colleges and universities, and community centers and trade union gatherings. His speaking style has become famous for its charismatic wit, frankness, and sardonic charm.
Richard Wolff is the author of many books, including Democracy at Work: A Cure for Capitalism, Occupy the Economy: Challenging Capitalism, as well as Capitalism Hits the Fan: The Global Economic Meltdown and What to Do About It. He hosts the weekly hour-long radio program Economic Update on WBAI (Pacifica Radio) and writes regularly for The Guardian, Truthout.org, and the MRZine.
9896
Feb
19
Thu
Community Meeting re Berkeley Post Office Sale, Report on Lawsuit, etc

@ Bonnie's Art Space
Feb 19 @ 7:00 pm – 8:30 pm
Presentations will be given by Attorneys Tony Rossmann (lawyer for the City of Berkeley's lawsuit against the Post Office)  and Brian Turner (lawyer for the National Trust's similar lawsuit against the Post Office).
Others will also be there to share information about the Community Garden, the Occupation, and anything else relevant to the  fight to Save the Berkeley Post Office.
9896