Calendar
9896
Feb
2
Mon
Protest the San Leandro Tank!

@ City Hall
Feb 2 @ 6:00 pm – 7:00 pm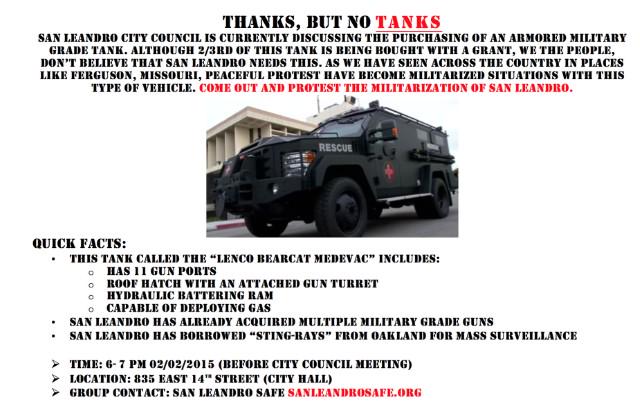 9896
Feb
3
Tue
City Council to Consider #BlackLivesMatter, Police Violence Recommendations.
Feb 3 @ 6:30 pm – 11:00 pm
According to the Contra Costa Times, "Recommendations from the meeting ((The #BlackLivesMatter City Council forum held on January 24th)) will be considered ((at the February 3rd City Council meeting)) ."
9896
Feb
7
Sat
March for Real Climate Leadership

@ Snow Park
Feb 7 @ 11:00 am – 5:00 pm
On February 7th thousands of Californians from across the state are gathering in Governor Jerry Brown's longtime home of Oakland to say that we need real climate leadership. Across the state wells are drying up, more than a dozen cities are in real danger of running out of water, & there's no question it's being made worse by climate change.
But instead of reigning in the oil and gas industry & putting an end to incredibly dangerous and water-intensive practices like fracking, Governor Brown has been letting companies continue with business as usual. Join people from all corners of California this February in telling Governor Brown that if he won't be a real climate leader, that if he won't stand up to the fossil fuel industry, then we will. Because this is about our water, our health, & our California.
For more information: http://marchforclimateleadership.org/
9896
Feb
15
Sun
RICHARD WOLFF: Time To Change this Capitalist System: Oh Yes We Can.

@ First Congregational Church
Feb 15 @ 7:30 pm – 9:00 pm
KPFA Benefit: $12 advance tickets, $15 /door. Tickets available in Berkeley: Pegasus (3 locations), Marcus Books, Moes, Walden Pond, Diesel a Bookstore In S.F: Modern Times.
Radical economist Richard Wolffs most recent book, Capitalism Hits the Fan, is a passionately concerned response to current events, chronicling Wolffs brilliant public response to what he sees as an unworkable economic system. He closely monitors international economic shifts, much as Noam Chomsky does political happenings, and presents us with clear new perspectives.
Richard Wolff is the leading social economist in the country. This book is required reading for anyone concerned about a fundamental transformation of the ailing capitalist economy. ­ Cornel West
A powerful and challenging vision that takes us beyond both corporate capitalism and state socialism. Richard Wolff at his best!
—Gar Alperovitz, author American Beyond Capitalism
Professor of Economics Emeritus from the University of Massachusetts, Amherst, Wolff is a Visiting Professor in the Graduate Program in International Affairs at the New School University in New York. In recent years he has been delivering public lectures at colleges and universities, and community centers and trade union gatherings. His speaking style has become famous for its charismatic wit, frankness, and sardonic charm.
Richard Wolff is the author of many books, including Democracy at Work: A Cure for Capitalism, Occupy the Economy: Challenging Capitalism, as well as Capitalism Hits the Fan: The Global Economic Meltdown and What to Do About It. He hosts the weekly hour-long radio program Economic Update on WBAI (Pacifica Radio) and writes regularly for The Guardian, Truthout.org, and the MRZine.
9896
Feb
19
Thu
Community Meeting re Berkeley Post Office Sale, Report on Lawsuit, etc

@ Bonnie's Art Space
Feb 19 @ 7:00 pm – 8:30 pm
 Presentations will be given by Attorneys Tony Rossmann (lawyer for the City of Berkeley's lawsuit against the Post Office)  and Brian Turner (lawyer for the National Trust's similar lawsuit against the Post Office).
Others will also be there to share information about the Community Garden, the Occupation, and anything else relevant to the  fight to Save the Berkeley Post Office.
9896