Calendar
9896
April – May 2014
Apr
19
Sat
Save Knowland Park Rally

@ Oakland Zoo entrance
Apr 19 @ 10:00 am – 1:00 pm
SATURDAY, April 19, 10 am-1pm: SAVE THIS DATE for our big Friends of Knowland Park Earth Day Rally at the Oakland Zoo entrance!
SPECIAL GUESTS: COUNTRY JOE MCDONALD and the duo of Hali Hammer and Randy Berge! If you can only come out to help with one thing, this is it! Our goal is to turn out even more people than our last successful rally, so please come and bring your friends!
SHOWING UP MATTERS. Homemade signs are great—we will have a bunch, but bring your own if you can (or organize your own sign-making party and we'll contribute materials!) We'll have music, fun, some surprises and inspiration! The great places that have been saved, from Yosemite down to small bayside parcels, have been saved because lots of ordinary people took a stand and fought to protect them. This is ours – time to take to the street and stand up for what you believe in! Watch our new video!
Oakland Zoo is at the intersection of Golf Links Road and Mountain Blvd. Allow time for parking on nearby streets and walking to zoo entrance; please carpool, if possible. Let us know if you have something special you could contribute to make it a fun and fruitful rally. Bring water, sunscreen, lunch and plan a picnic in Knowland Park after the rally! Please RSVP to info@friendsofknowlandpark.org so we have a rough head count for planning purposes.
9896
Apr
24
Thu
Stop Staples: US Mail is Not for Sale! National Day of Action.

@ San Francisco & San Leandro and all over the United States.
Apr 24 @ 10:00 am – 3:00 pm
Local actions:
SAN FRANCISCO
Time: 10:00 AM
Address: 1700 Van Ness Avenue, San Francisco, CA 94109
SAN LEANDRO
Time: 1:00 PM
Address: 15555 East 14th Street #200, San Leandro, CA 94578
Berkeley Post Office Defenders and Save the Berkeley Post Office will be supporting these actions.
 Staples attacks good jobs and public post offices.
Staples and the U.S. Postal Service have cut a deal that jeopardizes your mail service and your local post office. In fact, post offices across the country are at risk – along with thousands of good jobs.
The Staples deal will replace full-service U.S. Post Offices with knock-off post offices in Staples stores that are not staffed with U.S. Postal Service employees.
A bad deal for workers and consumers.
You have a right to post offices staffed by workers who are accountable to you and the American people. You have a right to postal services provided by highly trained, uniformed Postal Service employees, who are sworn to safeguard your mail – whether it's at the Post Office or Staples.
The Staples deal is bad for consumers like you who will pay the same for less service. And if Staples and the USPS move forward with this deal, it could lead to the end of the Postal Service as we know it.
Undermining good jobs.
In the meantime, the Staples deal is replacing good-paying jobs that our community depends on with low-wage jobs that hurt our economy.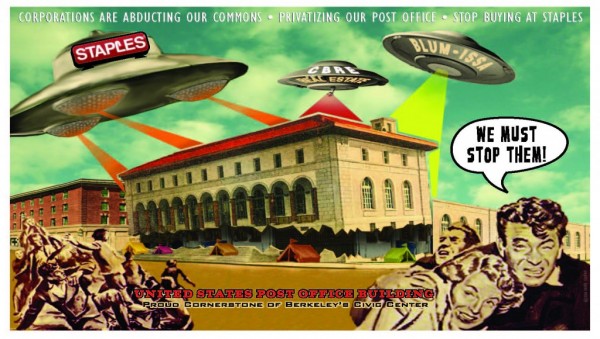 9896
May
1
Thu
May Day March in Oakland

@ Fruitvale Bart Station Plaza
May 1 @ 3:30 pm – 6:00 pm
March with community members from across the Bay Area in the streets of Oakland!
3:30PM: Fruitvale Bart Plaza Opening Rally
4 pm: March Starts
5:30: Return to Fruitvale Bart Plaza for Closing Rally and Celebration!
Hosted by Oakland Sin Frontera (OSF) and Partners
WHY ARE WE MARCHING?
Oakland Sin Frontera
· LEGALIZATION FOR ALL UNDOCUMENTED IMMIGRANTS
· STOP THE DEPORTATION OF ALL IMMIGRANTS & SHUT DOWN DETENTION CENTERS
· UPHOLD WORKERS RIGHTS
· STOP FEDERAL AND LOCAL POLICE VIOLENCE, AND BRING OUR LOVED ONES HOME FROM PRISONS AND JAILS
· BUILD AND DEFEND STRONG AND HEALTHY COMMUNITIES
· END U.S. MILITARY AGGRESSION & POLICIES THAT FORCE MIGRATION
9896