Calendar
9896
December 2014
Dec
18
Thu
Umbrella March: #BlackLivesMatter

@ Oscar Grant Plaza
Dec 18 @ 4:00 pm – 6:00 pm
Too many times movements dies and voices aren't heard because the weather isn't as pretty. Well, it's an ugly world we live in and we have to be willing to sometimes do things that are hard and face ugly things.
When the rain comes, people go in their houses, let us not forget about those who cannot go home because their lives have been stolen in this violent police state.
Come rain. sleet, hail or snow; #BlackLivesMatter and we must not let that be forgotten just because of some much needed rain. Bring your umbrellas out, network with one another, build up the community we want to save and march side by side in solidarity with one another & in solidarity with those around the world fighting for a better world.
Wear all Black because #BlackLivesMatter.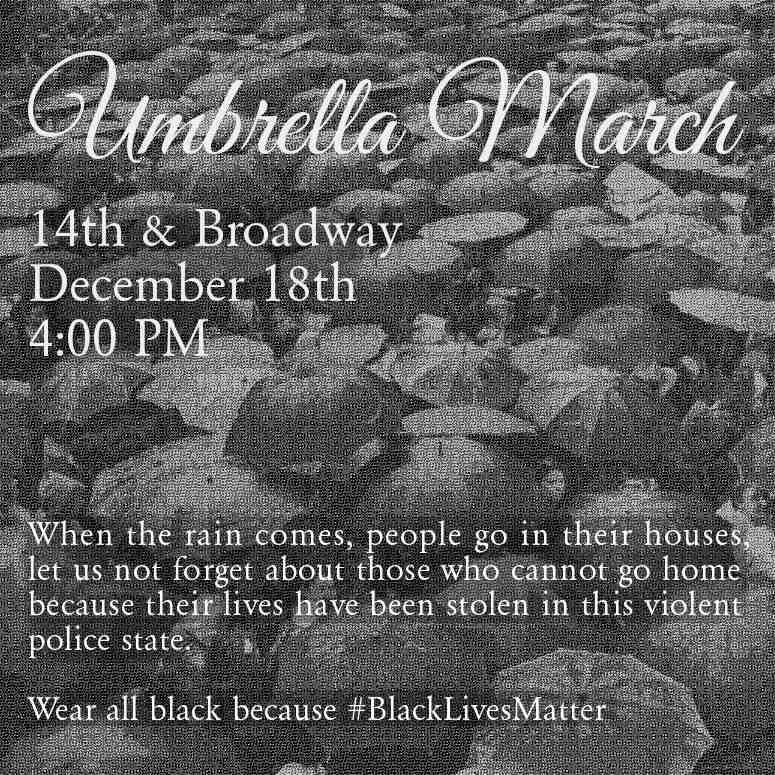 9896
FTP March Wear All Black because black lives matter.

@ Oscar Grant Plaza
Dec 18 @ 7:00 pm – 10:00 pm
Dec
19
Fri
FTP Friday

@ Oscar Grant Plaza
Dec 19 @ 7:00 pm – 11:00 pm
9896
Dec
25
Thu
No Time Off. #WeCantBreathe

@ Oscar Grant Plaza
Dec 25 @ 5:00 pm – 7:30 pm