Calendar
9896
Oct
24
Tue
EVICTION RESISTANCE PARTY

@ HERE/THERE on the Berkeley/Oakland border, across from Sweet Adeline bakery
Oct 24 @ 4:30 pm – Oct 25 @ 11:45 pm
You're invited to an
EVICTION RESISTANCE PARTY
The evening of Tuesday, Oct. 24
through Wednesday morning,
as long as necessary.
The camping community HERE/THERE has been practicing consensus government and responsible urban camping at its present location for more than nine months. Multiple members of City Council have called us "a model community". So why has "someone" in the city government told BART to get rid of us?
We were only given three days notice: they will seize our property and force us onto the street some time on Tuesday. This eviction order is illegal. Help us resist it by coming out to shout at the pigs and enjoying a potluck Eviction Resistance Party. Tuesday evening through Wednesday morning, as long as necessary. Also, you can contact Lateefah Simon, the BART board director for our district, through https://www.lateefahforbart.com/contact and Rebecca Saltzman, chair of the BART Board of Directors whose district represents many people in Berkeley and Oakland: 
Rebecca Saltzman, Chair, BART Board, Director, District 7
Rebecca.Saltzman@bart.gov
@rebeccaforBART
510 464-6095
COPS GO HOME
Bring a camera. This is also a good time to donate food, water, and any kind of survival equipment.
If they do manage to evict us, we're going straight to City Hall, where we're going to raise a hell of a ruckus. In that event, we will need help with transport and temporary storage of property. So maybe bring a pickup or a van, just in case?
63823
Oct
28
Sat
Socialism or Barbarism Fall Conference

@ Valley Life Sciences Building at UC Berkeley
Oct 28 @ 12:00 pm – 8:00 pm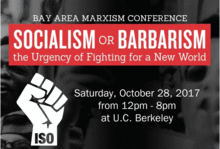 Over the past 10 months of the Trump administration, we've seen a barrage of right-wing atrocities and social suffering from the far-right carnival of hate in Charlottesville, to the unnatural disasters of Harvey and Irma, to Trumps nuclear saber-rattling with North Korea, to the Trump administration ending DACA protections.
At the root of the crimes and outrages of this era are the priorities of a capitalist system controlled by a small elite of the wealthiest and most powerful people.
There are struggles for change in many different corners of society, each with their own histories and dynamics. But waging them most effectively requires an understanding of how they are connected and dependent on each other and how, together, they can contribute to a broader struggle to change the rules of the game for good.
We need to build a left-wing resistance that doesn't let the right go unopposed. We need to protest the reactionaries wherever they appear, and not go along with the liberal advice to ignore them and they will go away because they won't. We need to claim the right of free speech for ourselves to make our opposition heard.
But we need something else as well: a left that puts forward a political alternative to the rights scapegoating and hate. This is the case for joining the struggle for socialism today. The disasters of capitalism are as numerous and obvious as they have ever beenand so is the need to do something now to achieve a socialist future.
The Bay Area Marxism Conference will draw together hundreds of socialists and activists from the Bay Area for workshops on Marxist theory, history and practice  and discussions about how to use those politics to build an urgently needed socialist movement today.
Schedule:
Registration 12-1pm
Workshops: 1-5pm
Plenary 6-7pm
Workshops include:
Morbid Symptoms: How Do We Fight the Rise of the Far Right
Marxism, Class, and Oppression
The 100th Anniversary of the Russian Revolution:
The Inspired Frenzy of History
What Kind of Party do we Need?
Evening Plenary: Building the Left, Fighting the Right: Perspectives for Socialists Today
Contact us via email if you require daycare or have any any questions.
63820