Calendar
9896
Apr
25
Sat
Anarchist Book Fair

@ The Crucible
The Bay Area Anarchist Book Fair is an annual event for people interested and
engaged in radical work to connect and learn through book and information tables,
workshops, panel discussions, skillshares, films and more! We create an inclusive space
to introduce new folks to anarchism, foster productive dialogue between various political
traditions and anarchists from different milieus, and create an opportunity to dissect
our movements' strengths, weaknesses, strategies, and tactics.
58202
Occupy The Farm: Permaculture Action Weekend

@ Gill Tract
Apr 25 @ 10:00 am – 5:00 pm
58626
Guerilla Propagation Workshop Seed and Crop Swap

@ Phat Beets
Apr 25 @ 11:00 am – 2:00 pm
 Grow your own! Guerilla Propagation Workshop Seed and Crop Swap, Free Live Juice Shots and Live DJ*
1-2pm(Workshop): Guerilla Propagation with Phat Beets Produce: Learn to propagate (multiple/grow) edible plants from simple cuttings found around your neighborhood. Participants will leave with a homemade propagation kit and cuttings ranging from tree collards to thyme to pepino dulce.
*Bring your seeds, cuttings, and extra garden starts and plants to share with your neighbors.  There will be plenty of free kale, collards, and tomato starts from Phat Beets Produce to be potted up and given away.  Also bring your extra backyard produce to share!
58657
Berkeley Copwatch Know Your Rights Training.

@ Grassroots House
Apr 25 @ 12:30 pm – 3:00 pm
Whether you are at a protest or simply on the street when things are going down, you need to know your rights and what to do to hold the police accountable. Learn what you rights are in various situations with police, what to expect, what to look out for, and how to stay safe. We use direct instruction, videos and role plays to help you to feel more comfortable when asserting your rights.
58566
How Cuba Survived Peak Oil (movie)

@ Albany Library
Apr 25 @ 2:00 pm – 4:00 pm
Title:
How Cuba Survived Peak Oil
START DATE:
Saturday April 25
TIME:
2:00 PM – 4:00 PM
Location Details:
Albany Library
1247 Marin Ave, Albany,CA.
Event Type:
Screening
Can small-scale organic farming, localized community-based agriculture, actually feed large numbers of people?According to Dale Allen Pfeiffer, author of "Eating Fossil Fuels, "Cuba has disproved the myth that organic agriculture cannot maintain a modern nation." Cuba is world-renowned for its urban gardens, its health and resiliency.For environmentalists and food-justice activists in the East Bay, normalization of relations with Cuba is a welcome event.

Come see the award-winning documentary: "The Power of Community: How Cuba Survived Peak Oil." At the Albany Library, April 25th, 2:00 p.m. Catherine Sutton, Transition Albany, will join the discussion, facilitated by columnist
Paul Rockwell.
58618
Strike Debt Bay Area Meeting

@ Oscar Grant Plaza amphitheater
Apr 25 @ 4:00 pm – 6:00 pm
Come and help us draw awareness to and fight unjust debt!
Come get connected with SDBA's many projects!
organizing for public banking.
advocating for Postal banking.
helping out America's only non-profit check-cashing organization and fighting against usurious for-profit pay-day lenders and their ilk
our famous Strike Debt radio program
our next Debtors' Assembly
saving the Berkeley Post Office and stopping the Staples non-union takeover of good Post Office jobs
and much more!
Strike Debt Bay Area is an offshoot of Occupy Oakland and 
Strike Debt
, itself an offshoot of Occupy Wall Street.
Strike Debt – Principles of Solidarity
Strike Debt is building a debt resistance movement. We believe that most individual debt is illegitimate and unjust. Most of us fall into debt because we are increasingly deprived of the means to acquire the basic necessities of life: health care, education, and housing. Because we are forced to go into debt simply in order to live, we think it is right and moral to resist it.
We also oppose debt because it is an instrument of exploitation and political domination. Debt is used to discipline us, deepen existing inequalities, and reinforce racial, gendered, and other social hierarchies. Every Strike Debt action is designed to weaken the institutions that seek to divide us and benefit from our division. As an alternative to this predatory system, Strike Debt advocates a just and sustainable economy, based on mutual aid, common goods, and public affluence.
Strike Debt is committed to the principles and tactics of political autonomy, direct democracy, direct action, creative openness, a culture of solidarity, and commitment to anti-oppressive language and conduct. We struggle for a world without racism, sexism, homophobia, transphobia, and all forms of oppression.
Strike Debt holds that we are all debtors, whether or not we have personal loan agreements. Through the manipulation of sovereign and municipal debt, the costs of speculator-driven crises are passed on to all of us. Though different kinds of debt can affect the same household, they are all interconnected, and so all household debtors have a common interest in resisting.
Strike Debt engages in public education about the debt-system to counteract the self-serving myth that finance is too complicated for laypersons to understand. In particular, it urges direct action as a way of stopping the damage caused by the creditor class and their enablers among elected government officials. Direct action empowers those who participate in challenging the debt-system.
Strike Debt holds that we owe the financial institutions nothing, whereas, to our friends, families and communities, we owe everything. In pursuing a long-term strategy for national organizing around this principle, we pledge international solidarity with the growing global movement against debt and austerity.
58459
Apr
26
Sun
Occupy The Farm: Community Farm Birthday Party!

@ Gill Tract
Apr 26 @ 10:00 am – 5:00 pm
58628
Sunday Morning at the Marxist Library: Kshama Sawant's Victory in Seattle

@ Niebyl-Proctor Library
Apr 26 @ 10:30 am – 12:30 pm
How the Socialist Alternative candidate Kshama Sawant  won 96,000 votes in Seattle
Speakers from Socialist Alternative will tell us how councilor Kshama Sawant was popularly elected to the Seattle City Council in November 2013. This was the first time in a hundred years that a socialist had won a mass election in Seattle. We used this victory to promote the movement for the $15/hr minimum wage. Seattle's April 2014 law established the highest minimum wage in the US at the time and legitimized $15 as a winnable demand. The fight for 15 and a union is gaining strength.
We believe that capitalism needs to be challenged on the street, in the workplace and at the ballot box, and that after a couple of decades of retreat, the ideas of marxism and socialism are once again being embraced by young people.
58656
People's Park 46th Anniversary Celebration

@ People's Park
Apr 26 @ 12:00 pm – 5:00 pm

noon-1 :Annual Native American drumming and blessing
1 pm – Soul/Katy Stuck
1:15- Dennis D Banjoman
1:30- Khadejha Valeré
1:45- Occupella
2pm- Andrea Prichett and Friends
2:45- Speakers etc.
3:00 – The Shelley Doty X-Tet
3:45- Speakers etc.
4:00- Beeswax
4:45- Speakers etc.
5:00- The Funky Nixons
5:45- Closing speakers, etc.
58638
A Discussion with Firebrand Anarchists

@ La Commune Cafe & Books at the Omni Collective
Apr 26 @ 2:00 pm – 4:30 pm
58659
MayDay ShutItDown Action Organizing Assembly

@ Latham Square
Apr 26 @ 2:00 pm – 3:30 pm
At the Assembly we will discuss and organize pickets and shutdowns for May Day, May 1, in affinity and working groups.
58590
UJAAMA -"FROM THE HIDDEN HISTORY OF TANZANIA'S SOCIALIST VILLAGES TO TODAY'S BLACK JACOBINS IN HAITI"

@ ST. PAUL AME CHURCH
Apr 26 @ 2:00 pm – 6:00 pm
58662
Selma James & Danny Glover UJAMAA: The Hidden Story of Tanzania's Socialist Villages

@ St. Paul AME Church
Apr 26 @ 3:00 pm – 6:00 pm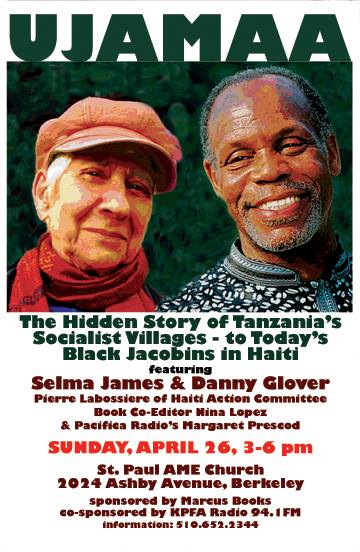 The Hidden Story of Tanzania's Socialist Villages – to Today's Black Jacobins in Haiti, featuring Selma James and Danny Glover.
Pierre Labossiere of Haiti Action Committee
Book co-editor Nina Lopez
Pacifica Radio's Margaret Prescod
St Paul AME Church
2024 Ashby Avenue, Berkeley
sponsored by Marcus Books, co-sponsored by KPFA
58610
Richmond: A Forum on Police Community Relations.

@ Bobby Bowens Progressive Center
Apr 26 @ 4:00 pm – 6:00 pm
A Forum on Police Community Relations
On September 14, 2014 Richard "Pedie" Perez was shot and killed by Richmond Police Officer Wallace Jensen. The 24 year -old Pedie was intoxicated and resisting arrest, but according to attorney John Burris who is representing the Perez family, he was not threatening. Police and eyewitnesses give different accounts. The District Attorney refused to indict Jensen calling it a case of justifiable homicide. The RPD internal investigation is ongoing, but Officer Jensen has been returned to active duty.
The Oscar Grant Committee has interviewed eyewitnesses who do not believe that the shooting was justified. This is the first lethal shooting by Richmond Police since 2007. "The killing of an unarmed man by a…police officer…deserves equal attention to other controversial examples of cops using deadly force," the victim's father said referring to protests in Ferguson and around the country.
Throughout the nation, the shock of so many shootings of unarmed people by police officers has shaken confidence in an institution that is sworn to protect. Rather than feeling protected by police, many individuals and communities feel threatened.
What can we, as citizens, do to make sure that police do not use excessive force?
How can we have an impact on police policy & training?
How can we help make sure that the shooting of Pedie Perez gets a thorough and fair investigation?
What can we do to demand accountability of local law enforcement?
Join us to learn more about what happened to Pedie Perez and why the family and many others find the fatal shooting to be unwarranted as well as to discuss these difficult issues and prepare for upcoming City meetings where you can make a difference.
Sponsored by the Richmond Progressive Alliance & The Oscar Grant Committee 
58630
Occupy Oakland General Assembly

@ Omni Collective
Apr 26 @ 5:00 pm – 6:30 pm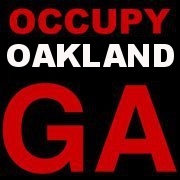 This Sunday we are meeting at the Omni Commons (4799 Shattuck Ave, Oakland) basement at 5 PM so folks can attend discussions from some of the authors from the anarchist book faire who are slated to talk at the Omni from 2 to 4:30.
The Occupy Oakland General Assembly normally meets Sundays at 4 PM at Oscar Grant Plaza amphitheatre at 14th Street & Broadway, often on the steps of City Hall. If it is raining (as in RAINING, not just misting) at 4:00 PM we meet in the basement of the Omni Collective, 4799 Shattuck Ave, Oakland
OO General Assembly has met on a continuous basis for more than three years! Our General Assembly is a participatory gathering of Oakland community members and beyond, where everyone who shows up is treated equally . Our Assembly and the process we have collectively cultivated strives to reach agreement while building community.
At the GA committees, caucuses, and loosely associated groups whose representatives come voluntarily report on past and future actions, with discussion. We encourage everyone participating in the Occupy Oakland GA to be part of at least one associated group, but it is by no means a requirement.  If you like, just come and hear all the organizing being done! Occupy Oakland encourages political activity that is decentralized and welcomes diverse voices and actions into the movement.
General Assembly Standard Agenda
Welcome & Introductions
Reports from Committees, Caucuses, & Independent Organizations
Announcements
(Optional) Discussion Topic
Occupy Oakland activities and contact info for some Bay Area Groups with past or present Occupy Oakland members.
Occupy Oakland Web Committee: (web@occupyoakland.org)
Occupy Oakland Kitchen Committee: (kitchen@occupyoakland.org)
Strike Debt Bay Area : strikedebtbayarea.tumblr.com
Berkeley Post Office Defenders:http://berkeleypostofficedefenders.wordpress.com/
Alan Blueford Center 4 Justice:https://www.facebook.com/ABC4JUSTICE
Oakland Privacy Working Group:https://oaklandprivacy.wordpress.com
Prisoner Hunger Strike Solidarity: prisonerhungerstrikesolidarity.wordpress.com/
Bay Area AntiRepression: antirepression@occupyoakland.org
Biblioteca Popular: http://tinyurl.com/mdlzshy
Interfaith Tent: www.facebook.com/InterfaithTent
Port Truckers Solidarity: oaklandporttruckers.wordpress.com
Bay Area Intifada: bayareaintifada.wordpress.com
Transport Workers Solidarity: www.transportworkers.org
Fresh Juice Party (aka Chalkupy) freshjuiceparty.com/chalkupy-gallery
Sudo Room: https://sudoroom.org
Omni Collective: https://omnicommons.org/
First They Came for the Homeless: https://www.facebook.com/pages/First-they-came-for-the-homeless/253882908111999
Sunflower Alliance: http://www.sunflower-alliance.org/
Bay Area Public School: http://thepublicschool.org/bay-area
San Francisco based groups:
Occupy Bay Area United: www.obau.org
Occupy Forum: (see OBAU above)
San Francisco Projection Department: http://tinyurl.com/kpvb3rv
58520
My Name is Rachel Corrie

@ La Pena Cultural Center
Apr 26 @ 6:00 pm – 8:30 pm
Please come meet Rachel's parents, Cindy and Craig Corrie, on Sunday, April 26th at 6 pm at the La Pena Cultural Center and join us for the one-woman play, My Name is Rachel Corrie, to be performed by actress Ashley Malloy. Cindy, Craig and Ashley will be answering your questions at the Talkback after the play!   Please buy your tickets now ($10 in advance, $15 at the door) at La Pena's website here! 
58649
Apr
27
Mon
Gill Tract Defense National Call-In Day

@ everywhere
Tell Sprouts "Farmers Market" hands off the Gill Tract and help defend the farm no matter where you live! Call and connect with Sprouts on social media! Let's tell Sprouts with one voice: HANDS OFF THE GILL TRACT!
Customer Service Line:
1-888-577-7688 Press 2 for a live person
Call or email the executives in charge:
Ted Frumkin, Chief Development Officer:
602-682-1556
tedfrumkin@sprouts.com
Elizabeth Hoxworth, Regional Director of Real Estate:
818-489-3379
elizabethhoxworth@sprouts.com
Facebook: Sprouts Farmers Market
Each store location also has an auto generated page on FB that the company doesn't control. So leave as many stores as possible bad reviews.
Twitter: @sproutsfm
58600
Defend Knowland Park: Scouting and Native Plant Walk

@ Knowland Park
Apr 27 @ 4:00 pm – 5:30 pm
We will be overview/scouting of the Zoo's cruel, gentrifying, and neo-colonial "California Trail" Development Plans as well as identifying native plants and trees that are to be cut down unless we stop them.
A Rideshare is being organized, stay tuned!  You can take the 46L from Coliseum Bart or the North Oakland MacArthur 57 bus to a Foothill Square and by picked up there.
58660
Freddie Gray Solidarity Action From Baltimore to Oakland!!!

@ Oakland Federal Building
Apr 27 @ 6:00 pm – 8:30 pm
     Oakland will be holding a solidarity action with the community of Baltimore, that will start at the Ron V. Dellums Federal Building at 1301 Clay St. and march to the Port of Oakland. Oakland demands that all officers involved in Freddie Gray's murder be charged with 1st Degree murder immediately.
     Freddie Gray was murdered from a severed spine caused by Baltimore PD on April 12th, 2015, after being arrested for having a switch blade. Six officers have been suspended with pay pending an investigation. The Baltimore community has been demonstrating nightly demanding answers and accountability for the murder. Oakland is all to familiar with the epidemic of police killing unarmed Africans across the country.
     From Gary King, Oscar Grant, Derrick Jones, Alan Blueford, Anita Gay, Raheem Brown, and many, many more. Oakland knows that the City Goverment of Baltimore is not going to provide any form of justice for Freddie Gray. The city officials are going to call for calm and patience, while they carry out a
non-transparent and bias investigation that is going to clear all the officers and label Freddie Grays death a justifiable homicide. Anthony Batts, the current police chief of Baltimore, used to be Oaklands police chief but left because he did not have the backbone or capability to stop the corruption inside OPD. Therefore, Oakland has no faith in him doing a better job in Baltimore.
     If we want justice for all of our brothers and sisters murdered by the police, it's gonna take a national movement of grassroots organizing of the people from the ground up. Baltimore and Oakland are port cities. The Black community needs to bring the capitalist system to a halt by organizing to shutdown every port across the nation until our people our guaranteed liberation from every form of White Supremacy, including police murder.
Oakland will be holding a solidarity action with the community of Baltimore, that will start at the Ron V. Dellums Federal Building at 1301 Clay St. and march to the Port of Oakland. Oakland demands that all officers involved in Freddie Gray's murder be charged with 1st Degree murder immediately. This demonstration is to send a message to all those on the ground in Baltimore that they are not alone, this is one nationwide fight, and Oakland is in this struggle with them. We call on the community of Baltimore to shut their ports down until the officers involved in Freddie Gray's murder are arrested and charged.
58663
Prisoner Hunger Strike Solidarity Meeting

@ 5th floor
Apr 27 @ 6:00 pm – 7:30 pm
Get involved with the fight against solitary confinement.
Become a human rights pen pal: Contact cws@igc.org
58414