Calendar
9896
Apr
28
Sat
Revolutionary Organizing Against Racism Conference

@ Omni Commons, Day 1, CIIS Day 2
ROAR aka Revolutionary Organizing Against Racism Conference is a 
two day event, organized by a group of anti-racist organizers, that will be held on Ohlone Territory (Bay Area).
ROAR will be a space to gather, build, and learn from each other's struggles and continue to build an anti-racist front in the Bay Area and beyond. During these times more and more attention is being paid to those of us who use direct action and hold liberatory and revolutionary politics. We can use this moment not only to inspire others through our actions, but to also inspire with our ideas. To draw a line not just against this or that politician, or this or that alt-right figure, but to construct revolutionary positions such as returning land to the indigenous, centering black folks and their perspectives, community self defense, taking care of one another, putting women and gender non conforming people to the front, obliterating borders, opening prison doors, and gaining our freedom from the state, capitalism, and all the other damning institutions.
---
Themes and topics that will be covered at the conference include but are not limited to:
​

Anti-Facism Movement

Anti-Patriarchy, Transphobia + Homophobia

Anti-Racism in Education

Black + Brown Resistance

​

Black Liberation/Black Power

Community self-defense

Crisis Relief Alternative Models/Disaster Solidarity

History Lessons from Movements past

Indigenous Struggles

Intersections of racism and disability

Muslim struggles  

Political Prisoners

Policing

Prison Abolitionist

Radical Self-Care

Undocumented + Immigrant struggles

​Youth Liberation

Queer Liberation & Legacy
64590
SF Bay Area Interfaith Conference on Drone Warfare

@ Pacific School of Religion Chapel
Apr 28 @ 10:00 am – 4:00 pm
Registration is free, but a free-will offering will be taken. Lunch will be provided. Please register here (scroll down).
Presenters include:
Marjorie Cohn, professor emerita at Thomas Jefferson School of Law. Cohn, the former president of the National Lawyers Guild and criminal defense attorney, is a legal scholar, political analyst, and social critic, who is also editor and contributor to Drones and Targeted Killing: Legal, Moral, and Geopolitical Issues.
Lisa Hajja, professor of sociology at the University of California Santa Barbara, with courtesy appointments in Global and International Studies, and Middle East Studies, is a contributor to Life in the Age of Drone Warfare.  Her work focuses mainly on issues relating to law and conflict, military courts and occupations, human rights and international law, and torture and targeted killing.
Lisa Ling, a former technical sergeant in? the U.S. Air Force, is featured in the heralded documentary National Bird, which, according to The Washington Post, is "artful, profoundly unsettling." In an article for The Guardian (http://bit.ly/2EoYdOU), Ling noted how little the public knew about the U.S. drone program and its consequences.
A film produced by the Interfaith Network on Drone Warfare for use in congregations will be screened along with a half-hour version of National Bird

Issues addressed include:
Why is the faith community concerned about drone warfare?
What is the effect of drone warfare on drone operators?
Co-sponsored by Pacific School of Religion and the Interfaith Network on Drone Warfare
64358
Show your Love with Life-Saving Skills: Narcan Training

@ Oakland Public Library
Apr 28 @ 10:00 am – 1:00 pm
You may be aware that there is a rise in overdoses due to fentanyl (fueled by the War on Drugs). Narcan (naloxone) administration is one successful method to reverse overdose. Walgreens and CVS have recently been authorized to sell Narcan over the counter, and we would like to share this life-saving information. This training will teach you how to administer naloxone to someone who has overdosed. Please join us in building tangible skills for preparedness and increasing mutual care in our communities.
64525
Health Care forum

@ Residence Halls, Unit 1
Apr 28 @ 11:00 am – 3:00 pm
2018 will be the year California gives serious attention to legislation, that provides a real path to Universal Healthcare in the State.  If you've ever wondered about the intricacies of  our current healthcare system, and the historic progress in California under the ACA; or policy options that can successfully move California toward  Universal Healthcare, then you'll want to attend the IB Healthcare Team's Forum coming up on Saturday, April 28th from 11 to 3, in Berkeley (lunch provided). Save the Date!
The forum will feature two expert speakers from UC Berkeley;  Robin Flagg, PhD, MPH, and Ken Jacobs,Chair, Center for labor Research and Education.You'll come away from this informative session with a greater understanding of how the system works, proposed policy changes, and possible directions for action.  Please save the date, Sunday April 28th. This event is free.
For additional details on the forum, please contact Steve Lehman at:
Speaker Bios:
Robin Flagg, PhD, MPH, is a lecturer at UC Berkeley's School of Public Health, and at the Haas School of Business. Her research interests include: State health care politics, expansion of Medicaid under the Affordable Care Act, and health care and the aging population. Flagg is a recipient of the School of Public Health's Committee on Teaching Excellence Award.
Ken Jacobs is the chair of the Labor Center, where he has been a labor specialist since 2002. His areas of specialization include low-wage work, labor standards policies, and health care coverage. Jacobs leads a multi-campus program providing research and technical assistance to consumer stakeholders and policy makers on the effects of the Affordable Care Act, and measures to cover the remaining uninsured in California. Along with colleagues at UC Berkeley and UCLA, he is consulting for Covered California on issues related to ACA implementation. During 2017-18 he has served as a panelist at informational hearings of the California Assembly Select Committee on Health Care Delivery Systems and Universal Coverage. His work has been covered in the New York Times, Washington Post, Los Angeles Times, and National Public Radio.
64548
Uhuru Health Festival

@ Akwaaba Hall
Apr 28 @ 11:00 am – 4:00 pm
This family-friendly festival is free to all and will offer free health screenings, interactive fitness workshops, live music, free healthy lunches, garden workshops, free children's face painting and activities, vendors, info on alternative health options and more.
The theme of this year's festival is "Family, Fitness, Freedom! Putting the Power of African Health in African Hands!" The festival will include presentations and workshops from organizations including the Black Nurses Association, the East Bay Boxing Association, East Bay Chiropractic, Family Education Resource Center, Fresh Approach and the Chi Eta Phi Nursing Sorority.
Ona Zene Yeshitela, coordinator of Uhuru Health Fairs & Festivals nationally, asserted that
"The dire state of health faced by African families in Oakland is well known and well documented." Reports by the Alameda County Department of Health show grave disparities in life expectancy, maternal health, infant mortality, chronic disease, medical care access and overall health and well being. Some of these statistics include:
A person of African descent born in East or West Oakland can expect to die almost 15 years earlier than a white person born in the Oakland hills.
The rates of Asthma for African-American children is 2.5 times higher than the overall rate in the county.
Diabetes in Alameda County is at 13% for African-Americans compared to 5% for caucasians.
High blood pressure is 48% for African-Americans, 28% for caucasians.
According to Yeshitela, the long term goal of the health festivals is African self-reliance. The Uhuru Health Festival is harnessing the vast resources of the Bay Area, putting these crucially needed resources in the hands of our under resourced African community. And we are inviting people from all walks of life to participate and contribute.
To get volunteer or support the Uhuru Health Festival and for more information, contact 510-763-3342 ext. x5 or email oakland [at] uhuruvolunteer.org
The African People's Education and Defense Fund is a national 501c3 nonprofit whose mission is to defend the civil and human rights of the African community. APEDF builds programs and institutions that are addressing the grave disparities faced by the African community in health, healthcare, education and economic development. Apedf.org
Black Star Industries is building economic development and commerce for and between African people worldwide. http://uhurupies.org/about/story.php?store=stpete
64462
Free Mumia Rally

@ Oscar Grant Plaza
Apr 28 @ 12:00 pm – 1:30 pm
Oakland Justice Coalition General Meeting

@ ACCE
Apr 28 @ 1:00 pm – 3:00 pm
Join us as we pick up the work of the 2018 campaign. We will vote on endorsements in District 2 and for Alameda County District Attorney and begin to plan for the summer's activities.  Draft Agenda includes:
1) Endorsements:
Presentation of Pamela Price for Alameda County District Attorney
Present Nikki Fortunato Bas for District 2 Oakland City Council
2) Our Revolution Reportback
3) Discussion and Planning for May General Meeting with BBQ
4) Announcements and other Event Information
May 26, Time TBA. Our General Meeting will be combined with a Memorial Day Weekend BBQ and Fundraiser. Let your friends and family know!!
64636
FILM SCREENING: DOLORES

@ Berkeley Main Public Library
Apr 28 @ 2:00 pm – 4:30 pm
Dolores Huerta is among the most important, yet least known, activists in American history. An equal partner in co-founding the first farm workers union with César Chávez, her enormous contributions have gone largely unrecognized. Dolores tirelessly led the fight for racial and labor justice alongside Chávez, becoming one of the most defiant feminists of the 20th century – and she continues the fight to this day, at 87. With intimate and unprecedented access to this intensely private mother to eleven, the film reveals the raw, personal stakes involved in committing one's life to social change.
Opening Remarks by Jesse Arreguín – Mayor of Berkeley
Film Followed by Discussion Panel: Farm Labor Organizing in 2018
Facilitated by Felipe Ocampo – Ecology Center's Berkeley Farmers' Markets
Panelist from Swanton Berry Farms – UFW Certified and member of our Berkeley Farmer's Markets
64621
Free Film Screening: Birthright

@ New Parkway Theater
Apr 28 @ 3:00 pm – 5:00 pm
Strike Debt Bay Area: Debt Resistance is NOT Futile!

@ Omni Commons
Apr 28 @ 4:00 pm – 5:30 pm
Strike Debt is building a debt resistance movement. We believe that most individual debt is illegitimate and unjust. Most of us fall into debt because we are increasingly deprived of the means to acquire the basic necessities of life: health care, education, and housing. Because we are forced to go into debt simply in order to live, we think it is right and moral to resist it.
Come get connected with SDBA's projects!
Presenting debt and inequality related topics at forums, workshops and in radio productions.
Our next seminar/workshop will be on April 29th. Check it out and make sure to come!
Promoting single-payer / Medicare for All to end the plague of medical debt
money bail reform and fighting modern day debtors' prisons and exploitative ticketing and fining schemes
Tiny Homes and other solutions for the homeless.
Student debt resistance. Check out the Debt Collective, our sister organization
helping out America's only non-profit check-cashing organization and fighting against usurious for-profit pay-day lenders and their ilk
Working on debarring US Banks that have been convicted of felonies from municipal contracts, and divesting from the Wall St. banks
Promoting the concept of Basic Income
Advocating for Postal banking
Organizing for public banking in Oakland! We made the first steps happen… now there's a spinoff group
Bring your own debt-related project!
If you are new to Strike Debt and want to come early, meet one or two of us and get a briefing on our projects before we dive into our agenda, email us at strike.debt.bay.area@gmail.com .
Strike Debt – Principles of Solidarity
Strike Debt is building a debt resistance movement. We believe that most individual debt is illegitimate and unjust. Most of us fall into debt because we are increasingly deprived of the means to acquire the basic necessities of life: health care, education, and housing. Because we are forced to go into debt simply in order to live, we think it is right and moral to resist it.
We also oppose debt because it is an instrument of exploitation and political domination. Debt is used to discipline us, deepen existing inequalities, and reinforce racial, gendered, and other social hierarchies. Every Strike Debt action is designed to weaken the institutions that seek to divide us and benefit from our division. As an alternative to this predatory system, Strike Debt advocates a just and sustainable economy, based on mutual aid, common goods, and public affluence.
Strike Debt is committed to the principles and tactics of political autonomy, direct democracy, direct action, creative openness, a culture of solidarity, and commitment to anti-oppressive language and conduct. We struggle for a world without racism, sexism, homophobia, transphobia, and all forms of oppression.
Strike Debt holds that we are all debtors, whether or not we have personal loan agreements. Through the manipulation of sovereign and municipal debt, the costs of speculator-driven crises are passed on to all of us. Though different kinds of debt can affect the same household, they are all interconnected, and so all household debtors have a common interest in resisting.
Strike Debt engages in public education about the debt-system to counteract the self-serving myth that finance is too complicated for laypersons to understand. In particular, it urges direct action as a way of stopping the damage caused by the creditor class and their enablers among elected government officials. Direct action empowers those who participate in challenging the debt-system.
Strike Debt holds that we owe the financial institutions nothing, whereas, to our friends, families and communities, we owe everything. In pursuing a long-term strategy for national organizing around this principle, we pledge international solidarity with the growing global movement against debt and austerity.
64452
Nina Turner Presents Our Revolution's People Powered Women

@ MLK Middle School
Apr 28 @ 6:00 pm – 8:00 pm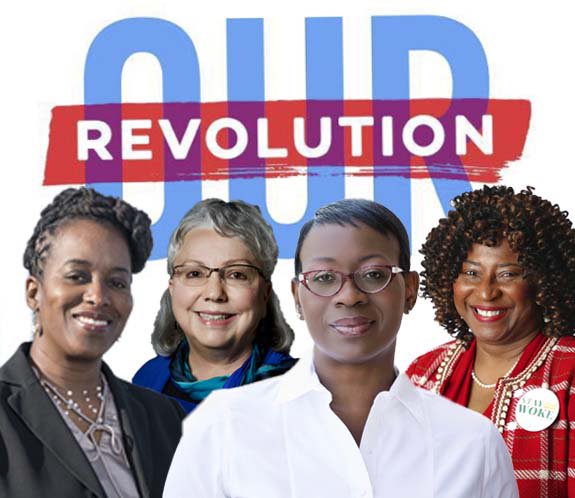 Remember that chant "Bernie, Bernie, Bernie?
There's a new one now: "Nina, Nina, Nina"!
Nina Turner, President of Our Revolution, is coming to the East Bay to help us send to Sacramento and the Alameda County DA seat three corporate-free, people powered WOMEN.
No one is more eloquent than Nina Turner, President of Our Revolution. Her grandma told her about three bones in the body (Ask her!) — she's got all three!
Nina Turner brings a powerful message to the Bay Area Saturday, April 28th at Martin Luther King Jr. Middle School from 6pm-8pm.
Bernie Sanders' presidential campaign was attacked as mostly "Bernie Bros" – young men operating on social media. Never true. Here are the new "Bernie Bros" four WOMEN, dynamic, experienced, and out to help us take back our government!
No one is a more determined and successful champion of all kinds of voters than Jovanka Beckles, Richmond City Council person, now Assembly District 15 candidate.
Gayle McLaughlin has been leading Richmond and the East Bay for years. Now she's going (for us) for Lieutenant Governor.
https://gayleforcalifornia.org/
Pamela Price promises to be an innovative, corruption-free Alameda County District Attorney, and she and Jovanka have endorsed each others' corporate-free agendas.
These four women are people-people. They listen carefully. They craft solutions creatively. They fight resolutely for all of us who want corporate money out of politics, who want medicare for all now, who want the broken justice system fixed.
Come, celebrate and support four women who are fighting for us! Buy tickets here. http://www.jovanka.org/our_revolution_s_people_powered_women

64589
Shaun King Speaking in Oakland on How to Make Change

@ Oakland Tech
Apr 28 @ 6:00 pm – 9:00 pm
OAKLAND! SAN FRANCISCO! BAY AREA!
What's up!
On THIS SATURDAY @ 6pm we will be hosting a FREE event @ Oakland Technical High School. We love Oak Tech and are grateful that they've opened their doors up for us again!
Please RSVP, share the event with your friends, and bring your whole crew.
This isn't just going to be inspirational, it's going be practical and detailed on how we can build change together!
See you on Saturday!
–Shaun
64628