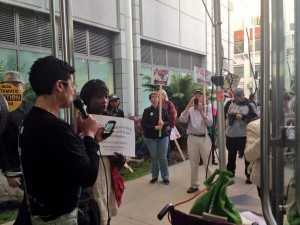 Nine people were arrested this evening, Thursday, February 13th, at 6:00 PM inside the State Building on Clay Street in a civil disobedience action demanding that Californa's Attorney General, Kamala Harris, "Do her job!" and prosecute killer cops.
Instead, heavily armed state police in riot gear arrested and then removed to Santa Rita nine Justice 4 Alan Blueford Coalition members and friends, including a number of well-known activists. The arrestees were armed only with banners and smartphones.
As of this writing they were all in the "holding tank" at Santa Rita jail and there was some possibility they would be released on bail in the wee hours of Friday morning. The "Kamala Harris, Do Your Job!" rally began at 3:00 PM outside the State Building. Soon after the rally began the nine arrestees and others occupied the lobby of the State Building with a banner and signs. Elaine Brown, and Dan Siegel gave keynote speeches. Jeralyn Blueford, Cathy King and a number of other representatives from families who have suffered through police terrorism spoke out. The rally continued until 5:30 PM with chants and a picket; then the State Police closed off the building and threatened everyone inside with arrest if they did not leave. However, it was not until a bit after 6:00 PM that they carried out their threat.
The Justice for Alan Blueford Coalition is calling for the protesters immediate release and for A.G. Kamala Harris to address their demands.
Here are excerpts from the letter activists attempted to deliver to A.G. Harris' office:
Dear Attorney General Harris:
On behalf of the Justice for Alan Blueford Coalition, we request that you exercise your authority to open a criminal investigation into the killing of Alan Blueford by Oakland Police Officer Miguel Masso on May 6, 2012. Despite overwhelming evidence that Officer Masso committed multiple acts of misconduct in connection with Alan's death, the Alameda County District Attorney has failed to initiate criminal proceedings and has instead exonerated Officer Masso without conducting any meaningful inquiry into his actions. We urge you to exercise your authority under Article 5, § 13 of the California Constitution and Government Code §§ 12511-12512 to conduct an independent investigation into the circumstances of Alan Blueford's death. We and Alan's family will do everything possible to assist you in that effort.
54891