Say NO to Veolia/City Union Busting!
Hands off the Boston School Bus Union 5!
Veolia fired two more of the five, today,
totaling four fired and one suspended!
Demo Against Veolia
When: Saturday Nov 09 at 3PM
Where: 1720 Broadway, Oakland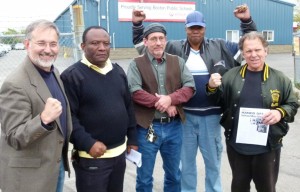 – Vice President Steven Gillis (fired 11/1/13), Grievance Chair and Local founder
Stevan Kirschbaum
(fired 11/1/13), with the following three suspended and threatened with firing:  Recording Secretary and Charlestown Chief Steward Andre Francois, Steward and Local founder
Richard Lynch
and Steward and 3 term former President Garry Murchison, .For background info see
Team Solidarity- the Voice of United School Bus Union Workers
.
PROTEST WHEREVER VEOLIA DOES BUSINESS
.
VEOLIA IS OUT TO DESTROY THIS STRONG UNION THAT FIGHTS BACK TO DEFEND WORKERS RIGHTS AGAINST CORPORATE ABUSE AND DISRESPECT.
LET VEOLIA KNOW YOU SAY NO! TO VEOLIA'S UNION BUSTING AND RACISM!REINSTATE THE SCHOOL BUS UNION 5!SAFETY FOR THE CHILDREN – JUSTICE FOR THE DRIVERS
Every day, USW Local 8751 members in Boston are experiencing more and increasing disrespect from Veolia management, including constant suspensions and threats based on bogus allegations and constant harassment.
This includes an illegal lockout that occurred on October 8 that was substantiated and witnessed by local union officials and community leaders, which followed a constitutionally protected free speech protest and discussion by the workers of Veolia's contract violations and disrespect.
Local 8751 is a predominantly Haitian and Cape Verdian membership. For hundreds of years the Haitian people have fought the French colonialism and imperialism, and Veolia's headquarters are in Paris, France,Since taking over the Boston School Bus contract on July 1, Veolia has engaged in a continual stream of contract violations, despite signing a memorandum of understanding that they would honor the existing contract, as required by their contract with the School Department.
In violation of the contract they constantly change drivers' routes, causing late buses and unsafe conditions for parents and children. The company continually shortchanges the workers paychecks, forces the drivers to park buses in flooded areas, and makes them wait in long lines for check-ins and payroll concerns.
These contract violations have led the union to file16 counts of unfair labor practices with the NLRB. No action was taken on this filing because of the Government Shutdown. On October 8th, hundreds of union members signed a Class Action Grievance protesting Veolia's attempted destruction of the union's bid, seniority, and flat rate rights in its tainted preparations for the October 19 Job Bid process.
Veolia is an international conglomerate that has an extensive history of union busting, and relentless attacks on communities of color. Veolia is an International Tea Party patriot with links to the Koch brothers and the 1%.
Their crimes of greed are worldwide, from the profits garnered from running segregated buses and a "settlers only" garbage dump in Israeli occupied Palestine, which has prompted activists from the Boycott Divest and Sanctions movement to organize a Veolia boycott, to privatization in Puerto Rico, to environmental infractions that caused the British Environmental Agency to list Veolia as the second worst polluter in Britain.
From Africa to Latin America and Asia to Eastern Europe, Veolia's drive to privatize and monopolize water has left a trail of death destruction and chaos. Opposition to Veolia is growing in the United States, where "Dump Veolia" movements are emerging..Solidarity Statements can be sent to Team Solidarity c/o Action Center, 284 Amory St, Jamaica Plain, MA 02130, or emailed to
PPABoston@solidarityweb.com


.
AN INJURY TO ONE IS AN INJURY TO ALL!
Please forward to your lists!
.
In an exciting development, it was announced that sister and brother school bus workers from NY, ATU1181 will be hosting a solidarity caravan to Boston for the Solidarity Day!
.
53826