BLUEFORD FAMILY TO CALL ON CITY AND NEW POLICE CHIEF FOR
ACCOUNTABILITY FOR OPD, JUSTICE FOR THEIR SON.
May 16th, at 3:00 PM on the steps of Oakland City Hall: Adam and Jeralynn Blueford, the parents of 18 year old Alan Blueford killed at the hands of Oakland Police Officer Miguel Masso on 5/6/12, standing with the Justice 4 Alan Blueford Coalition, will hold a press conference to once again demand justice for their son, present over 1800 petition signatures for the firing of Miguel Masso, and call for accountability from OPD.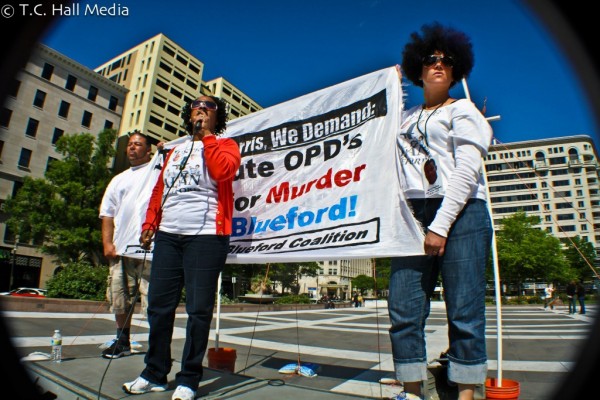 The recent reports by the Compliance Director and Wasserman Consulting and the subsequent shake up in the Oakland Police forced upon it from outside demonstrate unequivocally that OPD has never been accountable. With a culture that brooks no dissent or tolerance for the calling out of misdeeds – highlighted by the CD's report – OPD officers like Miguel Masso have known that they can get away with anything – including murder.

Not only is OPD internally dysfunctional, it also fails at protecting the community. Consuming as it does 42% of the city budget, it still is incapable of prioritizing the investigation of most crimes, including 13,000 burglaries.
This all must stop. Now.
The Blueford family calls upon the City Administration and the new Police Chief to fire Miguel Masso. Accountability for OPD will only begin to manifest itself when rogue police like Masso are held responsible for their actions. Oakland will start to become safer when the people don't have to fear violence from the police and are able to actually trust them to do the right thing.
Jeralynn Blueford, demanding justice and accountability from OPD, said
"Masso stood over my son and fired three bullets into him, claiming Alan had shot him, when the truth is Masso shot himself in the foot. My son's last words were 'I didn't do anything.' He never fired at Masso. He didn't do anything but run. I demand justice for my child!"
49393